"We Played the Song on 'Ed Sullivan,' and the Next Day It Hit Number One": Tommy James Reveals the Magic Combination Behind the Shondells' Timeless Psychedelic Hit "Crimson and Clover"
Later covered by Joan Jett, Cher and Prince, the pop icon's 1968 smash was recorded using a Fender Jazzmaster through an Ampeg Gemini amp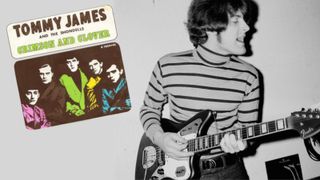 (Image credit: Getty Images)
By mid 1968, Tommy James and his group, the Shondells, had enjoyed a string of good-time AM radio singles, like "Hanky Panky," "I Think We're Alone Now" and "Mony Mony."
But after the band returned home from a summer tour, James sensed a sea change was taking place. "FM radio was happening, and singles were being replaced by albums," he says. "Songs were getting more serious. I realized that we had to move with the times, or else we'd be extinct."
With that in mind, James and Shondells drummer Peter Lucia Jr. wrote "Crimson and Clover." The transcendent, psychedelic-pop gem became the band's biggest hit, spending 16 weeks on the Billboard Hot 100 in late 1968 and early 1969, including two weeks at number one.
"Its impact was incredible," James says. "It gave us the second half of our career."
Verse After Verse
James began with the idea of combining two of his favorite words, which he thought sounded poetic as a phrase. After playing a concert, he and Lucia retired to their hotel room, where James played a Gibson Hummingbird while Lucia laid down a beat on pillows.
"I played these three 'backward' chords – B, F# and E – at the same time I did the lyrics," James says. "We didn't have a recorder with us, so we jotted it down on paper."
They tried a few iterations of the song, one being, as James describes it, "kind of like James Taylor, with acoustic fingerpicking, but it sounded too dreamy, so we toughened it up."
Within a few hours, they had enough of it sketched out. "It was kind of a funny thing," James says. "It was verse after verse, which was also the chorus. That was the hook. We knew we could make it work in the studio."
The Secret Ingredient
"Crimson and Clover" marked James' debut as the producer of his own material and his introduction to recording in a 16-track studio, which allowed instruments to be kept separate for greater control during mixing.
"Stereo had become the big thing, and we had to keep up," he says. The song was recorded in just five hours with Lucia, Shondells bassist Mike Vale and James, who played the bulk of the instruments, including the tremolo-laced electric guitar that became the song's ear-catching sonic signature.
"I did the guitars using a Fender Jazzmaster through an Ampeg Gemini amp," he recalls. "The tremolo became a crucial element of the song, and I even put it on my vocals for the fade."
Album buyers were treated to even more ear candy with an extended mix that featured Shondells guitarist Eddie Gray playing steel guitar and wah and fuzz leads over a lengthy solo break.
"Tom, You're Done"
Once the session was complete, James made a work tape of the song. "I knew it was a hit," he says. "It was undeniable."
While visiting the program director at WLS in Chicago, he played him the tape, and people at the station bootlegged it without his knowledge. "I got in my car and I heard, 'Here's a world exclusive on WLS.' They played the freakin' rough mix! It was crazy."
By the time James got back to the New York offices of his label, Roulette Records, he had a situation on his hands. "We were afraid we had blown it with the other big Chicago station, WCFL, and we tried to get WLS to stop playing it, but they refused," he says.
With "Crimson and Clover" lighting up the phones at WLS, Roulette rush-released the rough mix as the single. "I wanted to do a polished final mix, but I guess it was God's way of telling me 'Tom, you're done.' Several weeks later, we played the song on Ed Sullivan, and the next day it hit number one."
"Crimson and Clover" went on to sell more than five million copies and has been covered by artists ranging from Joan Jett and the Blackhearts (who hit number seven with their version in 1982) to Cher (as a duet with her son, Elijah Blue).
James professes his love for all the covers he's heard, but he singles out Prince's version (which blends in a blast of the Troggs' "Wild Thing") as his favorite.
"Prince did such a futuristic treatment of the song," he says. "His guitar playing on it was out of this world. He was always such a brilliant guitarist. I was really honored by what he did with 'Crimson and Clover.'"
All the latest guitar news, interviews, lessons, reviews, deals and more, direct to your inbox!
Joe is a freelance journalist who has, over the past few decades, interviewed hundreds of guitarists for Guitar World, Guitar Player, MusicRadar and Classic Rock. He is also a former editor of Guitar World, contributing writer for Guitar Aficionado and VP of A&R for Island Records. He's an enthusiastic guitarist, but he's nowhere near the likes of the people he interviews. Surprisingly, his skills are more suited to the drums. If you need a drummer for your Beatles tribute band, look him up.