Tommy Emmanuel on the Art of Guitar Instrumentals, Technique and Why Good Songwriting Begins with Good Listening
The Australian acoustic guitar legend reveals the philosophy behind his craft.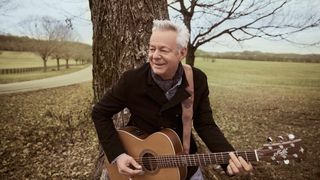 (Image credit: Future / Alysse Gafkjen)
"Best of" collections are, by nature, anthologies. One exception is Tommy Emmanuel's latest release, The Best of Tommysongs (Cruzen Street).
"This is not an anthology," the master guitarist insists. "It's a presentation of my songwriting and how it has evolved over the years."
Far from simply collecting the finest tracks from Emmanuel's 41-year recording career, The Best of Tommysongs features five new compositions, including his latest single, "Fuel," plus a trunkful of fresh takes on his past tunes, such as "Lewis & Clark," "Train to Dusseldorf" and "Drivetime."
The new recordings reflect how Emmanuel has transformed the tunes through years of repeat performances, as they've become part of his repertoire and as he has developed as a guitarist and interpreter of his own work.
In that respect, The Best of Tommysongs is a celebration of Emmanuel's growth as a guitarist, and of his singular ability as an original storyteller in the solo acoustic arena. Together, these recordings are proof that a magic melody will sound fresh every time you hear it.
Can you offer some insights on writing great guitar instrumentals?
First of all, I don't let my instrument dictate my writing, because our fingers and habits are like dogs - they go straight to the food bowl. Guitar players will immediately fall into patterns if we let ourselves. Songwriting is a different thing entirely.
As an instrumentalist, I have to figure out how to convey a story without words to the listener, and therefore it's so important to avoid clutter. Just tell the story. Don't fill every millisecond of every song. Leave space so the audience can fill in the gaps with their own imagination.
What do you think is the most important element to songwriting?
How to be a good listener. Take "Daniel" by Elton John: Something beyond the words strikes deep in the heart. Find out why that melody works over those chords and there's an idea worth stealing.
I remember when I was working on "Change for Good" with Randy Goodman: The chord change went directly from C to A minor. He recommended that I try playing the same melody with an E chord in-between, suggesting an augmented tonality, and all of a sudden what sounded like quicksand became concrete.
Can you share some stories behind the new tunes on Tommysongs, starting with the first track, "Song for a Rainy Morning"?
It's standard tuning in the key of A, but I'm thinking in G because I've got a capo at the second fret. The inspiration was a vivid dream where I was visited by my brother and sister, both of whom passed away in 2018 only a month apart.
I had a beautiful feeling when I awoke in the morning. I could hear the rain through the open window. I picked up my guitar and started messing around with this melody.
Jerry Douglas was on tour with me in Italy at the time, and when we got on the bus he got out his Dobro and made some suggestions. I pretty much finished the song that day.
How do you know when a song is finished?
Sometimes I'll think I'm done, but then when I record it and listen back, all my instincts come to the forefront and say it's a bit busy - too many notes. That happened with "Song for a Rainy Morning." It was like Mark Knopfler would tell me: "Not too much information!" So I simplified it down to what was essential. Let it breathe.
How does one manifest such a thrilling song as "Fuel"?
"Fuel" is an example of ignoring that part of you that thinks maybe it's too much information and listening to the other part that says, "I'm not afraid to fly my kite." I started with the first part of the verse, which then needed an answer. From there it needed a chorus, which needs to be singable, like a pop song.
For the intro, I wanted a staccato groove that lets the listener know something is being set up, kind of like Mark Knopfler on "Money for Nothing." I use my whole right hand to get that rhythmic pattern going. Once the tune kicks in, I drive the bass line with my thumb pick while fingerpicking melodies on top, almost like a horn section.
I took a lot of creative license on "Fuel," but it all seemed to work so well. There are lots of timing changes, but you can still tap your foot straight through. I played it for a friend who asked, "What's fueling this emotion?" After thinking about it for a moment I said, "Adventure. And you just gave me the title: 'Fuel'!"
A good title allows the listener's imagination to run wild, and "Fuel" also fit because I was trying to compose something in the style of Mason Williams' "Classical Gas."
What was your inspiration for the track "The Wide Ocean"?
After taking a long flight to China last year, I was dying to play my guitar when I got to the hotel. It felt magical in my hands. A melody in drop-D tuning suddenly evolved into a song with lots of space.
I recorded a voice memo of it and sent a text to my wife encouraging her to play it for our daughter, who was four years old at the time. I wanted to get the reaction of a child's first listening experience. She said, "It sounds like the wide ocean."
What was the logic behind re-recording older compositions?
I had a variety of reasons, including wanting to introduce past material to newer fans as well as some publishing considerations. I play songs like "Those Who Wait" and "Angelina" very close to the original compositions but with much more feeling through the filters I have now.
One of the challenges was actually to avoid adding new colors or textures that weren't necessary. I've never mentioned this before, but the harmonic ending on "Angelina" was originally the introduction.
My instinct told me that it was too cute and long, so I saved it for the end. I improvised a bit and came up with the introduction on the day of the recording.
Recommended Listening: The Best of Tommysongs
• "Fuel"
• "Luttrell"
• "Song for a Rainy Morning"
• "Sail On"
• "Halfway Home"
What were some of the more challenging songs to revisit?
"Luttrell" is named for the town where Chet Atkins was born and used to live. I used to play it a lot faster onstage, but here I played it at the original tempo because I've realized that it makes the song better. I had to practice a lot, because it's not an easy song to play well.
"Train to Dusseldorf" is another hard song to play well, and by that I mean dead-on in time, hitting every note pure, so it rings out as clear as a bell. It requires total concentration. If your mind wanders for a moment, you'll mess it up for sure.
What's your go-to gear on Tommysongs?
I mostly used my Maton T.E. Personal [the custom prototype for his signature EBG808TE]. Some songs, like "Halfway Home," were done on what we call the Mega Mouth, which is a thinline Maton in a jumbo body size. It's very ballsy and punchy in the lower midrange. The deep, resonant tone on "Timberland" is a baritone made in Canada by Tony Karol.
I recorded at OmniSound in Nashville into a setup consisting of four microphones: a Neumann U 47 in the middle, about eight inches away from the sound hole, with a pair of smaller mics on either side of it, and a Royer ribbon microphone further back. It's like a sonic sphere with width and depth that sounds like your head is right in front of the guitar.
With this new release, what were your thoughts as you looked both backward and forward?
I hope that a new generation of players will not only discover my songs but also be inspired to write their own songs using ideas they pick up from mine. I want young people to see the joy and beauty in songwriting.
Tommy Emmanuel's The Best of Tommysongs is out now via CGP Sounds
All the latest guitar news, interviews, lessons, reviews, deals and more, direct to your inbox!
Jimmy Leslie has been Frets editor since 2016. See many Guitar Player- and Frets-related videos on his YouTube channel, and learn about his acoustic/electric rock group at spirithustler.com.