"They Make Me Shake My Head and Laugh Because They're Just That Amazing": Gretchen Menn Reveals Her Favorite Guitar Solos
The award-winning guitarist names three lesser-known strokes of genius.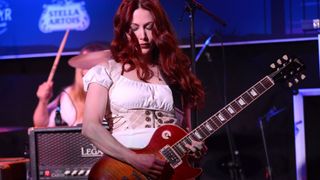 (Image credit: Scott Dudelson/Getty Images)
We recently asked some of the guitar world's best-known players to name their favorite lesser-known guitar solos. Here's what Zepparella axe slinger Gretchen Menn had to say…
1) Deep Purple | "Sometimes I Feel Like Screaming"
From Purpendicular (1996)
GUITARIST: Steve Morse
"This is so tasteful and melodic, with a few bursts of chromaticism that are unmistakably Steve Morse. The solo soars, sighs and reflects on the song's main instrumental theme."
2) Daniele Gottardo | "Hansel and Gretel"
From Non Temperato (2014)
GUITARIST: Daniele Gottardo
"There are a handful of solos that consistently make me shake my head and laugh because they're just that amazing. This one is at the top of that list for me. You wouldn't realize what lies ahead by hearing the first few minutes of this composition for electric guitar and chamber orchestra."
3) Django Reinhardt | "Minor Swing"
GUITARIST: Django Reinhardt
"Although this is perhaps the most iconic of all gypsy jazz guitar tunes and solos, it's on my list because guitarists of any genre should be able to readily appreciate Django's brilliance – the variety of his melodic ideas, the impeccability of his rhythmic sense, the formability of his improvisatory skills and his complete and utter musical fluency."
Pick up a copy of The Essential Django Reinhardt here.
All the latest guitar news, interviews, lessons, reviews, deals and more, direct to your inbox!
Guitar Player is the world's most comprehensive, trusted and insightful guitar publication for passionate guitarists and active musicians of all ages. Guitar Player magazine is published 13 times a year in print and digital formats. The magazine was established in 1967 and is the world's oldest guitar magazine.
When "Guitar Player Staff" is credited as the author, it's usually because more than one author on the team has created the story.