"There Are Some Bizarre, Nebulous Forces At Work": Guthrie Govan on Gigging
With a new album in the bag – 'Freeze: Live in Europe 2020' – the Aristocrats guitar virtuoso delivers a faithful account of touring his rock-fusion supergroup.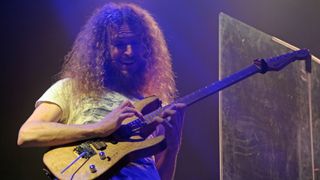 (Image credit: RICHARD A. BROOKS/AFP via Getty Images)
If you're a gigging musician, or simply one who enjoys live shows, you know that some nights are just better than others. For Aristocrats guitarist Guthrie Govan, a range of variables are involved when it comes to performance.
"Obviously, it's more inspiring when the venue has great acoustics and quality monitoring," the British electric guitar virtuoso says. "Also, for me, the 'cleanness' of the electrical supply is a surprisingly significant factor. If the venue has a lot of in-house hum, that will be a major distraction whenever I'm using a high-gain tone.
"Then there's the matter of how alive we musicians feel by the time we actually hit the stage, because a bumpy six-hour van ride on show day can take a toll on a band. On the other hand, great feedback from the crowd acts as a kind of fuel that can sustain us throughout a show, even when we're heavily jet-lagged.
"But that's just the obvious stuff," Govan continues. "There are also some more bizarre, nebulous forces at work. It's fascinating to listen back to recordings of shows and hear what really happened. It will occasionally transpire that a show that felt like a real struggle actually turned out really well."
Luckily, in February 2020, just before the pandemic shut the world down, Govan and his bandmates in the Aristocrats – bassist Bryan Beller and drummer Marco Minnemann – thoroughly multitracked a string of shows throughout Spain. The result is Freeze: Live in Europe 2020 (Boing! Music), a collection of live Aristocrats songs that allows you to hear in the highest fidelity those "nebulous forces" at work. Govan took time out to reflect on how one of the world's most exciting prog-rock bands created one of 2021's most exciting live instrumental albums.
What were the venues like in Spain where Freeze! was tracked?
As I recall, they were rock clubs. I personally prefer the feel of playing in a rowdy club, rather than a more dignified theater, particularly with the Aristocrats, where the whole concept is about being a rock-fusion band, with the emphasis on "rock."
It's easier than ever for bands to digitally repair musical goofs – not that I hear you guys making mistakes – or even re-record parts. How much, if any, editing did you do in post?
We really wanted Freeze! to be a faithful audio account of what happened at those shows, so we kept the cheating to a bare minimum, and we certainly didn't re-record anything. The tweaks we made were things like level adjustments, or adjusting for the gremlins that invariably appear at live shows – mic stands getting knocked out of place, kick drums wandering to the front of the stage, et cetera.
It certainly helped that we had many versions of each song in our archive after that tour. If we heard a performance that we didn't like for some reason, it generally made more sense just to look for an alternative version rather than use technology to disguise our musical transgressions.
What was your rig on the Freeze! shows?
My Aristocratic rig is actually very simple. I fly with my Victory V30 MkII head as carry-on luggage, and I tuck a Fractal FX8 – which covers all of my effects needs – in my suitcase. That's it! My two [signature model Guthrie Govan] Charvels live in an ENKI double case. And wherever we play, I request a 2x12 or 4x12 cabinet fitted with Celestion Vintage 30 speakers.
I also took two of my Red Bear signature picks on that tour – one as "the tour pick" and one as a spare – and you can see that the main tour pick has gotten a little smaller than it used to be, but it's still eminently usable. Red Bear picks last a very long time and become personalized as you wear them in over the months. Alas, explaining all of that stuff to someone who wants a pick isn't always practical – especially while you're onstage, with sign language serving as your only means of communication!
How do you achieve those sustained feedback notes, like at the 3:05 mark on "D Grade Fuck Movie Jam"?
That's just the Victory head cranked up and doing its thing, with maybe a little clean boost from the FX8. I like to use a lot of gain onstage. It might not sound like much gain, but that's because I'm using a relatively low-wattage amp, so the power stage gets to work quite hard, which somehow tends to smooth out the potential fizziness of high preamp gain. Proximity to the speaker cabinet is also very important to me. I'm always much happier when the guitar strings can physically "hear" what's coming out of the amp.
"The Ballad of Bonnie and Clyde" features a dazzling, soaring solo, during which you seem utterly uninhibited by the constraints of mortal hands. What inspired that solo?
Thank you! You're too kind. I remember hearing Bryan's original demo for that song and immediately being able to imagine what kind of character I wanted to hear playing the guitar part. My mental picture was very much that of a '70s rock god brandishing a Les Paul, so I suppose my nightly task was to act that character as best I could.
I can add that this is the only Aristocrats song that ever prompted me to buy a guitar. When we toured the U.S. in 2019, I was determined to find something that, strangely enough, I had never previously owned – a real Les Paul. So I kept my eyes open and eventually stumbled upon a Nik Huber Orca '59, which felt and sounded exactly like the "Bonnie and Clyde" voice I had been hearing in my head. Needless to say, I had no choice but to buy it! I should add that what you're hearing on this live version is in fact just my regular Charvel. It would have made no sense to fly an extra instrument all over Europe purely for the sake of one track.
Of course, a lot of stuff like this is largely psychological. I think having a Les Paul mindset probably added more to the song than actually using any specific instrument would.
You're one of the most well-known guitarists, yet you strike me as a bit of a recluse. If that's true, how do you balance your need to not be mobbed by fans with your need to create and perform music on the road?
I'll certainly plead guilty to the charge of being a bit of a recluse. I'm decidedly at the introverted end of the spectrum, so I can sometimes get easily overwhelmed by large gatherings of excited people. That said, I do understand the apparent paradox in the notion of a relatively shy, retiring individual going out on the road when the whole world of touring is essentially the antithesis of my comfort zone.
However, pretentious though this may sound, playing live makes me feel like I'm acting as a conduit for something, so I suppose, subconsciously, I might be telling myself that the crowds have come to experience the something I'm channeling when I play, rather than coming to see normal, everyday me.
At any rate, playing music feels to me very much like speaking a different, more universal language. Perhaps I'm just more comfortable in that medium, as it allows a different side of my personality to come to the fore.
Buy the Aristocrats' Freeze: Live in Europe 2020 album here.
All the latest guitar news, interviews, lessons, reviews, deals and more, direct to your inbox!
Los Angeles Editor, Guitar Player
Whether he's interviewing great guitarists for Guitar Player magazine or on his respected podcast, No Guitar Is Safe – "The guitar show where guitar heroes plug in" – Jude Gold has been a passionate guitar journalist since 2001, when he became a full-time Guitar Player staff editor. In 2012, Jude became lead guitarist for iconic rock band Jefferson Starship, yet still has, in his role as Los Angeles Editor, continued to contribute regularly to all things Guitar Player.
Watch Jude play guitar here.