The Incredible Story of Les Paul's "Lover" – the Breakthrough Multitrack Recording That Changed the World, Part 2
Seventy-five years later, we're still reeling from this groundbreaking single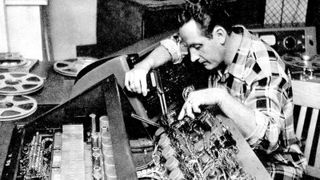 (Image credit: THE LES PAUL FOUNDATION)
***CLICK HERE TO READ PART 1***
A transformational moment in music history occurred 75 years ago in February 1948, when Capitol Records issued a 78 rpm record.
It was "Lover," the first multitrack popular music recording created by superimposing discrete audio tracks. The vision, intellect and grit which this disc-to-disc undertaking entailed belonged to guitarist Les Paul.
The legend "The New Sound" appeared on the record label, heralding an era of new recording possibilities. From this singular achievement, the act of making records would become an infinitely more creative process through the advent of overdubbing.
Les is More
Not surprisingly, Les Paul kept meticulous documentation of his efforts, which the Les Paul Foundation has in its archive.
"He played all the instruments on 'multiples,' as he referred to them," notes Steve Rosenthal, the Foundation's archivist, "including drums, percussion, quasi bass, rhythm guitar, lead guitar and several additional guitars that played back at double-speed and consequently were pitched an octave higher.
"Before he would overdub again, he would make a copy, or a safety, of the master. We've discovered many safeties in the archives, a trove of the component parts of the disc-to-disc stem arrangements, as well as the later tape-to-tape mono stem arrangements.
"We've digitized these building blocks and can now see the stops along his 'arrangement tree,' as I call it, and know how he constructed these songs, layer by layer, in many cases from beginning to completion. These multiples exist for 'Lover.' There are approximately 37 tracks on the finished recording!"
One of the first people to hear "Lover" upon its completion was the comedian and actor W.C. Fields, who came to Les's garage studio to make a record. Confronted with Les's dexterous juggling of sound, Fields – himself a juggler – exclaimed, "My boy, you sound like an octopus."
Les shopped "Lover," with its B-side, a similarly recorded cover of "Brazil," a popular 1939 song by Brazilian composer Ary Barroso. He took it first to Columbia Records, where it fell on deaf ears. They didn't comprehend the genius behind it.
Les went next to Capitol Record's president, Jim Conkling. Just one listen amazed Conkling, who predicted the record would shoot up the charts, which it did. Michael Braunstein, executive director of the Foundation says "Lover" was revolutionary, affecting everybody and everything in the industry by combining all of Les's inventive techniques into "one bag of tricks."
In the 2007 documentary, Chasing Sound, top engineers Al Schmitt and Phil Ramone say that, upon hearing "Lover," they asked, "How the hell did he even do this? How are we going to do this?"
The Revolution Accelerates
Even as Les was making "Lover," he was helping to facilitate another recording breakthrough. As he explained to me during our 2008 interview, in 1945 Bing Crosby was seeking alternatives to the rigors of live radio broadcasting. Les had a solution: the Magnetophon, a reel-to-reel magnetic tape recorder the Germans had pioneered during the war.
"I told Bing, 'This will knock you out and change the world,'" Les told me. Crosby, who was eager for a way to pre-record his radio show, immediately saw the machine's potential and went to Alexander M. Poniatoff, the founder of a then-fledgling electronics company called Ampex.
"He said, "I'll give you $50,000 without interest. Just develop those machines so I can transcribe my broadcasts,'" Les recalled to me.
In July 1949 Crosby provided Les with an Ampex Model 200A, the first commercially produced audiotape recorder. Recognizing tape's audio superiority over discs, he told Les, "Now you can perfect your multiple-track recordings."
Les set out to do precisely that by modifying the deck, just as he had the disc cutter. The mono tape recorder had one head, and each newly recorded track would erase what was previously stored. Les's solution was to mount a playback head in front of the existing head.
"Les had a revelation," Rosenthal says. "The concept of having a second arm on the turntable to enable simultaneous recording and playing was a forerunner of his idea of putting the second head on the Ampex machine. He ingeniously asked engineers, perhaps Ampex employees, to build an extra head. He then hired a technician to drill holes into the machine to mount the second head."
Listening to the previously recorded take played back on the second head, Les played along with it and recorded both the live part and pre-recorded track onto the tape via the original tape head. Recalls Rosenthal, "He wrote about how he literally jumped up and down with Mary, saying, 'I did it! It's actually going to work!'"
As with his disc recordings, Les carefully constructed his tracks to achieve the best audio results. "We have a Les Paul track sheet which shows how he built his recordings as he went through, layer by layer," Rosenthal says. "He learned during the process what was going to degrade and what he would not be able to hear after 20 passes.
To protect the master tape, Les later purchased a second recorder to bounce back and forth, using one for playback and the other to record an integrated track. Still, it wasn't perfect. Recalls Rosenthal, "Les said, 'The Ampex model's only drawback was if you were recording 12 parts, and blew the 11th, you had to start all over."
In 1953, Les hit upon a better solution when he invented the multitrack tape recorder. His idea was to stack eight record/playback heads atop one another, with each recording and playing back its own track along the length of tape. In this way, each discrete track could be recorded, isolated and re-recorded if necessary, without affecting any of the other tracks.
Eventually, Les was able to free his recorder from the confines of his garage studio. Using a mixer created to his specifications by his friend Wally Jones, he was able to take the machine out and use it in performance.
"The Wally Jones Mixer was important especially for going on the road," Rosenthal says. "To quote Les, 'Wally played a big part in our success by helping us cut loose from the garage to do our thing anywhere we went.' The mixer is currently on display at Les's exhibit in the Mahwah Museum, near where he lived in New Jersey."
A Bountiful Bequest
The Les Paul Foundation has several missions. One is honoring Les's legacy, which includes making available the voluminous equipment, guitars and pictures that he accumulated during his 75-year career.
"The Foundation has completed a multi-year plan to curate, digitize and eventually release Les's output," Rosenthal says. "We've also developed a brand-new website, les-paul.com, with a section of videos made at the clubs."
Another area of focus is medical research on hearing impairment, with a specific attention to tinnitus. This was dear to Les, who suffered from various hearing issues. Education is another component, and Braunstein maintains this was Les' overarching goal.
"He came from a humble background and wanted to provide assistance to low-income areas," he explains. "We're putting music back in these places, not necessarily to make musicians but to encourage overall development of young people through curricula at all levels.
"Whether you're a music or engineering student, listening to and figuring out Les is a great way to help you think outside the box."
Bridging Generations
Braunstein accompanied Les during his twilight years, when he made his last album, 2005's Les Paul and Friends: American Made, World Played. It was his first new album since 1978's Guitar Monsters, his second collaborative album with his friend and fellow guitarist Chet Atkins, for which the two men received a Grammy nomination for Best Instrumental Performance.
"That comeback re-energized Les," Braunstein says of Les's revival in the new millennium. "The '60s and early '70s were rough. He wasn't a household name. By the time Les died in 2009, he had become a living legend and rode out into the sunset to tremendous acclaim."
Les was celebrated for many achievements, including his work on the solidbody guitar, his recordings and technological breakthroughs in multitrack recording. But Rosenthal identifies what he believes it the essential reason for his renown.
"Les was a juggler of sound," he says. "It's one thing to invent overdubbing. It's another to brilliantly execute it. Everyone from professionals recording in studios to kids recording in bedrooms with Pro Tools owe much to him."
Braunstein recalls testimonials to his friend. "There's a video of Paul McCartney at the Iridium, where Paul tells Les the first song he and John Lennon performed was a cover of his hit with Mary, 'How High the Moon,'" he says.
He remembers seeing Jimmy Page at the opening of the Metropolitan Museum of Art's 2019 exhibition Play It Loud, which celebrated the instruments of rock and roll. "I told Jimmy, 'I've a picture of Les signing your shirt!' He said, 'That was Les's 72nd birthday at the Hard Rock. I cherish that memory.'"
"Eric Clapton, Alice Cooper, Slash, Eddie Van Halen, Steve Miller and Richie Sambora were Les's buddies," Braunstein continues. "Les changed how musicians play music, how engineers record music and how fans hear music. Every generation stands on somebody else's shoulders. Every generation of musician and studio technician stands on Les's shoulders. He's the source."
Likewise, there were individuals who uplifted Les. To him, "astronauts were the coolest dudes," Braunstein states. "Les put them in a special box because they're engineers, scientists and especially daredevils."
Clearly, Les had plenty of the right stuff himself, having boldly achieved a supersonic moon shot, blasting off with his "space-age" guitars.
---
Les Thru the Lens
The Les Paul Foundation is honoring its namesake with the exhibition Les Paul Thru the Lens, a traveling gallery of rare photos that chronicle the life and career of the inventor, musician and icon.
The Foundation has granted Guitar Player exclusive access to these treasures, as seen on these pages.
Following a display at Memphis' Stax Museum of American Soul Music, the Foundation is arranging the 2023 schedule, which touts an added element.
"[American artist] LeRoy Nieman once visited Les at the Iridium and sketched him in different poses," says Michael Braunstein, the Foundation's executive director.
"The plan is to include those in the exhibit adding another chance to see how Les influenced people from all walks of life."
Venues interested in hosting the exhibition may email caroline@m2mpr.com.
All the latest guitar news, interviews, lessons, reviews, deals and more, direct to your inbox!