"I Didn't Want That Kind of Dead Studio Perfection": Steve Miller Reveals the Recording Secrets Behind His '70s Smash "Fly Like an Eagle"
Born out of lengthy jams, this psychedelic funk tune was recorded and mixed several times over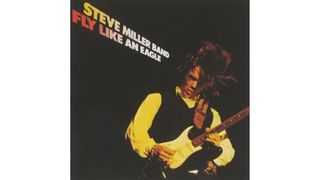 (Image credit: Capitol)
Steve Miller's classic hit "Fly Like an Eagle" was taken from the 1976 album of the same name (the Steve Miller Band's ninth studio effort) and reached the number two spot on the Billboard chart the following year.
In addition to using a Fender Stratocaster plugged into a Fender Bassman amp, Miller enhanced his sound using a Maestro Echoplex – a device he used extensively to produce anything from simple slap-back echoes to psychedelic washes of sound.
Here, Miller talks about the gear and the years-long creative process that culminated in a single that went on to sell well over a million copies.
What led you to use synth sounds when Fly Like an Eagle was being conceived?
I was always interested in electronic music and had been listening to [experimental music pioneers] La Monte Young and Stockhausen in the early '60s, before I even got my recording contract.
I was ping-ponging with tape recorders and doing reverb things and stuff like that, and when the Echoplex came out, that was a really great device for me. You could do the little short rockabilly slap-back stuff as well as really deep space kinds of sounds, all with this little tape loop and the moving playback heads.
We used to do a lot of electronic music and sound collages when we were playing in San Francisco in the '60s, and I'd be doing all this feedback and stuff. It was pretty avant-garde and out there.
How did you apply that element to the title track?
"Fly Like an Eagle" is just a funk tune that I started working on about three years before I released it. We were on the road all the time, and we played in a lot of rooms where there would be a mirror ball with a spotlight on it, and that would be the light show. And we would play these very long sets.
"Fly Like an Eagle" could be like a 15- or 20-minute thing that went in all kinds of different places because of the freedom of the whole psychedelic music scene. We were a jam band really, and were able to play anything we wanted.
What was the process for turning it into the album version?
I started developing "Fly Like an Eagle" with Gerald Johnson on bass and Gary Mallaber on drums – a great session player from L.A. – and the groove just kept getting better and better. I kept working on the lyrics, and I got it to where it was beginning to turn into a song with verses and a chorus.
We recorded and mixed the song once, and spent about five or six thousand dollars, and I didn't like it. There was something missing, and it just didn't feel like the song the way we played it live. I recorded it again at Capitol Studios in L.A. and then again at Wally Heider Studios in San Francisco, and I still didn't like the way either of those came out.
Finally, I recorded it at Pacific Union in San Francisco, where I had Joachim Young on [Hammond] B-3, along with Gerald Johnson and Gary Mallaber. It was just an amazing combination of guys that day in the studio, and I got the basic track that sounded and felt the way I wanted. We cut, like, 25 tracks there in 11 days, and we did them as a trio. But I had to cut "Fly Like an Eagle" with Joachim on keys to get it going the way it was supposed to.
You worked extensively on the song after that, right?
Yes. We mixed the 16-track down to stereo on my portable 3M eight-track machine, and we put a sync tone on the third track. When I took it back to my home studio in Novato [California] to do all the overdubs, I had a stereo mix plus a sync track, so I had five tracks left to do all my vocals and guitar parts.
That's how I did everything on Fly Like an Eagle and Book of Dreams. I'd just sit there and record until I was happy. I did the vocals over and over until I had them the way I wanted. But I also wanted it to feel spontaneous. I didn't want that kind of dead studio perfection. I wanted to capture the energy and the fun of singing harmonies.
We actually mixed "Fly Like an Eagle" three times before I released it. That was a big deal, because we didn't have a lot of dough, and to go all the way through the mixing and then say, "Nah, we're not going to use it" was a hard decision. And then to do that two more times was really a big deal! But I didn't want to put that song out until it was really right.
What guitar did you use?
It was a Stratocaster. I played it through my '59 Fender Bassman and had the Echoplex in line to give it a little bounce. The repeats played out in triplets the way I had it set, so it was a staggered kind of delay that added a nice effect to the guitar.
Can you describe your home studio at the time?
It was really just my living room, but it was a good-sounding room, with a lot of big plate-glass windows. It had been a patio, and I had it enclosed and turned it into a room where I could practice and play music and feel like I was outdoors at the same time.
I had a custom eight-channel board that Dick Swetnam made for me. Dick was the lead technical engineer at Olympic Studios in London, and he made these beautiful consoles. He made a little board for Paul McCartney, and I saw it and asked if he would make me one. It cost about $5,000 and it had four separate little mixers for the headphones, which was great, because back then musicians were never allowed to control their headphone mixes – you had to ask an engineer to do that.
I think I was using an Electro-Voice RE20 for vocals, and I put a lot of my vocals through a Shure Level Loc that compressed the hell out of everything. On my guitar amp I used a Shure SM57. It was just that simple.
Did you also do the synth parts at your home studio?
No. I'd had the Roland SH-2000 when I was working at home and was running it through an Echoplex, but I decided to try putting some effects with the synths on top of the final mix. Those sounds were overdubbed in one pass after I mixed the tune.
That Roland synth and the Echoplex appeared on display at the [New York City] Metropolitan Museum in the Play It Loud exhibit.
A funny thing also happened when we mixed "Fly Like an Eagle" for the last time. When we transferred it to the 16-track, we were using a tape that had been bulk erased, and there was this little beep you could hear that was repeated from the bulk erasing. And it's the fadeout you hear on that song.
All the latest guitar news, interviews, lessons, reviews, deals and more, direct to your inbox!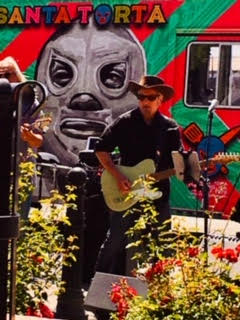 Art Thompson is Senior Editor of Guitar Player magazine. He has authored stories with numerous guitar greats including B.B. King, Prince and Scotty Moore and interviewed gear innovators such as Paul Reed Smith, Randall Smith and Gary Kramer. He also wrote the first book on vintage effects pedals, Stompbox. Art's busy performance schedule with three stylistically diverse groups provides ample opportunity to test-drive new guitars, amps and effects, many of which are featured in the pages of GP.