Steel Panther's Satchel Names His Top Five Guitar Solos
The glam metal merchant reveals his lesser-known personal favorites.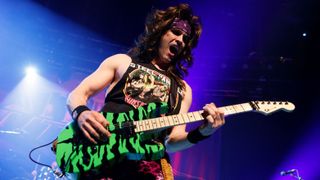 (Image credit: Burak Cingi/Redferns)
We recently asked several of the guitar world's best-known players to recommend some of their favorite electric guitar solos. With one catch, however: they had to avoid the obvious. In other words, no Gilmour, Hendrix, Clapton et cetera.
Here's what Steel Panther's fretboard extraordinaire Satchel had to say…
1) Frank Zappa | "Watermelon In Easter Hay" from 'Joe's Garage' (1979)
GUITARIST: Frank Zappa
"Zappa was inspiring on so many levels. He was in a universe all his own. There was nothing he wouldn't try. He was innovative, unafraid to speak out against tyranny, and he didn't care what was popular in music or anything else. He started his own record company way before indie was indie. He was such a legend that sometimes I forget he was also a fantastic guitarist. Then I listen to something like this and I'm reminded.
"This solo is so good. When I hear it, I hear a guy playing music – not a guy thinking about licks or trying to impress anyone. A guy who plays guitar wonderfully because he isn't just a guitarist, he is a musician making music. And in order to make great music, you have to be in the moment. This solo captures the moment so well. I don't know if it was one take, but it sure feels like it. It's perfect, mistakes and all."
2) Michael Schenker Group | "Rock You To the Ground" from 'Assault Attack' (1982)
GUITARIST: Michael Schenker
"This entire record is just awesome. I love everything about it. Graham Bonnet just killing it, Ted McKenna and Chris Glen holding it down, and Michael Schenker in his prime. His tone is so raw and his playing is so rock! This is heavy metal!
"His guitar playing has so much attitude and style, great vibrato and killer phrasing. And again, it's not perfect, as you can tell. There are missed notes and mistakes if you pick it apart with a fine-tooth comb, but music is not about being perfect, and when you listen to a master like Schenker, it drives that point home.
"There are a hundred Instagram guitarists with flawless technique that have zero of the coolness and attitude of Michael Schenker. Can we just go back to the '80s please, when people took the time to listen to entire records?"
3) Blue Öyster Cult | "E.T.I." from 'Agents of Fortune' (1976)
GUITARIST: Buck Dharma
"He was one of my favorite guitarists growing up. Everything this guy played always seemed like it fit perfectly – the note choices, the phrasing, the attitude. Buck's guitar playing would always take the song to some other place as well. And even though it seems like he must have worked out certain licks beforehand, the playing sounds like he improvised the whole thing. This guy is definitely one of the most underrated in the history of rock, IMO."
4) Allan Holdsworth | "Metal Fatigue" from 'Metal Fatigue' (1985)
GUITARIST: Allan Holdsworth
"Holdsworth was from another planet. He was so far ahead of his time and so innovative, the guitar world is still trying to figure out what the heck just happened, 40 years later.
"I think he had, like, seven fingers on his left hand or something. Most of the time when I hear someone that sounds great technically, I still can't wrap my head around how they are doing it, whether it's sweeps or three notes per string or two-hand tapping or whatever. Not Allan. No clue.
"But he never sounded like he was repeating himself or just reaching into his bag of tricks. It always sounded fresh and new. And as fast and impressive as he could be, the real kicker is that he was sooo tasty and melodic too! Even when he was playing fast. It never sounded show-offy to me; just beautiful and natural and smooth. And scary. Like an 18-foot great white attacking you from below."
5) Alcatrazz | "Wire and Wood" from 'Disturbing the Peace' (1985)
GUITARIST: Steve Vai
"I've always been a fan of Steve Vai, and he has continued to inspire guitarists for decades. This song is off a great Alcatrazz record that didn't get the credit it deserved. And again, Graham Bonnet is on it! I think playing with Graham Bonnet must mean you've finally reached success as a guitarist. So many awesome players have jammed with him, and Steve Vai is definitely one of them.
"This solo, like all the solos on this list, is melodic. It's got killer phrasing. It's got great timing and great note choices and total conviction. One of the things I really like about it is the climax at the end. The improv skills of all the guys on this list are amazing, and Steve Vai has more than enough licks to improv for the rest of his life. But the construction of the solo is an art form as well, and Vai has always been able to construct amazing solos.
"This might be my favorite on this album, and that's saying something, because everything he played on this record is killer."
Browse Steel Panther's catalog here.
All the latest guitar news, interviews, lessons, reviews, deals and more, direct to your inbox!
Guitar Player is the world's most comprehensive, trusted and insightful guitar publication for passionate guitarists and active musicians of all ages. Guitar Player magazine is published 13 times a year in print and digital formats. The magazine was established in 1967 and is the world's oldest guitar magazine.
When "Guitar Player Staff" is credited as the author, it's usually because more than one author on the team has created the story.