"The Audience Was Going Nuts. They Could Feel the Electricity Happening": Randy Bachman Reveals How a Broken Guitar String Led to the Guess Who's 1970 Smash "American Woman"
Decades on, this accidental hit song remains a benchmark of guitar tone and continues to inspire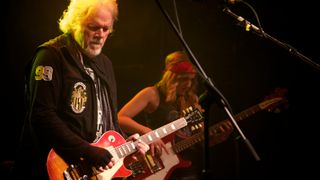 (Image credit: Michael Hurcomb/Corbis via Getty Images)
"It's a song that's always going to be relevant as long as America keeps going to war," Randy Bachman says of the Guess Who's furious anti-war rocker "American Woman," which hit number one upon its release in March 1970.
"It's always being played on the radio because it's just a kick-ass tune and it sounds great, but it seems to take on new importance every seven or eight years."
A Lucky Break
Bachman recalls that he and Guess Who lead singer/keyboardist Burton Cummings would get together every Saturday morning to write. Which isn't how "American Woman" came together.
"The song came about by accident," Bachman explains. "We were playing at this curling rink in Canada. It was February of '69, and it was freezing. During the show, I broke a string, and anybody who plays a Les Paul with a Bigsby knows it's a pain in the ass to restring.
"So while I'm on my knees in front of Burton's piano, restringing the guitar, he says to the audience, 'We're gonna take a break.' I got the string on my guitar and started playing these notes to tune up – B D E. I kept doing that, and I thought, 'This sounds like something.'
"I didn't want to forget it, so I kept playing it. Then the band came back onstage – Gary Peterson, the drummer, and Jim Kale, the bass player – and we began playing it together. Burton was last to join us, and he was like, 'This is great. What is it?' I yelled back, 'I don't know. Just play something!' He did a harmonica solo, then a flute solo, and I played a guitar solo.
"We knew we had something. The audience was going nuts. They could feel the electricity happening. During the next few shows, we continued to play it and Burton came up with lyrics: 'American woman, stay away from me…'"
Getting the "Woman" Tone
"We had the tune pretty much ready to record," Bachman continues. "I played the lead riff with what's become known as the 'American Woman tone.' I got the sound with my Les Paul plugged into what I called the Herzog: two Garnet amps made by [Garnet founder] Gar Gillies, with one used as a preamp. I did the melody line and the middle solo in one pass.
"The song needed something else, though, so Jack Richardson, our producer, said, 'Everybody leave the studio. Randy come up with something.' So I worked up the rhythm guitar riff. He just left the tape running.
"I used a different amp for the rhythm tone – it was a Fender 4x10 Concert Amp – and it's basically the same sound I got on [the Guess Who hit] 'No Time.' It's tough and overdriven. The rhythm track is one guitar, but I doubled the solo. You can hear that Bigsby vibrato."
What It Means Today
"The Guess Who were on a roll at the time. We'd had hits with 'These Eyes,' 'Undun,' 'Laughing' and 'No Time.' We had recorded a cover of [the Buck Owens song] 'Close Up the Honky Tonks,' so we played that over the phone for the people at our label, RCA.
"There was dead silence on the other end. Then we played them 'American Woman,' and there was cheering and whistling over the phone. They were all going, 'This is a number-one song!' And sure enough, it was. Other people have covered the song. Kelly Clarkson did an Aretha Franklin-like version, which I thought was terrific.
"And Lenny Kravitz did it, of course. I didn't like his version at first, but one day my 14-year-old daughter came home from school and said, 'Dad, all my friends think you're really cool.' I asked her why, and she said, 'Because Lenny Kravitz did your song!' That's what happens. People do the song and it becomes relevant again."
All the latest guitar news, interviews, lessons, reviews, deals and more, direct to your inbox!
Joe is a freelance journalist who has, over the past few decades, interviewed hundreds of guitarists for Guitar World, Guitar Player, MusicRadar and Classic Rock. He is also a former editor of Guitar World, contributing writer for Guitar Aficionado and VP of A&R for Island Records. He's an enthusiastic guitarist, but he's nowhere near the likes of the people he interviews. Surprisingly, his skills are more suited to the drums. If you need a drummer for your Beatles tribute band, look him up.