"On Paper, the Song Shouldn't Have Worked at All": How Randy Bachman Wrote His Favorite Guess Who Track, "Undun"
The guitarist reveals the influence of Lenny Breau, Bob Dylan and the Zombies in the 1969 hit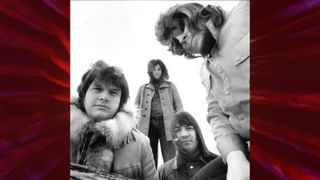 (Image credit: MICHAEL OCHS ARCHIVES/GETTY IMAGES)
"It's an unusual song that doesn't follow the standard template most writers use," guitarist Randy Bachman says about "Undun," the mysterious, jazz-tinged pop-rock track that his former band, the Guess Who, turned into a sleeper hit in the summer of 1969.
"It doesn't have the usual intro, verse, pre-chorus and chorus format. On paper, the song shouldn't have worked at all."
Nonetheless, "Undun," released as the B-side to the band's more obvious hit, "Laughing," took on a life of its own and eventually reached number 22 on the Billboard Hot 100. Revered by Guess Who fans, "Undun" also ranks high with two of the band's onetime members: Singer-keyboardist Burton Cummings calls it one of Bachman's best compositions, and Bachman himself says it's his favorite track from his time in the group. "It just has a unique quality like no other song," he says.
UNDER THE INFLUENCE
As a teenager in Winnipeg, Canada, Bachman befriended American guitar star Lenny Breau, who had moved nearby. Breau taught Bachman jazz chords and Chet Atkins licks, and he urged him to purchase Mickey Baker's Complete Course in Jazz Guitar. "Between Lenny and that book, I learned so much that I would use one day," Bachman says.
Flash forward to early 1969, when Bachman and Cummings were working up material for the Guess Who's fifth album, Canned Wheat. Bachman started messing around with a song idea that utilized a lot of what he calls "funny, un–rock and roll chords." He also drew inspiration from a number of disparate sources. "I loved the Zombies' 'Tell Her No,' and I was quite taken with the way Burt Bacharach wrote," he says. "Then I heard Bob Dylan's song 'Ballad in Plain D,' with the line 'she was easily undone,' and I went, 'Holy cow! Those words say everything.'"
Bachman wrote 10 to 12 verses "Dylan-style," with lyrics that told of a girlfriend who died tragically following an LSD overdose. When he showed the song to Cummings, his bandmate said, "Congratulations! You've written a phenomenal song all on your own. Let's pick a few verses and make it concise.'"
At first, Bachman and Cummings envisioned an electric piano solo, an idea they quickly nixed. "That would have screamed 'We're copying the Zombies!'" Bachman says. "Burton could play the sax, and we discovered that a flute used the same fingering. We went to a music store, bought a flute, and he learned how to play the solo. He'd never played the flute in his life."
"SECRET" STUDIO SESSIONS
With their producer, Jack Richardson, the Guess Who – which then included bassist Jim Kale and drummer Garry Peterson – began recording tracks for the new album at Manhattan's RCA Studios, a facility owned by the band's label, RCA Records. Dismayed at the sound they were getting, the band secretly moved to nearby A&R Studios, founded by producer Phil Ramone, to record "Laughing" and "Undun."
"We were well rehearsed in those days, so we cut all the basics live in a few takes," Bachman recalls. "Jack and Phil worked together with us, and they had us slow 'Undun' down a few beats." Bachman used his Gibson ES-335 and 1957 Gretsch 6120 Chet Atkins. "Phil had some good suggestions for my guitar playing: when to go low, when to go high," he says. "Nobody argued with him."
THE LINE LIVES ON
The single "Laughing"/"Undun" was released in July 1969, and the A-side soon hit number one in Canada and number 10 in the U.S. At some point, disc jockeys began flipping the single over and gave "Undun" a spin. "Lo and behold, the song started going," Bachman says. "After that, radio was into us."
Over the years, Bachman has marveled at the manner and degree to which the song's opening line – "She's come undun" – has entered the popular lexicon. "People say it all the time now. It's a standard phrase," he says. "It was even the title of that book by Wally Lamb, She's Come Undone, which Oprah selected for her book club."
He laughs. "Of course, it was a little strange when I saw that Lamb dedicated the book to Burton Cummings. I was like, 'Wait a minute. I wrote the damn song, not him!'"
All the latest guitar news, interviews, lessons, reviews, deals and more, direct to your inbox!
Joe is a freelance journalist who has, over the past few decades, interviewed hundreds of guitarists for Guitar World, Guitar Player, MusicRadar and Classic Rock. He is also a former editor of Guitar World, contributing writer for Guitar Aficionado and VP of A&R for Island Records. He's an enthusiastic guitarist, but he's nowhere near the likes of the people he interviews. Surprisingly, his skills are more suited to the drums. If you need a drummer for your Beatles tribute band, look him up.