Listen to the Limitless Guitar Playing Talent of Lenny Breau
Produced by Chet Atkins, Lenny's second album is a stirring testament to his remarkable gifts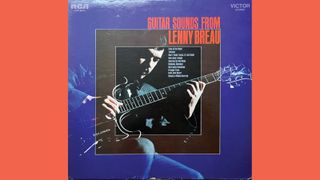 (Image credit: RCA)
My all-time favorite Lenny Breau recording is a bootleg cassette that a pal of mine recorded at a guitar clinic, where Lenny seemed comfortable, funny and among his own people: guitar players.
That said, Guitar Sounds From Lenny Breau is a great LP and an extraordinary overview of Mr. Breau's revolutionary and groundbreaking approach to the instrument. Released by RCA in 1969, it is his second album (his first is a live recording) on which one can hear Lenny's amazing right-hand harmonics, the independence of bass/chords and melody, and his evolved concept of harmony.
Despite Lenny's virtuosity, his playing is always grounded in something wonderful and pleasing. To put it simply, Lenny's playing is fun for the whole family. A non-musician "civilian" could love this record as much as the snobbiest pipe-smoking Jazzbo.
One of the many aspects I love about Lenny Breau's playing is that he never seems to be trying; everything he does sounds effortless. To my ears, he was certainly not trying to prove anything; it was all about the music, and he never prioritized that he was debatably the greatest solo electric guitarist of the 20th century.
On Guitar Sounds From Lenny Breau, one can hear his seven-string prowess displayed on Roger Miller's "King of the Road." His lead lines are always perfectly melodic, and one would be hard-pressed to remove a single note, even during his flashy flurries.
"Taranta" follows, and I can hear the influence of pianist Bill Evans. Lenny started employing right-hand harmonics to express Evans' 10-finger piano chords that he loved and was on a mission to replicate. It seems to me that Lenny refused to accept any of the guitar's limitations and dedicated countless hours to breaking down the confining walls we players face.
Chet Atkins did a wonderful job producing this LP. It sounds great, and the song choices include what I suspect are Chet approved. "A Hard Days Night," "Music to Watch Girls By," "Monday, Monday" and other mainstream vehicles provide context for Lenny's creativity to show us the depth of his imagination. His version of Hank Williams' "Cold, Cold Heart" sounds like a modern classical guitar piece, yet with an underlying melancholy and yearning.
Lenny Breau was a guitar genius.
Being a fan, I read the Breau biography One Long Tune, which among other things is a tragic story about his inability to overcome drug use. Although there were flashes of the almost childlike Lenny Breau, not fully equipped for everyday life, there were many inspiring moments as well.
Atkins' undying generosity toward him was unconditionally beautiful. In 1984, at the young age of 43, Lenny was found dead in a swimming pool, with some suspicions cast on the cause of death. He is currently in an unmarked grave. But I wouldn't want this to be the focus of his incredible life. This Canadian guitarist gave us all so much.
As I listen to Guitar Sounds From Lenny Breau while writing this column, Lenny's spirit and innovations are ringing true in my living room. He is a gift that keeps on giving. I've always wondered why Lenny Breau's name doesn't come up more. To me, he belongs on the small list of guitar innovators of the 20th century, along with Segovia, Django, Charlie Christian, Wes Montgomery, Jimi Hendrix and Eddie Van Halen, to name a few.
He certainly deserves to be recognized and championed. His right-hand harmonics alone put him in the top pantheon of players and this, with all his superhuman musicality, makes him an obvious stand-alone innovator – that along with always sounding warm, smart, sweet and generous.
Check out Lenny playing "Georgia On My Mind." He's young, at his peak and, as always, jaw-droppingly good.
Discover more of Lenny Breau's music here.
All the latest guitar news, interviews, lessons, reviews, deals and more, direct to your inbox!
Jim Campilongo has 14 critically acclaimed instrumental records available on vinyl, CD and digital download here.