Prince's Exclusive 'Guitar Player' Interviews: The Purple One Goes In-Depth
Two exclusive interviews with the king of funk-rock guitar.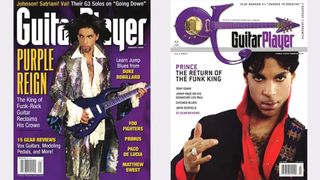 (Image credit: Future)
Prince has graced the cover of Guitar Player for two exclusive interviews: once in January 2000 and again in July 2004. On both occasions he was interviewed by GP senior editor Art Thompson.
With the news of Prince's death on April 21 2016, we're republishing both interviews here in their entirety.
The Once and Future Prince
Originally published in Guitar Player, January 2000
The Artist looks wizard-like in the soft glow of Paisley Park's Studio A. Clad in red satin and seated behind the mammoth SSL console, he cues up some cuts from his new album, Rave Un2 the Joy Fantastic. "There's guitar madness all over this," he warns, firing up the title track at ear-splitting volume. Destined to be one of the album's sing-along hits, it features grinding guitar work and a lead melody that sounds as if a snake charmer is playing through a pair of flanged Marshalls.
"I recorded that in 1988," he quips, pulling down the volume. "It has two guitars going through Leslies. One was the Auerswald [the custom symbol guitar shaped like his unpronounceable name]. It's made of one piece of wood—and doesn't have much guts—but if you crank it, it sounds like a car is running over it!"
The preview continues. On "So Far, So Pleased" and "Baby Knows," I'm pinned to my chair by hurricane-force guitars over pounding rhythms. On "Tangerine," The Artist deftly picks fingerstyle acoustic over a trippy kick and fretless-bass figure. As the songs unfold, Rave Un2 the Joy Fantastic proves to be full of contrasts and revivals for the 41-year-old Artist Formerly Known As Prince. It's the hardest-edged guitar record he has ever made, he performed all of the tracks by himself (something he hasn't done since the 1982 smash 1999), and it's his first major-label release since he jettisoned his Warner Bros. contract in 1995 (which involved legally changing his name to a symbol).
There's more: Production credit on the new album goes to the now returned Prince (apparently The Artist's fave producer), and there are cameo performances by Sheryl Crow, Ani DiFranco, Chuck D, Gwen Stefani, and Maceo Parker. Explaining why his former personality nixed guest appearances, The Artist revealed, "I'm competitive, and I've definitely let my ego control me. But I've discovered that when it comes to music, ego has to sit down." Rave punctuates this collaborative spirit with a cover of Crow's "Everyday Is a Winding Road"—a track that finds The Artist riffing over hip-hop beats with a stinging attack worthy of Albert King.
Is the notoriously sly funkster really the "brand new kid" he now claims to be? Perhaps. After all, a lot has changed in his world over the last few years. The split with Warner initiated a four-year span in which his only major-label affiliation was a distribution deal with EMI for the album Emancipation. Subsequent releases on his own NPG-label— including the five-disc Crystal Ball (which sold more than 250,000 copies at $50 a pop), the EP The New Master (which features seven fresh versions of the hit) and the New Power Generation album Newpower Soul—have been marketed via the Internet.
By all accounts, The Artist has been successful at managing his own affairs. In fact, he talks of owning his masters (the original recordings) with the zeal of someone who's discovered the secret of eternal youth. But with all the complexities of running an operation the size of Paisley Park, who could blame him for inking a saccharine-sweet deal with a major record company and getting back to doing what he does best—writing and producing cutting-edge funk-rock, and playing awfully good guitar.
As if to underscore this last point, The Artist played a video clip from a recent live performance that showed him shredding like a madman. When the solo ended, he flicked off the VCR and said with a grin, "I just wanted you to see that I can do it live, too."
Why did you decide to play the majority of instruments on Rave?
I had always planned to revisit my sound. This year felt like the time to do it.
You mentioned coming full circle with your guitar playing. What is exciting you most about guitar now?
Habibe [a custom Schecter guitar], and the doors that metal has opened for harder-edged records.
Do you conceive songs and arrangements in their entirety, or do you play around with the music and lyrics until you get what you want?
I always know what the whole thing is going to sound like. It's all in here [taps his head], but it's here, too [points at the console].
Recording hardware is part of the songwriting process?
I use punch-ins and spot-erasing as a compositional style—that's how I build and edit arrangements and performances. I'm quick enough with the Record button that I can shave a letter off a word. But that's because I've been doing it for 20 years.
How do you create rhythm tracks?
I generally build my tracks one at a time, but sometimes I use the band to get the rhythm down. In a way, it's more fun to get it out of people. You know, an idea is still yours even if you give it to someone.
Is it easier for you to play all the instruments?
It's not easier, but when I play all the instruments I'm not as greedy. I'm more greedy when we play live. [Laughs.]
I like your solo on "Baby Knows."
I tried to go after Chuck Berry for that one. I think I used my Tele through a small amp. Sheryl Crow played harp on that song—she nailed it in one take.
Who's playing guitar on "I Love You, But I Don't Trust You Anymore"?
That's Ani DiFranco. I showed her the chords to the song, but I didn't tell her how it actually went. If I'd told her too much, then silence wouldn't have been one of the sounds.
How did you get such a massive tone on "So Far, So Pleased"?
I ran my guitar through a Boss Vibrato and Flanger. The octave and delay effects are from the Zoom 9030.
Do you double your guitar lines?
A lot of times, I'll sample a guitar that I've recorded, and then overdub the same part with a keyboard. The attack of the keyboard gives guitar lines more impact and punch.
Did you do that on "Man O' War"?
Yeah. I also had my Cry Baby cracked halfway open for that one.
Do you have any special ways of recording acoustic guitar?
Sometimes I record the guitar and vocals live—just sitting here at the console. That's how I recorded The Truth [the acoustic-only disc on Crystal Ball].
Speaking of Crystal Ball, how did you get that eerie lead tone in "Animal Kingdom" and the incredible rhythm guitar sound in "Da Bang"?
If I told you, you'd have to die.
Are you still playing the Cloud guitar?
Yeah, but it's painted blue now.
Who built that guitar?
It was made by David Rusan.
Do some instruments have a more spiritual vibe than others?
I'm spiritual by nature, and I appreciate the time it took someone to make an instrument. It doesn't matter if it's a guitar or a synthesizer, someone still had to take the time to make it.
What's one of the most important qualities for a musician to have?
You have to respect your spiritual base. You have to respect the instrument. The volume and tone of an instrument is so important.
You've recently produced albums by Chaka Khan and Larry Graham. Are there any guitarists that you'd like to produce?
Carlos Santana. I love his playing—especially on his early albums.
What guitarists have most influenced your funk rhythm style?
Sonny T. [one of the early members of The Artist's backup band, New Power Generation], Freddie Stone [Sly Stone's brother], and Tony Maiden [of Rufus].
How do you create such freedom in your songs without sacrificing the groove?
God gives you everything, and one of those things is freedom.
Hans Buff on Recording Rave Un2 the Joy Fantastic
Hans Buff claims he's not quick enough to keep pace with The Artist, but this native of Germany certainly put himself on the fast track for a world-class engineering gig. Buff completed a one-year recording course at Music Tech in Minneapolis in 1993, and immediately gained a staff position at Minnesota's Pachyderm Studios (where he assisted tracking Live's Throwing Copper album). He soon became an assistant engineer at Paisley Park, and signed on as The Artist's main engineer in 1996. —AT
"This is a very rock-oriented record, so we worked a little harder on the distortion tones," says Buff, when asked about the guitar-recording process for Rave. "There were a couple of tracks where we just plugged straight into an amp—typically a Peavey Delta Blues 1x15 or a Tech 21 Trademark 60—but The Artist also had his complete guitar system in the studio so that he could use all his pedals. I'd often mic the [Dutch-made, Celestion Vintage 30 loaded] Koch 4x12 or Peavey 5150 4x12 cabinets with a Shure SM57 and an Audix D2 placed on two different speaker cones. Sometimes we used a room mic to capture some depth—usually something fancy like an AKG C12A, a Neumann U67, or a Neumann U47 FET.
"We also recorded guitars direct. The Artist's favorite funk setup is his Hohner Tele copy equipped with Fender Noisless pickups through either a Countryman or an Avalon direct box, then into a DiMideo mic preamp, and finally through a compressor—usually a tube Urei LA2A.
"The Artist has interesting ways of building guitar tracks. For example, on 'The Greatest Romance Ever Sold' [the Adam & Eve remix], there's a guitar solo that sounds kind of Queen-like. He played a straight solo, sampled it with a Publison Infernal Machine, and then played it back on a keyboard an octave higher. For the straight-up rock tones, he mostly used his pedals—a Boss DS-2 Turbo Distortion, a Boss BD-2 Blues Driver, a Boss DD-3 Digital Delay, a Boss OC-2 Octave, a Boss FL-2 Flanger, a Danelectro Fab Tone, a Dunlop CryBaby, and a Dunlop Rotovibe. Stompboxes have always been part of his sound—it's all creative abuse of pedals.
"We don't spend much time working on sounds. The Artist isn't a gear head, and we never spend, like, six hours checking out different amps, guitars, or mics. I never have time to set up tones that you take for granted in most recording situations. The board is always set up for mixing and overdubbing simultaneously. Studio A has an SSL 8000 G+ console with Ultimation, and Studio B has a custom DiMideo with API components that I believe was used to record much of Purple Rain and Sign O' the Times.
"We usually build tracks with The Artist programming a groove with his drummer/programmer Kirk Johnson. The Artist then puts down a melodic instrument—usually a keyboard—and records his vocals. In all the time I've worked with him, I've never seen him record his lead vocals—he always tracks them by himself with an AKG C12A that hangs over the console.
"Drums and vocals are typically recorded on an analog 24-track machine, and I'm a fan of that approach because you can get more punch out of analog tape. All the arrangement stuff is recorded on digital, so I go analog about half the time and then transfer the tracks to a 48-track digital deck. Digital tape is ideal for The Artist because he works very fast and always records lots of tracks. Digital makes everything easily accessible—the punching is fast and you can copy tracks quickly. Our hard-disk recorder is an old Akai DD-1000 2-track—and that's only used to sequence album tracks.
"When working with The Artist, it never ceases to amaze me that he can write a good song, fill it up with great playing, and then stand back and look at the whole thing without being attached to those parts. He's the king of the rough mix. He doesn't like things to be subtle. He once told me that mixing is like making a music video—when you see finger cymbals, you've got to hear them, too. So, the biggest problem I have in mixing his stuff is when I have to make 25 parts sound similarly loud in order to live up to that ideal video scenario."
Crown of Creation: Prince Summons the Funk on Musicology
By Art Thompson
Originally published in Guitar Player, July 2004
This is some year for Prince. With his induction into the Rock and Roll Hall of Fame (which will long be remembered for the jaw-dropping solo he played on "While My Guitar Gently Weeps"), his blistering performance with Beyoncé at the Grammy Awards (the show's producers hopefully sent him some flowers in appreciation), and the release of Musicology (widely hailed as his best work in a decade), Prince has reclaimed the funk-rock throne.
And who's going to argue?
Musicology delivers on all fronts with its savvy blend of greasy funk, soaring anthems, sweet ballads, and—who says funk and politics don't mix?—pointed assessments of George Bush ("Dear Mr. Man") and the war on terrorism ("Cinnamon Girl"). It's also loaded with hip guitar. Not that Prince will readily speak about his guitar playing or his gear. During our interview, he was more eager to talk about music education for kids, the record industry, and the flap over decency on the airwaves ("'Darling Nikki' was suggestive," he says, "but it wasn't nasty"), and the concept behind the new album.
"Musicology is all about music the way it used to be," says Prince, as we sit in his dressing room at the Mellon Arena in Pittsburgh, Pennsylvania. "And it's about getting the music to the people. That's why everyone who comes to the show gets a copy of the record. The CD is included in the ticket price, and we're giving out approximately 50,000 copies each week in order to keep increasing the exposure to the new album. Right now, we're only playing a few songs from Musicology in the show, but that will change as people become more familiar with it."
Although the massive giveaway seemed like an expensive way to promote an album, Prince disagreed. "It costs nothing to make the CDs," he says. "And the benefit of having your artistic freedom is that there won't be anyone forcing you to do a remix or anything else you don't want to do. I don't believe in remixing songs that are in the key of life. When the record people get in there and say, 'Why don't you do it like this?' Well, that's their prerogative if they own the contract. But bands break-up over contracts—just talk to the Eagles about that. I've asked record execs why they aren't under contract with each other, and all I get is, 'That's a very funny idea, Prince.' See, the fight for me has always been about freedom and ownership. It's simply preposterous to me that someone is going to own your work in perpetuity."
Prince is probably the most successful independent artist in the music biz, and his desire to be in control of every aspect of his music seems to demand that he also work on his records alone—a habit that seems puzzling considering the pool of talent in his band.
"On some songs, I just like the way I play drums and keys better than anyone I know," he explains. "My drummer, John Blackwell, can certainly do things I can't do, but, if I bring him into the studio, there are things he'll do differently than how I envisioned them. You know, I can't even play 'When Doves Cry' the way I originally envisioned it. It's like a painting—it is what it is. You know how [legendary director] Billy Wilder got such a seamless quality to his films? It was because he wrote and directed everything himself. It's the same for me."
One of the attractions of seeing Prince live is that he plays tons of guitar. At the Pittsburgh show, I witnessed what an absolute shred monster he can be when he kicks on a Boss DS-2 Overdrive through his Mesa/Boogie Heartbreaker amp. But Prince is also a masterful rhythm guitarist with a unique funk style. "I'm always trying to work in the bass notes when I'm playing funk rhythms," Prince says. "It's the same way that Freddie Stone [guitarist, Sly and the Family Stone] would always play the same parts as [bassist] Larry Graham, but just a tad higher. Kids don't learn to play the right way anymore. When the Jackson Five came up, they had to go through Smokey Robinson and the Funk Brothers, and that's how they got it down. I want to be able to teach that stuff, because kids need to learn these things, and nobody is teaching them the basics. See, a lot of cats don't work on their rhythm enough, and if you don't have rhythm, you might as well take up needlepoint or something. I can't stress it enough. The next thing is pitch. That's universal—you're either in tune or you ain't [laughs]. When you get these things down, then you can learn how to solo. Guitarists should listen to singers for solo ideas—especially women singers. Women haven't had a chance to run the world yet, so you still hear the blues in their singing. Try to play one of the runs that Beyoncé or Ella Fitzgerald does and you will surely learn something."
On the Musicology tour, Prince performs several solo-acoustic songs on a Taylor 612CE Custom—something he hasn't done since his Live Aid performance in 1986. "I might consider doing an acoustic tour," he offers. "I liked doing the acoustic performance of 'Reflection' [a lovely ballad that has been re-released on Musicology] with Wendy Melvoin on the Tavis Smiley Show. I though it was the perfect song for Tavis' show. He's a friend, and I wanted to do something special for him. I always try to cater to the format I'm playing in. Like for Jay Leno, we'll play something like 'The Ballad of Dorothy Parker' and really jazz it up."
Over the past several years, Prince has steadily increased the presence of jazz harmony in his sound—which he explored in depth on the jazz-fusion odyssey The Rainbow Children and recalls in a furious interlude on Musicology's "If Eye Was the Man in Ur Life." Prince credited Blackwell and keyboardist Renado Neto—both certified jazz-rock mofos on drums and keyboards—for inspiring him to try new ideas.
"I like the audience to be as sophisticated as my music is," says Prince, "and, sometimes, I've had more fun doing challenging things in after-show concerts than playing the hits at the main show. The best players used to play rock and roll. The first time you heard Boston, it was this huge, amazing sound with all that guitar doubling. Same with Brian May—nobody sounded like him. I still think of Return to Forever as a rock band. Those guys could really play, but there ain't nobody doing that in rock these days."
With only minutes to spare before showtime, Prince concluded the interview by saying, "When I changed my name back to Prince, I went into intense study of the bible with my friend Larry Graham. It gave me a sense of the world that I didn't have before. For a long time, I was into living life to its fullest in every way possible—including spending as much time in the studio as I could. And while I still spend so much time in the studio that people say I should be in a 12-step program, at least now I know where I'm headed. Any musician who learns everything about their instrument will only know who they are if they spend the time to know God. That's why I don't like to talk about gear. People will go out and buy that stuff thinking it's going to make them sound like me, and that's not where it's at. Go get your own stuff and come up with your own sounds. If you need a path to follow, a good place to start is by listening to Ike Turner—he was as tight as they come—or James Brown, who is all about rhythm. Put any colors you've learned from Joni Mitchell on top of that, and then you've got something!"
What Prince Won't Talk About
Prince is way more into making music than talking about how he makes it, and, as a result, he seldom divulges the juicy gear details GP readers crave. In fact, responding to my query about the role of compression and EQ in the sparkling direct-into-the board tones he obtains from his '70s-era Hohner guitar, Prince said: "The idea is to do nothing—it's all about voltage through the board. I don't want it limited or compressed, I want to electrify it."
However, Prince's rig hasn't changed much since our January '00 interview, when guitar tech Takumi helped us diagram his boss' setup. You can check out that issue for the full story, but here are some basics:
Guitars '70s Hohner, Custom Schecter ("Habibe"), "Cloud" guitar (original made by David Rusan; Prince now plays a Schecter-made version), Ibanez George Benson, Fender Stratocaster (with bridge humbucker and Floyd Rose locking trem).
Amps Mesa/Boogie Heartbreaker.
Speaker Cabinets Mesa/Boogie Recto 2x12 (loaded with Celestion Vintage 30s).
Rack Gear Digital Music MX-8, Roland GP-16, Zoom 9030, Rane ME30, Behringer Denoiser, Furman PL-8, Furman PL-Pro, Furman AR-117.
Stomp boxes Boss DS-2 Turbo Overdrive, Boss VB-2 Vibrato, Boss DD-3 Digital Delay, Boss FL-2 Flanger, Boss OC-2 Octave, Boss BD-2 Blues Driver, Dunlop Cry Baby wah, Dunlop Rotovibe.
Mike Scott: Prince's Right-Hand Funk Man
A funkster par excellence, Mike Scott cut his 6-string teeth in Washington D.C., before relocating to Minneapolis, where he became the ace session guitarist for producers Jimmy Jam and Terry Lewis. Under the duo's Flytime operation, Scott played on albums by Janet Jackson, Mary J. Blige, TLC, Mariah Carey, Lionel Ritchie, Vanessa Williams, Patti LaBelle, and many others before joining Prince's New Power Generation in 1994. Scott left NPG in 1996, and re-joined the band earlier this year. —AT
What were you doing when you got the call to come back to NPG?
I was touring in Italy with some ex-members of a previous Prince band—Sonny Thompson [bass], Michael Bland [drums], and Tommy Barbarella [keyboards]. Initially, I was called to do some spot dates with Prince. But, after we did The Ellen DeGeneres Show, he asked me to join the band for this tour.
Prince hasn't used a rhythm guitarist in some time—why did he want you for this tour?
When Prince isn't playing guitar, he wants to feel like he's still getting that same funk sound. I think he auditioned some other guitarists, but I guess he didn't find what he needed.
So what does it take to be a member of NPG?
All I can say is, if you're going to come into this band, you'd better be tight. When he gives you a funky rhythm part, he will only show it to you once, and you need to hit it like you own it every time after that.
Is there a certain tone you get that works well with his guitar sound?
Prince mostly plays single-coils, so I try to give him a clean, bright tone that's similar, but slightly different. That's why I use guitars with humbuckers or P-90s. The biggest challenge is just staying funky and in the pocket. If Prince plays up high up on the neck, I'll play something low to complement him.
What guitars are you playing on the Musicology tour?
I'm using a Gretsch 6120N New Nashville, a Hamer Monaco III, and a Taylor acoustic. I run the electrics though a Genz-Benz El Diablo amp with a Genz-Benz 2x12 cabinet, and my onstage effects consist of Line 6 DS-4 and DM-4 pedals, a Fulltone Fat Boost overdrive, an EBS BassIQ envelope filter, and a Dunlop Cry Baby 535.
What's the most important thing you've learned from playing with Prince?
Since I've been playing with him I've learned to play the whole guitar. He really took me to school on that. Prince always blows me away with the guitar harmonies he comes up with. When he and I are comping on some funky rhythm thing, he's either playing some mad genius harmony with the part I'm playing or spitting some crazy, rhythmic groove that's funky like a monkey—you can smell it in the air. Prince has an endless supply of harmonic ideas, and I've learned so much from him about showmanship and playing in the pocket. In a live concert—when the adrenaline is flowing, the crowd is screaming, and you're trying to hit a dance step while playing some rhythm part—the pocket can get away from you if you let it. He taught me to be more aware of the pocket so everything stays funky. I used to play all these fast, Scott Henderson-type things until Prince told me, "I'm going to kick your butt if I hear you playing more than one note at a time!"
All the latest guitar news, interviews, lessons, reviews, deals and more, direct to your inbox!
Art Thompson is Senior Editor of Guitar Player magazine. He has authored stories with numerous guitar greats including B.B. King, Prince and Scotty Moore and interviewed gear innovators such as Paul Reed Smith, Randall Smith and Gary Kramer. He also wrote the first book on vintage effects pedals, Stompbox. Art's busy performance schedule with three stylistically diverse groups provides ample opportunity to test-drive new guitars, amps and effects, many of which are featured in the pages of GP.