"I'll Never Be Able to Play the Kind of Leads I Want": Pete Townshend Discusses Guitar Solos, Gibson SGs and More in This Fascinating Interview From the 'GP' Vault
"I was happiest listening to Jimi Hendrix – that, to me, was like heaven," said the Who's six-string destroyer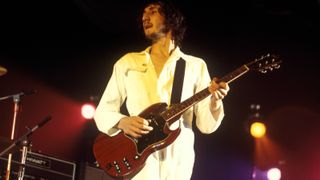 (Image credit: David Redfern/Redferns)
The following interview excerpt appeared in the May 1972 issue of Guitar Player.
The Who were into instrument destruction onstage, and found it gave recognition and a musical peak to their performances. Chief lick-maker of the Who is Peter Townshend, whose influences have included John Lee Hooker and Steve Cropper, along with Jimi Hendrix and a bit of the Yardbirds.
He is acclaimed as the first guitarist to stack amplifiers, and is also among the first to use feedback creatively.
He is the epitome of stage presence with his long, lean figure jumping seemingly six feet in the air, and his windmilling arm striking his guitar's strings with the effect of a lightning-clouded sky.
How did you come to use Gibson SGs?
Well, it's a bit of a disappointing story. I got fed up with Fenders because they were too clean, but I liked them because they were tough. In my guitar-smashing days, the Fender would last two or three shows, and if I wanted to smash it up, it took ten minutes. But they were fuzz-box numbers – clean until you hit the fuzz box.
So I went to the music store, and said I really need an alternative to this, and the manager suggested the SG. I played it, and it sang to me, and I've used SGs ever since.
The finest guitar I've ever owned, however, is this 1958 Gretsch Chet Atkins that Joe Walsh gave me. It's the loudest guitar I've ever had. It is so loud, man. I used that guitar on every track of Who's Next.
How much of your leads are improvisation?
Well, in the loose bits, it's like off the cuff. Sometimes, when an audience is passive, we freak and say, "Get up off your ass and do something!" But although they sometimes aren't openly freaking, there can be definite strong vibes of "we're here to hear." And when you walk on stage and meet that, it makes you feel a bit more of a musician than an acrobat. So a lot of things come out that don't ordinarily come out.
But when you are actually playing a lead, is it out of scales, chords, patterns or what?
I started out as a rhythm player, and a few of my lead licks are things I've basically developed in recording sessions. I'll never be able to play the kind of leads I want. I was happiest listening to Jimi Hendrix – that, to me, was like heaven.
For me, it was probably a good thing that he died, because it made me realize that I wasn't going to be at any more Jimi Hendrix concerts and feel that bit of downfall. I was going to have to try and do it for myself again.
Is the music as important as the stage act?
I can't separate the music and the act anymore. My favorite quote I said in an interview is "We never let the music get in the way of our stage act." In a lot of ways that's true, because "stage act" means that we are committed to one another and the audience, and "music" means we are committed to the way we play – or committed to our limitations.
You know, if there's something on the guitar that I want to do, but I can't, I'm going to be frustrated.
All the latest guitar news, interviews, lessons, reviews, deals and more, direct to your inbox!