"I've Been Paid to Play Rhythm Guitar 90 Per Cent of the Time": Steve Lukather Reveals the Truth About Session Work
Watch Luke's captivating interview with Rick Beato as he explains the importance of mastering rhythm guitar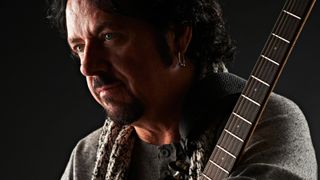 (Image credit: Future)
***The following appeared in the February 2018 issue of Guitar Player***
"Ever hear someone pick up a guitar and start strumming a blues shuffle or something, and it feels so good it just makes you want to jump in and play with them?" asks Steve Lukather. "That's the kind of player people want to hire in the studio – the person who comes up with parts that make the song feel better."
If you want to work, you have to be that person says the Toto founder. And to be that person, you need to know how to play rhythm guitar.
"Kids can learn every lick in the world from the Internet now, but a lot of them have no groove," he points out, "because they haven't learned how to play rhythm guitar – like that's not important!"
Flashy lead playing may entertain and impress on social media. But when it comes to working with other musicians, Luke underscores the ability to play great rhythm guitar as the most important thing.
"You need to know how to play behind a singer, and to have great time, a great sound, and a great touch," advises the prolific studio veteran. "You need to come up with great ideas on the fly, as well as know how to stay out of the way when necessary.
"And once you find something that fits with what everybody else is doing, stay on it. It takes a certain instinct to hear a song for the first time and find a part that fits.
"While I'm very impressed with what Millennials are doing on guitar now, if there's one thing severely missing in music today, it's human interplay. When you've got real players in a room reacting to each other, you stop getting individual takes during a session, and you get a collective take as a group.
"That's when the real magic happens in the studio."
All the latest guitar news, interviews, lessons, reviews, deals and more, direct to your inbox!
Los Angeles Editor, Guitar Player
Whether he's interviewing great guitarists for Guitar Player magazine or on his respected podcast, No Guitar Is Safe – "The guitar show where guitar heroes plug in" – Jude Gold has been a passionate guitar journalist since 2001, when he became a full-time Guitar Player staff editor. In 2012, Jude became lead guitarist for iconic rock band Jefferson Starship, yet still has, in his role as Los Angeles Editor, continued to contribute regularly to all things Guitar Player.
Watch Jude play guitar here.