Oz Noy Keeps the Energy Flowing as He Returns with His Super-Fun New Album, Snapdragon
The fusion whiz talks technique, tip jars and continuing down his last record's path.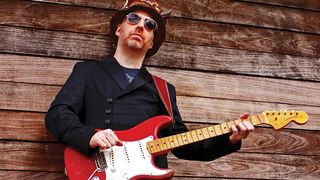 (Image credit: Cari Paige)
Over two decades of touring and recording, Oz Noy has built a career based on putting the fun back in fusion. Rather than composing complicated music with odd time signatures and rapid-fire unison licks that appeals mainly to other musicians, the Israeli guitarist favors funky rhythms that folks feel in their bodies, and blues-based changes that non-musicians can recognize.
His magic lies in using an encyclopedic knowledge of harmony and prodigious technique to create complexity that makes his music more than just your standard blues- funk outing.
Those qualities remain evident on Snapdragon (Abstract Logix), his new album. Although Noy considers the record something of a sequel to his previous outing, the jazz-meets-R&B disc Booga Looga Loo, it offers up some new sounds as well, like the cascading runs on the intro, and an almost Holdsworth-ian legato tone for the solo of the opener, "Tired but Wired."
And if you've never heard Noy in a pop context, such as with his side project Ozone Squeeze, you may marvel as he tears though the changes to the Zombies' "She's Not There," managing to outline the chords while adding some decidedly "outside" tension.
But that too is simply another side of Oz. On Snapdragon, it all comes together, and beautifully so. In fact, with its fat tones and fleet fingerwork, it may be the Oz album shred fans have been waiting for. "I usually limit myself, trying to be melodic," he says. "But on this one, I was like, 'I don't care anymore.'
Almost a dozen records in, how do you decide what you want to do for your next project?
I like to have a concept before I write or record. For Twisted Blues, I took the blues and expanded the harmony and rhythms. Who Gives a Funk was more like R&B/soul. The last record, Booga Looga Loo, was boogaloo-inspired. Snapdragon is basically volume two of that record. I had too much music during the sessions, so I ended up recording three more tunes and decided to do two records.
You have been described as a player for whom technical limitations are no longer an issue.
I think my technique is limited, but there's a difference between technique for technique's sake and technique to bring your ideas to life. I'm able to quickly bring my musical ideas to an improvisation in real time, but there are a lot of things I can't do.
I work on voice leading and scale patterns. I work on trying to create different colors over a harmony. Or if there's a harmony that moves too much, I like to give it continuity. In my music, the harmony is not complex, but there are still little twists and turns. I try to make it sound like melodies. I'm not playing a lick on A major and then a lick on F minor. I like to connect the dots.
Play through, rather than over, the changes.
Yes. It's not about speed. For me, technique always came from a musical, not a technical, perspective. Great technique is if I can play a bebop line fast, not if I can play a scale fast. If I come up with an idea, like a blues line, and play it fast, that's good technique; it's not playing a pentatonic scale fast. That said, on this record I was just burning as hard as I could. [laughs]
Let's get into the record. On "Tired but Wired," what's that cascading sound at the beginning?
It's an open string, and then two notes on the two strings after, and then another open string, and two notes, et cetera. I did an overdub of a direct guitar on top of the regular guitar because it was hard to hear it properly in the mix.
The solo on that tune sounds like humbuckers. Was that your Les Paul?
No, that was a Strat.
What overdrive and amp were you using to get it that fat?
It's the same thing I used on pretty much the whole record: my signature Xotic pedal, which is basically their AC and RC Boost together in one pedal. I have both sides on at once. When you run the RC into the AC, that's when it gets huge.
What amp were you using?
I recorded with a Two-Rock TS1 and a Plexi Marshall 100-watt. Most of the record is more the TS1 than the Marshall.
What guitars did you use on the record?
I used two Strats on the record: my red Fender Custom Shop '68 maple neck and my '58 Custom Shop Strat, also maple neck. On "Looni Tooni" I used my John Cruz Fender Masterbuilt '59 Esquire with a Fender Tele neck pickup. On "Outer Look" and "Bemsha Swing" it's my Gibson Redeye Collector's Choice '59 Les Paul.
Speaking of "Bemsha Swing," do you approach soloing on Monk tunes differently than tunes by other composers?
No, although certain Monk tunes make you play a certain way because of the harmony. But I usually simplify the harmony. On "Bemsha Swing," the head is the original changes of the song, but on the solos I simplified it to I and IV. I take all the chords in the middle out.
Is "Groovin' Grant" a nod to Grant Green?
It doesn't sound like it, but yes.
What about his music influenced you?
I like his tone, his touch and his rhythmic approach — it's super soulful and bluesy. I should probably have called it "Groovin' Wes," because it sounds more like a Wes tribute.
The overdrive on that one sounds a little different. What were you using?
It's an Ibanez 808 Tube Screamer.
Adam Rogers guests on that tune. Did you record live together?
Adam overdubbed it. I wish we could have, because we used to play that tune together, but it was just not possible.
Do you know what guitar he was using?
He was using his '56 Tele into a Marshall 100-watt. [Rogers recalls that it was his '66 Fender Deluxe Reverb.]
"Boom Boo Boom" has a head that ends with a cliché but hilariously stops just short of the last note. Why do you think that, although so many musicians are funny people, their humor doesn't come out in the music?
I don't hear humor in my music, but people keep saying they do, so I guess there is something to that. Maybe I don't take it as seriously as some people. I try to make it fun.
The solo tone is amazing on "Outer Look."
That's the Les Paul with my Xotic AC/RC-OZ pedal into the Two-Rock Classic Reverb.
You have quite a few Two-Rocks. Does your affinity come from the fact that you used to play through Bandmasters and the Two-Rock is like a Fender on steroids?
The Classic Reverb is totally a Fender on steroids. The TS1 one is more Dumble-ish.
There is an almost hollowbody sound on the "Looni Tooni" solo.
It's the John Cruz Tele straight into the TS1, with just a little bit of RC booster on it. I tried to play super clean, but I can't. It doesn't sustain enough. The RC doesn't make the sound dirty, but makes it fat and bigger.
One of the great things about your project Ozone Squeeze is hearing you solo through a pop song, staying inside the changes and being lyrical, but still inventive. It was great to hear you do that on the Zombies cover. Do you enjoy that as much as playing through more complicated jazz changes?
Of course. It's harder. If the chords are moving, it dictates where to go.
Is there any news on the Ozone Squeeze front? Any future plans you can share with us?
We recorded a couple of things to try writing, and we got stuck. I'm thinking about adding some new players into the game to get this rolling. We have pretty much half a record, but I don't write songs, so it's just these great tracks. Rai [Thistlethwayte] hasn't been able to send anything yet, so I might look for some other writers. I'm working on it very slowly, but I am working on it.
Covid has changed life for everyone, particularly musicians. How are you dealing with lockdown?
I've been going to the park and playing jazz with two friends from my neighborhood. I have never played this many jazz standards. It's been great from that angle.
What amp are you bringing out there?
I have a Roland Cube Street that works on batteries. It's totally cool. I mostly bring my Gretsch Duo-Jet, sometimes a Strat or Tele. A couple of times a week we go to the park on Riverside and 103rd. It's been liberating.
Do you get a crowd?
Not really. People stop and take photos and videos, like we're a bunch of monkeys — like they've never seen a musician. But I don't care. It's good practice for us.
Do you have a tip jar?
I insist on not having that. It feels too dark to put one out. I do online lessons and sessions. I've done a few sessions in a studio, but it was very uncomfortable. It is what it is right now. What are you going to do?
Oz Noy's new album, Snapdragon, is out now via Abstract Logix.
All the latest guitar news, interviews, lessons, reviews, deals and more, direct to your inbox!