"My Guitar Playing Has Always Been Based On Pure Emotion": Grand Funk Railroad's Mark Farner Reveals His Five Career-Defining Songs
The guitarist explains the genesis of classic tracks from the band's heyday.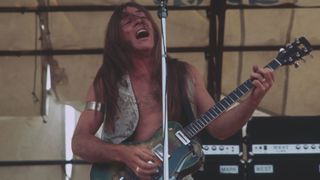 (Image credit: John Minihan/Daily Express/Hulton Archive/Getty Images)
During his seven-year tenure with the original Grand Funk Railroad, Mark Farner churned out an astonishing number of original songs, writing the lion's share of material for the group's 10 studio albums.
Throughout much of the 1960s, however, while performing with bands such as Terry Knight & the Pack and the Bossmen, Farner never tried his hand at songwriting, believing it was something only the pros could do.
"Writing songs just seemed like this magical thing that I wasn't capable of," he says. "I came up listening to the radio, and I'd hear Buddy Holly and the Beatles, or there'd be all the great hits by Carole King, and I'd be like, 'How do they do it?' Were they just born with this gift that I didn't have? So even while I put a lot of work into playing the guitar, I never used it as a tool for songwriting, because I thought I couldn't do it."
That all changed one night in 1966. After playing a gig with the Bossmen, he was hanging out with Dick Wagner, the group's leader and songwriter, and eventual hired gun for Alice Cooper, Aerosmith, Kiss and Lou Reed, to name a few.
Farner watched, spellbound as Wagner developed new material right in front of him. "I said, 'It's like these songs just pour right out of you. How do you do it?'" Farner recalls. "And he said, 'Well, it's inside of you too. You can do it if you try.' I didn't believe him, but Dick said, 'I bet if I go to bed right now, I'm going to wake up in the morning and you'll have a song.' So I said I'd try, and that night I wrote 'Heartbreaker.' That's what started it for me, and I have Dick Wagner to thank for it."
That one night unlocked a door for Farner, and it led to a cavalcade of hard-charging, soulful classics that he would go on to write for Grand Funk Railroad from the late '60s and well into the next decade.
"I just needed the confidence that I could do it, and once I had it, I couldn't stop," he says. "I never analyzed songwriting. It's almost like I didn't want to. But it was incredible how I could get in this state of mind. I'd pick up my guitar, and at first I had nothing, but before long I'd have a complete song. How do you explain it?"
Farner is similarly unanalytical when it comes to his exuberant approach to electric guitar playing, a distinctive blend of robust rhythms, widescreen leads and irrepressible jams that ignited car radios, arenas and stadiums throughout the '70s.
"My guitar playing has always been based on pure emotion," he says. "When I played with [drummer] Don [Brewer] and [bassist] Mel [Schacher], I just got into this frame of mind, and I was cookin'. We all shared that mindset. I could never read music, but I knew how to put melodies across in my solos, and I could get the audience going."
While spending time off the road, Farner has been keeping his chops in shape in a rather unusual style. "I'm 72 now, so I've got to work the muscles a little more than when I was a young guy," he says. "I came up with this stretch where I push my fingertips down into the couch, into the cushion next to me. I make my fingers go backward and hold them like that for a few minutes, and then I make them go the other way. It stretches my tendons, and when I'm ready to pick up the guitar, I'm good to go."
Below, Farner looks back at the recording of five noteworthy tracks from his long and remarkable career…
"Heartbreaker" from 'On Time' (1969)
"This was my first attempt at songwriting. I just started playing the chords, played 'em over and over, and soon enough the melody came to me. Then I started hearing everything – the drums, the bass, how I should play guitar. I had it in my back pocket for a few years before Grand Funk. In fact, we did it in the Bossmen for the last six months that I was with them.
"Dick Wagner really liked the song. We'd play it live, and there'd be the breakdown section where I do a guitar solo. The crowd loved it. It wasn't so much that I was a great musician; it was because I was going after the audience. It was passion.
"I played it with Grand Funk pretty much the same way as I did with the Bossmen. There wasn't any reason to change it. By the time we got in the studio, I could've played it in my sleep. It was a one-take deal. Of course, the whole first album was done in three days – recorded and mixed.
"I used my Musicraft Messenger guitar and my West Fillmore amplifier, and I just ripped. I remember [producer] Terry Knight heard us track 'Heartbreaker' one time, and he said, 'Okay, that's done. What's next?' Listening back to it was thrilling. You know, we're making a record, so I was like, 'Wow, it's really happening. Somebody pinch me!'"
"Closer To Home (I'm Your Captain)" from 'Closer To Home' (1970)
"I prayed for this song. I said the prayer my mother taught me, and I put a P.S. on it: 'God, would you please give me a song that would touch the hearts of those you want to get to?' I got up and wrote the words – they were just there. Then I made a pot of coffee, reached over and grabbed my Washburn guitar, and I started playing. I played this inversion just by accident, and I was like, 'How did that happen?' Then I started singing, and the whole song just came out. I took it to rehearsal that day, and both Mel and Don said, 'Man, Farner, you wrote a hit. That's a hit!' I said, 'God gave it to me. It better be a hit.'
"Tommy Baker did the strings and orchestration for the song. That's all his genius. When I played it for him, I got to the slow part, and he said, 'After that, you need to play the chorus over and over. Just keep going and stretch it out. I'm hearing strings, French horn, cello.'
"I told Don and Mel, 'Tommy wants us to keep going until we can't play it anymore.' So that's how we cut it. It became an epic. The song was a huge hit for us. We pulled it off live pretty well; we got a dude to play the strings and the flute on a Mellotron. The audience never complained."
"Footstompin' Music" from 'E Pluribus Funk' (1971)
"I bought a Hammond B-3, and George Winters, who was working at this music store, Marshall's Music, told me, 'I'm gonna get you a couple of Leslie 145 cabinets. They're smaller than the 122s, but they really sing.' He brought them over to my house, and we set them up in the basement, where the band rehearsed. I walked up to the B-3, hit the starter button and let the tone generator start whirling. I had a set of organ foot pedals, so I started bouncing my foot on the low C while I was rocking with my right hand. I had never played that rhythm, but it sounded good.
"Don and Mel came over, and I said, 'Guys, I got a song!' I played it for them, but I asked Brewer to kick the shuffle instead of tapping it. When you tap a shuffle, it swings, and that's cool, but if you kick a shuffle, it rocks! This song needed to be a real shuffle rocker.
"The song started with that B-3, but I knew I had to get some guitar on it. Until I got loose and actually strapped on my guitar, I didn't know what I was going to play. I started the song on the B-3, and in the second verse I started answering myself on the guitar, doing blues licks and what not. Live, the song worked out beautifully. I walked away from the organ, stood in front of my amps, and from the second I put my fingers on the fretboard, I was on fire, like I could not miss."
"We're An American Band" from 'We're An American Band' (1973)
"Don brought the lyrics and sang it while playing a two-note chord on the guitar. It sounded good, but I suggested another way to sing it. He tried it out and said, 'Oh, yeah, I can do that.' Next, I said, 'This song needs cowbell,' to which he said, 'But I don't have a cowbell.' So I told him. 'Well, go get one, 'cause this song needs a cowbell. And better yet, go get six of them! We'll pick the one that sounds best.' I just knew that a cowbell would make a big difference. We ended up putting duct tape on one, and that made it sound badass.
"Todd Rundgren produced this record. We went to Miami Beach to cut tracks. I played a Gibson L-5S in the studio, and I ran it through a Fender Super head. Live, I used two speaker cabinets, but we only used one while recording. The track came out fast – there wasn't a lot of fussing around. We hadn't played it onstage before we recorded it, but we could tell we had something.
"At this point, we were feeling pretty confident. I remember I cut a killer guitar solo, but when we listened to the playback I started playing a harmony on my guitar. Todd looked at me and said, 'That's it! Farner, get your ass back out there and do that harmony.' So off I went."
"Bad Time" from 'All the Girls In the World Beware!!!' (1974)
"I'm really proud of this song. It didn't go to number one – it reached number four on Billboard – but it got a BMI award for being the most-played song of 1975.
"It all started in the dining room of my farmhouse. I had a spinet piano, and one day I was sitting playing, and my first wife was in the kitchen mumbling and muttering how she was going to put a 12-inch cast-iron skillet through my forehead. I heard what she was saying, and I wrote, 'This is a bad time to be in love.' The melody came to me right there, and I wrote the lyrics down on a legal pad.
"The band dug the song, and our producer, Jimmy Ienner, really thought that it was something special. As a matter of fact, when we were cutting vocals for the album at the Record Plant in New York City, he would bring different people into the control room while I was singing on this one. I'd be at the mic, and I would look through the glass and see all these people standing around. Jimmy loved the song so much that he wanted everybody to hear it, even while we were working.
"I think I played a Strat on this one, and I'm pretty sure the amp was my Fender Super. The song has got a cool solo, but I didn't write it out beforehand. The whole thing was done on the fly. I had them play the track and I just put my hands on the guitar's neck and worked out a nice melody line. It's not a superburner lead; the song didn't call for that. It's a melancholy song, so it needed a little subtlety."
Browse Grand Funk Railroad's catalog here.
All the latest guitar news, interviews, lessons, reviews, deals and more, direct to your inbox!
Joe is a freelance journalist who has, over the past few decades, interviewed hundreds of guitarists for Guitar World, Guitar Player, MusicRadar and Classic Rock. He is also a former editor of Guitar World, contributing writer for Guitar Aficionado and VP of A&R for Island Records. He's an enthusiastic guitarist, but he's nowhere near the likes of the people he interviews. Surprisingly, his skills are more suited to the drums. If you need a drummer for your Beatles tribute band, look him up.