Listen to Ricky Byrd's Favorite Under-the-Radar Guitar Solos
The Joan Jett and the Blackhearts guitarist reveals some rock 'n' roll he truly loves.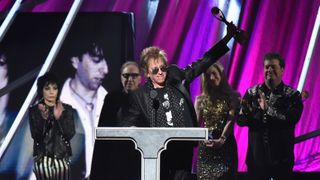 (Image credit: Jeff Kravitz/FilmMagic)
We recently asked some of the guitar world's best-known players to name their favorite lesser-known solos. In other words: No Hendrix, Page, Clapton, Gilmour et cetera.
In addition to his decade-long run as a member of Joan Jett and the Blackhearts, Ricky Byrd has played electric guitar alongside a list of music legends that includes Bruce Springsteen, Elvis Costello, Ringo Starr, Alice Cooper, Ian Hunter, Smokey Robinson, and Mavis Staples.
"I'm a product of all the music I listened to as a kid, and I'm not ashamed to nod to my influences," Byrd recently told us. "That could be anything from Sweet to the Stones and the Faces."
"There's the Who, the Kinks, maybe a little Dylan and Lou Reed. When I make a record, instead of trying to come up with a new rock 'n' roll sound, I'm reverting back to myself as a 13-year-old kid listening to music on my headphones. That's what makes me happy."
Here are just some of those happy moments…
1) Mountain | "Theme for an Imaginary Western" from 'Climbing!'
GUITARIST: Leslie West
"Leslie West was a friend, and I was lucky enough to play with him onstage a few times. His choice of notes, the tone, the way he plays for the song instead of just riffing – it's just stunning."
2) Mountain | "Mississippi Queen" from 'Climbing!'
GUITARIST: Leslie West
"Leslie West gets two choices here. His playing slayed me when I was 14 years old, and it still does. Again, the tone – the growl he got out of a P-90! In fact, this song made me run out and buy a '50s Les Paul Junior – for $350 because this was back in the early '70s. I learned how to pinch the string and get that squeal from the Les."
3) Free | "Mr. Big" (live) from 'Free Live!'
GUITARIST: Paul Kossoff
"The tone, phrasing and the coolest vibrato out there. You think Angus Young listened to Paul Kossoff ? Most important was the way he built the solo to this amazing climax. Just so good and exciting. He was the perfect player to complement Paul Rodgers' voice."
4) Johnny Winter And | "It's My Own Fault" from 'Live Johnny Winter And'
GUITARIST: Johnny Winter
"I played the vinyl to death trying to learn the riffs. Johnny's tone, bends, his feel – it was sloppy in the best way possible. His playing was a perfect match for his voice. Rick Derringer was no slouch on this one either."
5) Cactus | "Parchman Farm" from 'Cactus'
GUITARIST: Jim McCarthy
"I loved Cactus. The solo that Jim McCarthy plays – and what he plays throughout the song – is so good that it's like, 'Where do I start?' This is a freight train disguised as a Les Paul coming at you at 100 miles per hour. I tried so hard to learn this as a kid, and I still can't play it."
Pick up a copy of Ricky Byrd's latest solo album Sobering Times here.
All the latest guitar news, interviews, lessons, reviews, deals and more, direct to your inbox!
Guitar Player is the world's most comprehensive, trusted and insightful guitar publication for passionate guitarists and active musicians of all ages. Guitar Player magazine is published 13 times a year in print and digital formats. The magazine was established in 1967 and is the world's oldest guitar magazine.
When "Guitar Player Staff" is credited as the author, it's usually because more than one author on the team has created the story.