Joey Santiago Picks Five Career-Defining Cuts From the Pixies Catalog
He's the first to admit that his playing style probably wouldn't fit most other outfits – and that's just the way he likes it!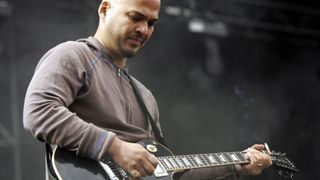 (Image credit: Malzkorn/ullstein bild via Getty Images)
Every great group needs a secret weapon – that singularly talented player whose unique contribution adds a magical, and oftentimes irreplaceable element to its sound.
In the case of alt-rock pioneers the Pixies, whose loud-quiet-loud dynamic was famously adopted by bands such as Nirvana, that honorary title goes to guitarist Joey Santiago.
"I wanted to be in a weird band, and I got really lucky when I hooked up with Charles," he says, referring to Pixies frontman co-guitarist Charles Thompson (a.k.a. Black Francis), whom he met in 1986 while the two attended the University of Massachusetts Amherst.
"He's got a wacky personality, and he understood right from the start where I was coming from. I made it very clear that I hated guitar solos. I still do. You hear these guys noodling around and playing fast. It's like listening to somebody type. That wasn't for me, and Charles agreed we wouldn't have it in our band."
Oddly enough, Santiago, who started playing at age nine, calls jazz guitar legend Wes Montgomery – no stranger to solos – one of his biggest influences. He's also a huge fan of Brian May and Elliot Easton.
So what gives? "With those guitarists, there was always a storyline running through their playing," Santiago says. "I always heard a lyricism in their solos. There was a narrative in the way their notes followed the chords. It wasn't random."
He also cites Jimi Hendrix as a prime source of inspiration. "He was the whole package. He could play incredible solos, but he worked with strange sounds and feedback. It was all very emotional and intuitive."
In his earliest days as a player, Santiago used to rely on his own intuition when coming up with electric guitar parts, but he then adopted a more formulaic approach that, in his view, served him well. "On those first few Pixies albums, I wrote my parts out on paper," he says.
"That had its uses. I could kind of look at it and weigh my options. Lately, though, I've gone back to just trusting my gut and my ears. I think I discover more things by reacting on the spot rather than plotting everything out. I rely on vibe now. I think it lends more immediacy to what I do."
One thing that's not apt to change, however, is his choice of guitars. He's a Les Paul man through and through (his two main models are a '57 reissue with a Bigsby and a 1960 goldtop).
"When the band started, I was playing an Ovation Viper," he recalls. "Then Charles picked up a Telecaster, which is bright and great for rhythm, so I needed something to serve as a contrast. The Les Paul was the right call. It's chunky and warm, and when you put that alongside a Tele, you've got a classic combination."
1) "Gigantic" from Surfer Rosa (1988)
"We had this song kicking around for a while. Charles had the riff, and then he came with the chorus. He had [bassist] Kim [Deal] write the lyrics. The chorus goes, 'Gigantic, gigantic, gigantic, a big, big love.' Originally, it was going to end with 'a big, big mall' – you know, as in a shopping mall. That didn't sound as good as 'big, big love,' so we went with the second idea.
"I've always loved playing around with feedback, so on this song I did all sorts of squalls. I drew from a couple of influences. I remember seeing footage of Jimi Hendrix at Woodstock, when he did the 'Star-Spangled Banner.' The way he worked with feedback was awesome.
"Also, there were these moments in Blue Öyster Cult's 'Don't Fear the Reaper' when it almost sounds like an EBow – this one long note that just sustains like crazy. Brilliant stuff. I drew from those things and just went for a cool sound approach.
"At the end of the song, we went for the huge wall of sound. Live, it would go on forever. Sometimes I would play just one note. To me, it was like comedy: 'How long is he going to do that? Oh, wow… He's still playing that same note.' It would border on the ridiculous, and I'd be like, Yep, that's all I'm gonna do here. It didn't take us any time at all to record the track in the studio. We'd played it live so much that we knew what we were doing."
2) "Where Is My Mind?" from Surfer Rosa (1988)
"Charles and I ordered Vietnamese food, and he showed me the song. At this point, I was working with paper and visuals. I wrote down the chords and said, 'Okay, I see what's happening. This is what it is.' I played it once, and then I stopped and said, 'Yep, this is the one.' And Charles said, 'Yeah, that sounds great. Let's go with it.'
"I did a really cool, stinging lick on my Les Paul. I always knew I was going to play that. It's this unison string thing where I flatten the notes, kind of Chuck Berry style. That was the only element I wanted on the song. I came up with that right in Charles' apartment, after we had lunch.
The solo is very blues – total minor pentatonic scale. The chords are major, but the solo is minor. That makes it sound kind of weird. To be honest, and because I'm not a liar, I didn't know that I was playing a minor scale at the time. I just have what you'd call 'Jesus ears' – very forgiving.
"We didn't know that it was going to be a big fan favorite. We never had that kind of vision. Over time, however, it's the one song we have to play live a lot, every night, or people want their money back. The bus will get tipped over, we'll get death threats and lawsuits – all that. So we play it."
3) "Here Comes Your Man" from Doolittle (1989)
"This one was around for a while, as well. Charles had that riff since he was a kid. I think he even played it on piano. We recorded a version for our demo, the Purple Tape, that was slower and more country-ish. [The so-called Purple Tape is the band's original 17-track demo tape recorded at Fort Apache Studios in Boston in March 1987.] Everybody loved the song and thought it would be a hit. We liked it, too, but we were alternative snobs, so we were hesitant to put it out. It stuck out like a sore thumb.
"In the end, we just said, 'Screw it. Let's just do it.' We recorded it with [producer] Gil Norton, who knew it was a very palatable song. We did the backing track without Charles. For some reason, he wasn't around.
"At the start, I played the 'Hendrix chord' – it's like what he used on 'Purple Haze.' I thought it made the opening sound like that first chord in 'A Hard Day's Night' – very jarring. For the riff, I remember trying out a bunch of different guitars – a Jaguar, a Tele, a Les Paul. Then we paired the Tele with a 12-string Rick, and that sounded good. We put a lot of thought into it. There was real production on the song.
"We got an invitation to do The Arsenio Hall Show, which was a big deal. I wanted to play our song 'Tame,' because that's how we wanted to be introduced to such a large audience. Our tour manager came to us and said they wanted us to play 'Here Comes Your Man,' and I said, 'That doesn't sound like a very friendly host, making us do stuff.' I insisted on 'Tame,' and the show people said, 'No, thank you.' So that's how it went."
4) "Monkey Gone To Heaven" from Doolittle (1989)
"Back in the day, I didn't have a phone. Charles would try to reach me but couldn't. He'd come over and I'd buzz him in, and he'd say, 'Joe, you've got to get a phone.' One day, he had a guitar with him. He played the opening chord sequence and sang, 'If man is five and the devil is six,' and he was kind of laughing. I listened and said, 'All right, that's funny.' I think I had a hangover at the time.
"We didn't play it live before we recorded it; it was all done in the studio with Gil Norton. It's such a simple but clever song, although it keeps going with the same progression, so you have to be hyper-aware to make things interesting.
"At one point, Gil said we had to come up with some guitar melodies, so we decided to do a dumbed-down version of the Allman Brothers, with dual-harmony solos.
"That's our classic combination of the Les Paul and the Tele. I liked the idea of a harmony lead and thought it was funny, but there's that part where Charles says, 'Rock me, Joe!' I was like, I don't know about that.
"I have to be honest: I hate playing the song live. The fans demand it. I still don't get why people love it. The song makes me feel uncomfortable. Maybe it's supposed to make people feel that way, but I don't like feeling uncomfortable. I probably don't like the 'Rock me, Joe' part, hearing my name."
5) "Hey" from Doolittle (1989)
"This is actually one of our first songs. We had just started the band, and I visited Charles at the Cape, where he lived. We had our guitars and started working on it. It was very exciting. I even came up with the solo right there. It was trying to write itself. I found this one note, a siren-like sound. It was the kind of thing where other people would say, 'That's a good place to start,' but my attitude was, 'That's a good place to stop. I think I've found it.'
"My guitar approach always stayed the same on the song. I would be kind of quiet. I'd flip the switch to the bridge setting with the volume low and a little bit of the tone rolled off. Then I'd switch it up and play the solo by going back to the lead pickup and wailing on that thing.
"It's a little dynamic. You know when someone's whispering and your ear just keeps getting drawn in? That was the whole idea. In the studio, I nailed it right off. Then whole thing was live, and we did it in one take.
"The song is very soulful – the rhythm patterns and Charles' vocal delivery. He always had that kind of thing. I think he said that he once did 'In the Midnight Hour' by Wilson Pickett in high school. I don't know if it was, like, a talent show, but I remember he said he did it, and people were very impressed."
Browse the Pixies catalog here.
All the latest guitar news, interviews, lessons, reviews, deals and more, direct to your inbox!
Joe is a freelance journalist who has, over the past few decades, interviewed hundreds of guitarists for Guitar World, Guitar Player, MusicRadar and Classic Rock. He is also a former editor of Guitar World, contributing writer for Guitar Aficionado and VP of A&R for Island Records. He's an enthusiastic guitarist, but he's nowhere near the likes of the people he interviews. Surprisingly, his skills are more suited to the drums. If you need a drummer for your Beatles tribute band, look him up.