Watch Joe Bonamassa Play Blues Legend Albert King's Flying V
JB honored the great bluesman on his Three Kings tour with a knockout rendition of "I'll Play the Blues for You"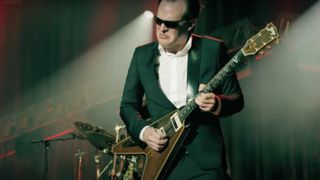 (Image credit: J&R Adventures)
After the 1960s blues boom, the genre began to lose traction as rock, metal, punk, rap and hip-hop took turns in music's mainstream.
Stevie Ray Vaughan became the blues' first great hope in many years when he arrived on the scene in 1983. Slowly, the genre came to life again as new players followed in his footsteps.
Today, blues is healthier and more diverse than ever. Whether you like your blues stately and traditional or subversive and spicy, there's almost certainly something for you.
Gary Clark Jr. and Fantastic Negrito blend hip-hop and old-school blues, while Jack White and Samantha Fish create their blues stew with elements of rock and roots music.
And there are Megan and Rebecca Lovell, the two sisters behind blues-rock bright sparks Larkin Poe, and proponents of some of the most fiery, commanding slide-fueled noise currently in rock and roll.
To quote South Africa's funked-up Stevie Ray Vaughan-channeling virtuoso Dan Patlansky, "This is not your daddy's blues; this is renegade blues."
Then there's the classic torch carriers like Jonny Lang and Kenny Wayne Shepherd, rock-and-soul innovators like the Tedeschi Trucks Band and Marcus King, and contemporary blues-rock big hitters like Joe Bonamassa.
Although he was a guitar prodigy, opening for B.B. King at the age of eight and touring at 12, Bonamassa's career didn't take off until he released his 2000 debut, A New Day Yesterday.
Marketed then as the next Kenny Wayne Shepherd, he's since carved out a more diverse path, from his soul-oriented music with Beth Hart to his own solo journey as the 2000s' biggest blues guitar star.
A dedicated scholar of electric blues, Bonamassa paid tribute to his triumvirate of guitar heroes with the Three Kings tour in 2015. "There is no better way to sum up the music of Albert, Freddie and B.B. than to use the phrase "the Three Kings," he said.
In this awesome rendition of the Jerry Beach-penned "I'll Play the Blues For You" taken from the 2016 Live At The Greek Theatre concert film, Bonamassa does just that as he honors guitar great Albert King (1923-1992).
Albert King, whose 100th birthday it was just a fortnight ago, famously played Flying V guitars. And here you can watch Joe Bonamassa play the very same custom-built Flying V owned and played by King himself.
Made by luthier Dan Erlewine in 1971, this iconic "Lucy" Flying V has the legendary bluesman's name inlaid across the length of the fretboard.
Look out for Kirk Fletcher too as he takes a solo around the 4:10 mark. His Les Paul tone and phrasing are a lesson in taste.
Joe Bonamassa's latest live album, Tales Of Time, is a performance of his 2021 studio album, Time Clocks. Order it here.
All the latest guitar news, interviews, lessons, reviews, deals and more, direct to your inbox!
Guitar Player editor-in-chief
Christopher Scapelliti is editor-in-chief of Guitar Player magazine, the world's longest-running guitar magazine, founded in 1967. In his extensive career, he has authored in-depth interviews with such guitarists as Pete Townshend, Slash, Billy Corgan, Jack White, Elvis Costello and Todd Rundgren, and audio professionals including Beatles engineers Geoff Emerick and Ken Scott. He is the co-author of Guitar Aficionado: The Collections: The Most Famous, Rare, and Valuable Guitars in the World, a founding editor of Guitar Aficionado magazine, and a former editor with Guitar World, Guitar for the Practicing Musician and Maximum Guitar. Apart from guitars, he maintains a collection of more than 30 vintage analog synthesizers.