J.D. Simo on Improvising Live, in the Studio, and In Life to Find New Sounds and New Ways of Sharing Them
Simo's new self-titled LP is a showcase for his expanding pedalboard and a triumph of his imagination.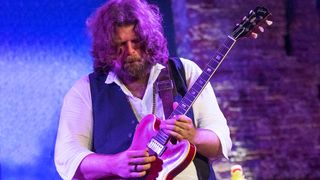 (Image credit: Debra L Rothenberg/Getty Images)
Many musicians have had to cope with Covid-19's impact on their career, but J.D. Simo had to deal with its effect on his body as well. The guitarist fully recovered to face the chore of developing tools to deal with these challenging times.
In the decade since he left Nashville's legendary Don Kelly Band, Simo has released more than half a dozen recordings. On his latest, J.D. Simo (Crow's Feet), he continues to explore his love of roots music in both its pure and modulated forms, with tracks that range from a slightly twisted take on Earl Hooker's "Anna Lee" to the full-on psychedelic soul of "The Movement."
Along the way, Simo leaves plenty of room for spacey guitar jams. Thousands of hours spent onstage as the main soloist for Don Kelly supplied him with the chops to jam with the best of them, but his pre-pandemic tour with the Grateful Dead's Phil Lesh, as part of Phil and Friends, took him to a new level. That seemed a good place to start this talk.
Did you learn anything new about jamming from touring with Phil?
Luther Dickinson, who recommended me to Phil, said, "You might think you know how to improvise, but Phil is the main line to the source of inspiration." Before working with Phil, I was always editing my playing in the back of my mind. You have moments where you're riding the wave and there's no thought, but others where you're like, Was that transition okay? Where should we go now?
The point with Phil is to be completely immersed in the moment. His influence has been about trying to stay connected to purity, taking a deep breath and going to the joy. It's like learning to meditate. Phil's got this beatific smile and this way of playing that's actually funny at times. It jostles you.
You're using more effects these days, as opposed to your earlier straight-into-the-amp rig. Talk about the evolution of your sound.
I found there are two sides to me. One has an utter respect for blues in its purest sense, and the other is psychedelic. From [2017's] Rise & Shine forward, I've been obsessed with the Muddy Waters Electric Mud record, and Live Evil–era Miles with John McLaughlin and Pete Cosey.
Cosey also played on Electric Mud. I also love Michael Toles, who played with Isaac Hayes on Hot Buttered Soul, and Eddie Hazel with Funkadelic.
What gear are you using to achieve this new sound?
I have had an old Fuzz Face and this old Jax Fuzz Wah since Rise & Shine, and those are now my two main effects. I just have those and tape delay. After the first several records, I got tired of mining the '60s Marshall sound, so I went back to using mostly Fender amps.
More recently, I fell in love with the Ampeg amps – the 20-watt Gemini I and the 30-watt Gemini II with a 15-inch speaker – because Tommy Brenneck from the Budos Band and my buddy Jimmy James from the Delvon Lamarr Organ Trio are into them. There are also photos of Otis Rush and Magic Sam using them. I got rid of all my Fenders.
No more cranked 100-watt Marshall or Fender Dual Showman?
My volume has come way down. It's never been about being loud; it's whatever you need to do to achieve the sound. Overdriven sounds have gradually taken a back seat to either fuzz or varying degrees of clean. When it comes to a clean sound, Leo Nocentelli is my biggest influence. His tone is very filtered, which I get by using the wah as a filter.
How was J.D.Simo recorded?
We cut it in just two days at Sound Emporium, but we had a lengthy pre-production process. I wanted to work with a producer for the first time and chose Eddie Spear [Brandi Carlisle, Anderson East, Rival Sons]. I'd wanted to work with him for 10 years.
What guitars were you using?
I used my '62 Gibson ES-335 on most tracks. I also used an old Jazzmaster with a humbucker in the bridge and a rewound single-coil neck pickup. I put on really heavy strings and tuned down to B. That's on "Help" and some overdubs. I used my Custom Kraft on "Anna Lee." But that was it. Just a couple of guitars.
The instrumental, "Take That," harks back to your Don Kelley barn-burning, train-beat days.
I've always wanted to include something along those lines, but it never seemed appropriate. I had done a version of that song in my studio that was a bit longer. It was already fast, but Eddie suggested I play it even faster and make it only a minute long as an interesting palate cleanser.
He felt that would accomplish what we wanted but not be taken too seriously. I loved that. We set up my little Alamo Model 3, which is like a five-watt Fender Champ. That's just one mic for everything.
What is that weird effect on "Anna Lee?"
I was playing guitar through this little Casio boombox, which had a drum machine. We had the drum machine going and did two takes with Adam playing drums on the trash bins. The left side and the right side are take one and take two.
Because of the drum machine we were able to sync them and go back and forth. Afterwards, we mutilated the tape machine, speeding it up, slowing it down, and putting erasers in it to make it skip. In the end, it's probably our favorite track.
That sounds like an octave fuzz on "One of Those Days."
That's the Jax Fuzz Wah. I think it's the same as the circuit in the Companion, which has a little bit of octave in it. It's the one Tony Joe White used. I bought it from Carter Vintage. I went in looking for a fuzz that sounded like Michael Toles' fuzz on Isaac Hayes' version of "Walk on By." It had that sound.
With the moratorium on live playing, YouTube and social media have become vital to an artist's career. How have you been navigating them?
I tried to adapt as quickly and as efficiently as possible. I started the weekly live stream [Greasy Time], which has done far better than I thought it would. I also started a podcast that goes up roughly once a week and started doing some full band live streaming.
I debut a new track with a music video every week on Greasy Time. I taught myself how to edit video and have been working on my engineering as well, with the help of a mentor like Gabriel Roth from Daptone Records. As a result, I've done a lot of scoring work for Netflix and Amazon Prime.
Had you done much movie and TV work prior to the pandemic?
I had started working on an Elvis biopic directed by Baz Luhrmann, with Tom Hanks playing Colonel Tom Parker. I've been able to rekindle my love of Scotty Moore, which was how I originally learned to play guitar. I've been really fortunate to be able to pivot and be okay through a lot of hustling.
Do you think YouTube and Instagram are currently replacing touring as a way of promoting a new record?
Without a doubt. I now have the best fan interaction and engagement ever because I've put a lot of time into it. It takes effort and time to do it correctly – learning what your audience likes, the spacing of posts, and overall vibe.
It's not just all about you though, is it?
Much of my content is based on the record collector/Spotify junkie in me wanting to spotlight other people. Every day, I'm trying to find new stuff I wasn't aware of. Though every video and post is promoting me and my music, it feels good that the majority of content is exposing the great music of others.
I've found through the analytics of my most popular posts and episodes of Greasy Time that the ones that truly connect are when I'm really into what I'm talking about at that moment. It has been fascinating how people get that it is completely genuine.
Are Greasy Time T-shirts in the offing?
I've waited on purpose because I wanted the show to get better and more refined. And now a Greasy Time American Apparel shirt is available.
J.D. Simo is out now via Crows Feet Records.
All the latest guitar news, interviews, lessons, reviews, deals and more, direct to your inbox!