"It was a really dark time for Ronnie and for the band": Vivian Campbell on why Ronnie James Dio had no interest in doing the Hear 'n Aid project featuring Yngwie Malmsteen, Neal Schon, George Lynch and Iron Maiden
Hear 'n Aid was a charity record that raised over $3 million for famine relief in Africa in 1986. It featured a mighty ensemble of 40 heavy metal musicians — and a four-minute guitar solo — but, according to Vivian Campbell, it nearly never happened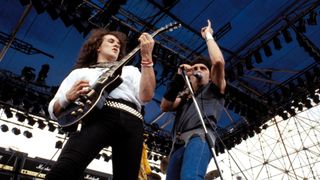 (Image credit: Getty Images / Pete Cronin / Redferns)
Before he became better known as guitarist for hard rock giants Def Leppard — even before his "five minutes" with Whitesnake — Vivian Campbell exploded on the scene in the early 80s as part of Ronnie James Dio's solo band. His involvement with Dio spawned three successful full-length releases – but the relationship quickly deteriorated, sparking speculation and debates to this day on what really went down behind the scenes.
In a recent interview with Guitar Interactive magazine, Campbell shed some light on his involvement with Dio at that time and, in particular, Stars — the 1985 charity single for famine relief released under the Hear 'n Aid banner.
A plea for unity in the fight against world hunger, the fundraising project featured 40 artists from the metal community, including members of Mötley Crüe, Judas Priest, Iron Maiden, Blue Öyster Cult, Quiet Riot, Twisted Sister and even Spinal Tap — along with hundreds of other volunteers.
The idea for the single first came to them during the recording the Sacred Heart album, says Campbell. The band's previous albums, Holy Diver and The Last In Line, had been recorded as a band, and there was a "really good vibe".
"Back then, nobody went home early," he says.
By Sacred Heart, things had changed. "It was a really dark time for Ronnie and for the band," says Campbell. "Nobody wanted to be around Ronnie. Ronnie and Wendy [Dio's wife and manager] had split up. They weren't getting divorced, but they were living separate lives, and Ronnie's mood was really, really dark."
The atmosphere spilled into the making of the album. "When we were doing Sacred Heart, nobody wanted to hang around. We cut the tracks and it was, like, 'Oh, okay. I'm gonna go. You done with me?' It was because of that energy, that vibe that was coming from Ronnie at that time. It was really difficult to make. I'm not saying it's a bad record, but it was difficult for Vinny [Appice, drums], Jimmy [Bain, bass], myself, and obviously for Ronnie to make it."
Around that time, the US Live Aid song, We Are The World was released. "Jimmy and I happened to do an interview for a station called KLOS in Los Angeles, and the DJ asked us, 'How come nobody from the hard rock world was invited to participate in that?' And we thought, 'You know, you're absolutely right!'
"This was an era when hard rock was really sort of shunned. It never got nominated for a Grammy or anything. There was no real industry recognition, even though it was a very, very popular cultural force and sold in multi-millions. So we were joking about this, and it was Jimmy who said right off the bat, 'Yeah, we should do one. We should call it Hear 'n Aid.' We were all, like, 'Hahaha' – we fell off our stools."
Later, it didn't seem like such a crazy idea. Campbell and Bain wrote the song and reached out to Dio. "We didn't write the lyrics," says Viv. "We thought, 'We're not gonna get this off the ground without Ronnie. We need some clout. We need the name.' So we went in the studio the next day [and] Ronnie's in a real dark spot. We say, 'Ronnie, what about this?' He immediately shuts it down. No interest. So, we keep pushing it on him for a couple of weeks, and then eventually he came back to us and said, 'You know what? Yeah. I'll get on board with this.' So he wrote the words for it."
So with a complete song and Dio on board, they set about recruiting the best players and biggest names the world of rock had to offer, Campbell sitting with his publicist and going through her Rolodex, phoning people.
"I'd literally be cold-calling people that I didn't know... I was trying to explain, 'We're making this charity record and we'll cover expenses. We'll get some sponsorship.' So that was my life for weeks, every day, getting on the phone and calling people. 'Hi, Neal Schon. Love your Journey stuff. Is there any chance you could…?'
"It was the same old thing — nobody wants to commit until other big names are involved, but I was able to throw Ronnie's name there. I said, 'Well, Ronnie's doing it.' 'Oh, okay.'"
"I remember the day we were doing it at A&M, with a film crew in there, and the guys from Spinal Tap even showed up. That made it great because it brought much-needed humor to the whole situation. And all these great guitar players. We had Yngwie there, and Neal Schon — guys who were blazing guitar. I just remember I was so busy making sure that everyone had a limo ride, had a flight, had a hotel room, had something to eat. And then, at the end of the day, it's, like, 'Okay, now you've gotta play guitar.' It was something I'd never done before, but I spent weeks and weeks doing it. It all came together, and it was just bonkers that it did."
Due to contract differences with the labels, Stars and its accompanying album weren't released until New Year's Day, 1986, and only available on vinyl and cassette. In recent years, Wendy Dio has said that she is continuing her efforts to correct that.
Wendy previously revealed that one of the reasons the Hear 'n Aid reissue was taking so long to come out was the "legal stuff" that needed to be taken care of. "You can always get the bands to do something, but it's the legal licensing of talking with the record labels they're on and the management and so on, to get something off the ground," she said. "So we're hoping to do that."
All the latest guitar news, interviews, lessons, reviews, deals and more, direct to your inbox!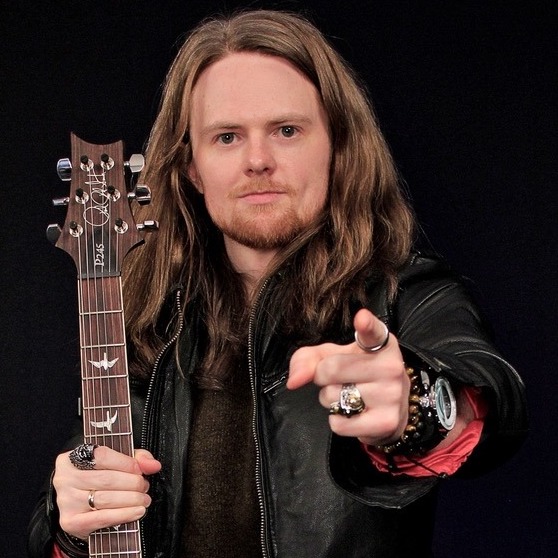 The Editor in chief of Guitar Interactive since 2017, Jonathan has written online articles for Guitar World, Guitar Player and Guitar Aficionado over the last decade. He has interviewed hundreds of music's finest, including Slash, Joe Satriani, Kirk Hammett and Steve Vai, to name a few. Jonathan's not a bad player either, occasionally doing gear reviews, session work and online lessons for Lick Library.