How Yngwie Malmsteen Wrote "Far Beyond the Sun"
Shredding Beethoven through 50-watt Marshall heads, the Swedish guitar god invented neoclassical metal.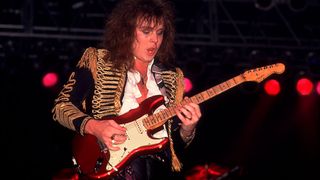 (Image credit: Paul Natkin/Getty Images)
The arrival of Rising Force, Yngwie Malmsteen's 1984 debut album, gave birth to a new genre known as neoclassical metal. Of all the album's tracks, "Far Beyond the Sun" best demonstrated the guitarist's unprecedented technical chops and melodicism, cementing his place in the annals of shred legends.
Malmsteen was unaware he was about to launch an entirely new genre of rock. In his eyes, he was simply playing his way. "When people ask why I play in the style I'm known for, I explain that this is natural for me. I'm not putting it on," he says. "Blues is part of me as well, but my natural style is predominantly what I like to call 'symphonic metal.'"
Reinventing The Steal
Although Malmsteen had worked up most of the album's songs many years before, he wrote "Far Beyond the Sun" specifically for the record. "I was thinking a little bit about Beethoven's Fifth, rhythmically. I was shamelessly stealing from the greats," he says, laughing.
Considering Malmsteen's love of classical music, it's nor surprising that "Far Beyond the Sun" is jam-packed with all of the tropes of the genre: light and shade, tension and release, and crescendos that explode into flurries of cascading notes.
"When I was young, I realized that so much rock music was based on five notes, and I wanted to break out of that," he explains. "Improvisation is the root of all of my compositions. People forget that all of the great classical composers were improvisers, because nowadays everyone sticks to the written music when they play classical pieces."
Here Comes The Sun
The track was recorded with Stevie Wonder's mobile recording unit and came together quickly. "I knew exactly what I wanted the bass and keyboards to play," he says. "The only thing that we had to do a couple of times was the ending."
Malmsteen's setup for the recording consisted of a Fender Stratocaster, Marshall 50-watt stacks, and a DOD overdrive. "I found my sound in the '70s, almost by accident," he explains.
"Everybody wanted 100-watt Marshalls, so the 50-watt heads were very cheap. That's why I started to use them. But I realized that they delivered exactly what I was looking for. My sound and equipment have basically been the same ever since."
In retrospect, Malmsteen isn't completely happy with "Far Beyond the Sun." "I think the drums sound terrible," he admits. "That was then, though, and it's easy with hindsight to pick up on things that I would do differently today.
"The thing that I am happiest about for all of my albums is that I never released something where I didn't give it my all. If my playing is better or worse on something, that was always the absolute best that I could have done at that time."
Show Of Force
Malmsteen has played "Far Beyond the Sun" at every show since it appeared on Rising Force, and, in the spirit of the classical composers who inspire him, "I never play it the same," he says. "I always have a long improvised intro, and then an adagio before the big opening riff. I also play parts of the runs and the solo differently, never note-for-note.
"I never expected 'Far Beyond the Sun' to become the huge piece of music that it has become. I guess that's my legacy. You can take it or leave it, but that's who I am, and it comes from within me."
All the latest guitar news, interviews, lessons, reviews, deals and more, direct to your inbox!
Mark is a freelance writer with particular expertise in the fields of '70s glam, punk, rockabilly and classic '50s rock and roll. He sings and plays guitar in his own musical project, Star Studded Sham, which has been described as sounding like the hits of T. Rex and Slade as played by Johnny Thunders. He had several indie hits with his band, Private Sector and has worked with a host of UK punk luminaries. Mark also presents themed radio shows for Generating Steam Heat. He has just completed his first novel, The Bulletproof Truth, and is currently working on the sequel.