How Buck Dharma Wrote Blue Öyster Cult's "(Don't Fear) the Reaper"
The classic rock perennial roared to life on '70s radio, telling a tale of love after death.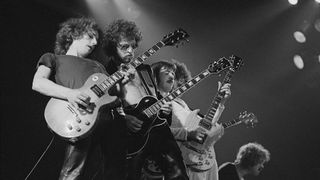 (Image credit: Michael Putland/Getty Images)
"I feel blessed for having written it," Buck Dharma says of Blue Öyster Cult's iconic 1976 hit, "(Don't Fear) The Reaper." "I'd like to have five more 'Reapers,' but just having one is great."
The hypnotic rocker turned the Long Island–based quintet into arena headliners and propelled their fourth album, Agents of Fortune, to Platinum status. The song has long been revered by guitarists for its immediately recognizable riff, but in 2000 it attained pop-culture status after the legendary "more cowbell" Saturday Night Live skit, starring Will Ferrell and Christopher Walken.
"I loved it," enthuses Dharma, BÖC's lead guitarist and singer. "A couple of the things Will Ferrell did on popular artists were pretty brutal, but he was really funny in the cowbell sketch. It was hysterical."
It's All In The Upstroke
"(Don't Fear) The Reaper" began to take shape in 1975, after Dharma purchased a TEAC four-track recorder to help him write. As soon as he got the unit, he plugged his guitar in direct and began to play a riff.
"It just came right out of me. I thought, This is kind of cool, and I tried to make something of it." Almost immediately, the first couple of lyrics came to him, and then the overall idea of the song unfolded.
"I thought of a couple that is reunited on this other plane of existence after one of them dies," Dharma says. "That was my premise, that there is something after death – you didn't have to fear it, and love could stay strong."
While working on the song, he crafted the guitar riff into the song's recurring musical motif. "It's a crosspicked riff. The open G is played on the upstroke, and it just spins out while the other parts move," he reveals. "So I had that down, but the rest of the song took eight weeks. I had to figure out the story, the payoff, and where the bridge would be."
A Fever For Cowbell
Dharma recalls that the band and its producers – Sandy Pearlman, Murray Krugman, and David Lucas – liked his demo.
"The only reticence was that it wasn't as heavy as our other material," he says. "[Rhythm guitarist] Eric Bloom is our major belter; he would sing the rocking stuff. But BÖC are eclectic, so we decided to record it." Recording at New York City's Record Plant, the band stayed closed to Dharma's demo arrangement, trimming only a few bars in select spots.
"They played beautifully and put a real sheen on it," he says. For the intro guitar riff, Dharma borrowed Krugman's Gibson ES-175 and ran it through a Music Man 410 combo. The guitarist used his own '69 Gibson SG for the song's searing leads, which he played in one take. "Usually, I comp my leads, but the 'Reaper' solo just flew. One pass and I had it."
As for that driving cowbell, it was an afterthought that Lucas sprung on the band. "I didn't have it on the demo, and we didn't record it with the band," Dharma says. "David was a famous jingles guy, and he came up with that. We had no idea people would latch on to it."
"Reaper" In A Bottle
Once they finished recording, the band regarded the song as a strong album track, but they had no idea it would become their first hit, let alone their signature song.
"We'd never had a hit, so we didn't know what a hit was," Dharma says. "Gradually, though, FM stations started picking up on it. There was no big promo push, but once it took off, our label, Columbia, got records out. They came through righteously."
Dharma admits that he wasn't terribly enthused about the single edit, aimed at AM radio. "They cut out the big guitar break in the middle. The full version is much more dramatic. I prefer people hear it that way."
Over the years, music fans have noted a similarity between "(Don't Fear) The Reaper" and the Police's 1979 hit "Message in a Bottle." Dharma reveals that Sting himself graciously owned up to the lift.
"I saw the Police live and went backstage," he says. "Sting was very nice and said that he ripped off 'Reaper.' He kept the rhythm, but he changed the melody around, so it wasn't a real steal. I said, 'Well, you're welcome to it because you did a nice variation on it.' I was totally awed by the Police. I don't get upset about reusing music. All these plagiarism suits really bother me, actually. It's all been done before somewhere."
All the latest guitar news, interviews, lessons, reviews, deals and more, direct to your inbox!
Joe is a freelance journalist who has, over the past few decades, interviewed hundreds of guitarists for Guitar World, Guitar Player, MusicRadar and Classic Rock. He is also a former editor of Guitar World, contributing writer for Guitar Aficionado and VP of A&R for Island Records. He's an enthusiastic guitarist, but he's nowhere near the likes of the people he interviews. Surprisingly, his skills are more suited to the drums. If you need a drummer for your Beatles tribute band, look him up.