"It Took Us to a Whole Other Level in the States": Phil Collen Reveals the Short, Sweet Creation of Def Leppard's "Pour Some Sugar on Me"
Find out what went on in the studio as the British band crafted their 1987 hit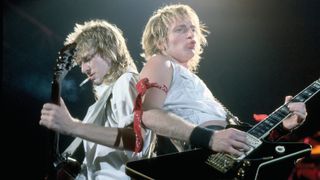 (Image credit: MICHAEL OCHS ARCHIVES/GETTY IMAGES/GETTY IMAGES)
Def Leppard's fourth album, Hysteria, cost the band an alleged $4 million by the time it was released in 1987.
As the highly anticipated follow-up to 1983's Pyromania, it sold well, but it appeared Leppard might still struggle to recoup the massive outlay on recording.
Everything changed with the release of "Pour Some Sugar On Me," Hysteria's third single.
After a slow start, it picked up momentum once the band shot a new promo video for it, and it became a staple of rock radio in the summer of 1987.
The single may have stalled at number two on the U.S. charts, but it was enough to propel the album to U.S. sales of 12 million and global sales of approximately 20 million.
Sugar Rush
Phil Collen remembers that the song came about almost by accident. "We'd finished Hysteria, and [lead singer] Joe [Elliott] was sitting in the corridor, playing an acoustic guitar," he says.
"Mutt Lange, who was producing, said, 'What's that you're playing?' Joe just looked at him kind of confused and said, 'I don't know, just this thing I've been messing around with.' Mutt told him to play it again, and when he'd finished, he decided that we really needed to record it.
"What happened next was that it turned into a kind of hip-hop beat with a rap vocal. Joe and Mutt were coming up with lyrics, which were just random and kind of nonsense at that stage, trying to get something flowing. Prior to that, all we had was the line 'Pour some sugar on me,' and the chords.
"Mutt said to me we needed a verse to go with the chorus. By that stage it was obviously being very influenced by that mid-'80s minimalist hip-hop feel, and that was when I came up with the riff on the A and E strings, which was meant to be kind of like a bass line."
A couple of other fairly minimal guitar parts became additional melodic hooks.
"Mutt's a big country fan, and he came up with a fingerpicked country idea for the intro riff on the G and D strings," Collen reveals.
"I'm not really a fingerpicker, so I adjusted it a little by playing it with a pick and giving it a slightly different feel."
Lang and his keen memory were also responsible for the addition of the bridge riff.
"About six months earlier, me and Steve [Clark] were jamming in Ireland and he'd come up with this really wonky riff, which was what we used for the bridge, where it alternates between the seventh and sixth frets on the G string.
"Mutt had remembered it and stored it in his head. He just said, 'Let's try that idea you had,' and it worked perfectly."
Gear Ed-ucation
Collen can remember exactly what he used to record his parts.
"The main thing I used was a Strat that my mother bought me for my 21st birthday that I nicknamed Felix. I had a DiMarzio humbucker at the bridge where I'd cut a hole in it.
"I'd met Eddie Van Halen on Van Halen's first tour of the U.K., and he'd said to me that I'd never be happy with the sound unless I changed that pickup. So I thought, If Eddie says I should do it, I'm going to try it!
"That turned out to be the main guitar that I used on the album. The opening riff was played on a Jackson Dinky and doubled with a Telecaster, but everything else was the Strat, and it was all played through a Rockman."
Collen views the song's creation as a happy accident.
"We didn't demo it or anything," he says. "We just pieced it together quite quickly before we recorded it. It's wonderful when something pulls together like that.
"I suspect that if we'd come up with it earlier in the recording process, we'd never have done it as fast as we did. We actually finished the song in 10 days, which is nothing when you consider that the rest of the album took about two years to record!"
Sweet Success
Def Leppard know it's the one song that everyone is waiting to hear when they perform live.
"We still really love to play it, and it's never sounded better," Collen says. "This is the most powerful that the band has ever been.
"It's a huge kick to hear the audience respond to it. 'Sugar' has been good to us. It took us to a whole other level in the States, and we could never tire of playing it live."
Browse the Def Leppard catalogue here.
All the latest guitar news, interviews, lessons, reviews, deals and more, direct to your inbox!
Mark is a freelance writer with particular expertise in the fields of '70s glam, punk, rockabilly and classic '50s rock and roll. He sings and plays guitar in his own musical project, Star Studded Sham, which has been described as sounding like the hits of T. Rex and Slade as played by Johnny Thunders. He had several indie hits with his band, Private Sector and has worked with a host of UK punk luminaries. Mark also presents themed radio shows for Generating Steam Heat. He has just completed his first novel, The Bulletproof Truth, and is currently working on the sequel.