"I Want to Inspire Women to Play": Nikki O'Neill Talks Writing 'The Women's Road to Rock Guitar'
"I wanted to be an encouraging voice and explain guitar terminology and gear," says the musician and educator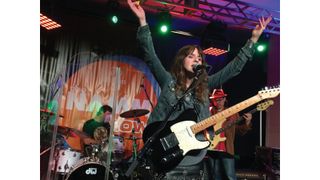 (Image credit: Nikki O'Neill)
***The following appeared in the November 2019 issue of Guitar Player***
Years ago, I reached out to L.A.-based guitarist and guitar educator Nikki O'Neill for an interview.
I was pleasantly surprised and honored when she included me in her 2014 book, The Women's Road to Rock Guitar (Alfred Music), a breakthrough publication aimed at inspiring more women to play with skill and confidence.
Nikki has a TrueFire lesson channel, Nikki O'Neill's Twang, Soul & Rock 'n' Roll, and she's released music, available at nikkioneill. com.
Her latest album, 2020's World is Waiting (Blackbird Record Label) is available to order here.
How would you describe your music?
It's soul-influenced Americana. There's a lot of rhythm and blues in it, too.
Who are your main influences?
I always come back to Santana. He's definitely the one that made me start playing and got me to practice.
Prince was also really influential, as was Teenie Hodges, who played on Al Green's records. Pops Staples too. Later on, I got into more blues players, like B.B., Freddie and Albert King.
What about female influences?
Jennifer Batten and Nita Strauss inspire me with their accomplishments and stage charisma, even though their playing style is entirely different from mine. I don't really see myself as a rock shredder. But I was just blown away when Jennifer was on the cover of Guitar Player [July 1989].
Wendy Melvoin, from Prince's band, was a huge influence on me, and so was Emily Remler. I got her Hot Licks instructional video on Latin improvisation, where she teaches how to play a bossa nova rhythm, with the bass and the syncopated chords at the same time. I wore that thing out.
The women players who inspire me now are Laura Chavez and yourself. I also think Ana Popovic played really great on her album, Unconditional.
What made you decide to write The Women's Road to Rock?
While teaching, I discovered that I'm good at breaking down information. I got good at reading people and finding what turns them on in terms of learning. So I felt that I could write a book on the subject and gather the information that was most useful to me, like getting into bands, being a rhythm and lead guitarist, writing songs, understanding song structures and gear.
It took two years to write it, and I've tested the content on my students. In addition to you, it features 10 guitarists: Jennifer Batten, Kat Dyson, Lita Ford, Kaki King, Ann Klein, Bibi McGill, Orianthi, Vicki Peterson, Ana Popovic and Nancy Wilson.
When I first wrote the book, I intended it to be for everybody, but Alfred Music wanted the angle to be toward female players, and they really urged that. I remember the attitudes people had toward me when I started out playing, so I wanted to be an encouraging voice and explain guitar terminology and gear, because a lot of women find those things intimidating.
I want to inspire women to play. I have girl students who are so dedicated. One who is 10 years old is obsessed with Led Zeppelin and practices like crazy. I love working with them and want to be a great influence on them.
For more information about Sue Foley, visit suefoley.com.
All the latest guitar news, interviews, lessons, reviews, deals and more, direct to your inbox!