The Bangles Co-Founder Vicki Peterson Reveals Her Top Five Career-Defining Tracks
The most memorable cuts from more than four decades of playing, singing and songwriting.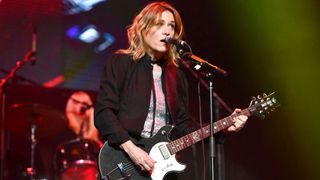 (Image credit: Scott Dudelson/Getty Images)
Although The Bangles are most heralded for a string of top-10 singles and high-spirited MTV music videos from their '80s heyday, a deep dive into the Los Angeles quartet's catalog reveals them to be one of the most diverse, clever and flat-out rocking bands of their generation.
Founded by Vicki Peterson, her skins-pounding sibling Debbi, and guitarist/vocalist Susanna Hoffs in 1981, the Bangles blended Beatles-inspired harmonies and clever arrangements with gutsy electric guitars and garage-rock sensibilities.
Bassist (and co-founding member of the Runaways) Michael Steele would join in time for smash hits such as "Walk Like an Egyptian," "In Your Room," the Prince-penned "Manic Monday" and a rocked-up remake of Simon and Garfunkel's "Hazy Shade of Winter."
By 1988's Everything album, the group began drifting toward a more polished, produced sound.
Even though the ballad "Eternal Flame" would prove to be their biggest hit – as well as the biggest-selling single by an all-female band in history at the time – it would also underscore the creative tension that led to the Bangles' breakup by that decade's end.
Peterson then began the Psycho Sisters, a long-time creative partnership with vocalist Susan Cowsill of '60s pop group the Cowsills.
In 1994, Peterson toured with the Go-Go's, replacing Charlotte Caffey, who was on maternity leave.
She and Cowsill would also play regularly with indie-rock collective the Continental Drifters, becoming full-fledged members in time for 1999's Vermilion album.
Peterson then rejoined her sister, Hoffs and Steele in the reunited Bangles in the late '90s, and together they recorded several new albums that put the emphasis back on the band's guitar-pop roots.
The Bangles and Continental Drifters continue to maintain semiregular performance schedules, and original Bangles bassist Annette Zilinksas replaced Steele as of 2018.
Since 2017, Peterson has also played in the band Action Skulls with her husband, John Cowsill (the Cowsills' original drummer/vocalist, Susan's older brother and a touring member of the Beach Boys) and Bill Mumy, the former Lost in Space child actor whose music credits include collaborations with America, Shaun Cassidy and Rick Springfield.
We asked her to share the tales behind five cuts from her career…
1) The Bangles | "Hero Takes a Fall" from 'All Over the Place' (1984)
"This was one of the first songs Susanna Hoffs and I wrote together back in '81 or '82. I was taking an English class at UCLA and we both had copies of The Norton Anthology of English Literature.
"The theme of the song is focused on how, in fiction, the hero would often have a fatal flaw that becomes their downfall.
"Musically, it's one of my favorite songs to play live because we elongate the middle section, and I'll kick on an Ibanez Tube Screamer and improvise a fuzzed-out 'noise' solo.
"I also really like the harmony vocals in this song. We add some unusual notes, like major 7ths and major 9ths.
"Sometimes people would ask me whether I sang the high part, the middle part or the low part in the Bangles, and the answer is that we all sang all of them. Debbie, Michael and I especially would often switch things around."
2) The Bangles | "He's Got a Secret" from 'All Over the Place' (1984)
"I wrote this when I was 19, and it was originally called 'Johnny's Got a Secret.'
"I tend to write riffs around chord shapes, and that's what's going on in the intro riff. On the recorded version, it's broken up between two guitars – one playing the double-stops on the high strings, and the other answering with the power chords.
"The album was produced by David Kahne, and he was really inventive at using separation between the instruments to build sonic landscapes. During the verses, the individual chords are recorded on separate tracks, so that they ring out over each other, creating a dissonant, atmospheric layering.
"Recording this way was a really eye-opening experience for me as a guitarist, because Susanna and I had come out of the '60s pop and folk world of just strumming the chords.
"For the solo, I'm mostly fretting on the B string while droning the open high E, and I'm pretty sure it's double-tracked and panned in stereo. Playing linear melodic lines against open drone strings is something I've always gravitated toward when soloing."
3) The Bangles | "Watching the Sky" from 'Everything' (1988)
"Around the time I wrote this, I was going through a Led Zeppelin rediscovery phase. I had heard some of their hits growing up but began delving more into their album catalog and thought it'd be fun to do a track with a heavy John Bonham–esque drum sound.
"I'm also using a drop-D tuning [low to high, D A D G B E], and the droning riff is built around that, kind of giving it an instant vibe.
"When we were making Everything, we brought in a lot of different instruments. For part of the song, I used a guitar with a Hipshot B-bender on it that someone had lying around the studio. I remember tracking the part, and everyone in the control room whooping enthusiastically whenever I would wiggle my hip to make the bend! [laughs]
"We also overdubbed a Mellotron on the track. We were so excited to get our hands on one, because they were used on some of our favorite psychedelic stuff from the '60s by the Beatles and David Bowie. They're never quite in tune, but they sound like an old, slightly warped record.
"'Watching the Sky' was originally written while we were on the road during a time of extensive touring, and it's really about missing a loved one but finding comfort in knowing they're looking up at the same moon that you are."
4) The Continental Drifters | "Who We Are, Where We Live" from 'Vermilion' (1999)
"I wrote this song after my fiancé [Bobby Donati] passed away in 1991. The song pretty much came to me fully formed in about 20 minutes, and it's built around those rolling arpeggios on the second-position B, A and E chords, with the unison fretted B and open B notes ringing throughout as a sort of hypnotic drone.
"Whenever we play this live, I'll go into a meditative state. The song will always hold a special place for me, because I feel like it marked my induction into that club of those who have suffered a really tragic loss.
"The first time I played the song with the Continental Drifters was actually before I joined the band, when Susan Cowsill and I were guesting with them. Later, we recorded a demo version, and then the version on Vermilion.
"Robert Mache plays the blistering solo that you hear on the album, and usually when we play it live I'll take the last solo on it to close out the night."
"Susan Cowsill and I have been singing, writing and performing as the Psycho Sisters for over three decades now, but we didn't get around to making a record together until 2012 or so.
"It's funny, because the first album I bought as a kid was the Cowsills' We Can Fly, and now they're my in-laws and bandmates! Singing with her is one of the most natural things I've ever done, and even if we haven't played together in a while, we can fall back into our groove instantaneously.
"On this particular track, I'm singing the melody and she's singing a lower harmony, but she jumps up to the higher parts during the chorus. She's very limber vocally, and we'll often jump around to find different ways of complementing each other.
"'Numb' was another song with real emotional resonance for me; I remember writing it just after a bad breakup. Listening to it again recently, it sounds very '90s, because of the heavily distorted guitar and dark rolling chord progression."
All the latest guitar news, interviews, lessons, reviews, deals and more, direct to your inbox!