"I Sold My Soul to the Guitar": Slash Explains How He Got Started
The Guns N' Roses star recalls the trials and tribulations of his formative years as a guitarist in this classic interview extract from the GP archive.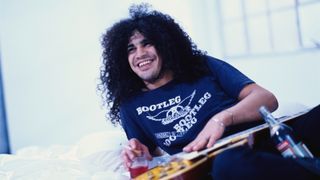 (Image credit: Aaron Rapoport/Corbis via Getty Images)
Nowadays, Slash is known the world over as the lead guitarist in Guns N' Roses – the L.A. hard rock band with whom he made a name for himself as one of the most influential players in guitar history.
As a fan of the Gibson Les Paul design, he had a great deal to do with re-popularizing the iconic electric guitar when GnR hit the bigtime in the late '80s.
This eventually led to his current signature collaborations with both Gibson and Epiphone.
But like so many guitar players before and after, Slash came from humble beginnings. It was through sheer determination and hard work that he made it happen.
In this interview extract from the December 1991 issue of Guitar Player, the guitarist recounts how he first got his world-famous chops together (and explains why he once tried to demolish a wall with a Les Paul copy.)
How did you get started?
My first guitar was a one-string Spanish acoustic that was lying around the house. I taught myself a UFO song and "Smoke on the Water."
My grandmother was really sweet; she bought me an Explorer copy that I flipped out on. Unfortunately, it was a piece of shit.
Then I got a Memphis Les Paul copy. At rehearsal one day, I ended up sticking it through a wall neck first because I could not keep the fucking thing in tune.
Did you practice a lot?
I was a workaholic. I'd play 12 hours a day. I picked it up really quick because I was naive in a way. I wasn't starstruck and I wasn't so flipped out by other guitar players that they intimidated me.
I didn't feel like I was trying to reach some goal. I was just learning. A lot of people go, "It's gonna take me 10 years to reach this place," and it freaks them out.
I'm real single-minded, so once I got into guitar that's all I did. It basically replaced school.
At some point you got a good instrument.
That was a B.C. Rich Mockingbird. I wish I had it now. I hocked it during one of my so-called bad periods. But I played that while I was going through different bands.
Later, I got a handmade Les Paul copy, built by a guy who makes awesome guitars, better than anything the company produces now – nothing against Gibson.
I think that's when I turned into a Gibson freak – Gibson and Marshall. That's been my standard until this album [Use Your Illusion I & II.]
When you were coming up, did you see many hot players in L.A.?
I couldn't afford good enough concert seats to pick up anything from watching guys perform. But for some reason, when I listened, I understood how to go about it.
Eddie Van Halen was the only one who might have thrown me for a loop, but I never tried to emulate him, because I always thought that style was his.
It really bummed me out when everybody ripped off his whole trip.
Did you have any formal instruction?
One teacher, Robert Wollan – a great guy who had a lot to do with me getting into guitar – pointed me in the right direction.
As all music teachers are supposed to do, he started me reading music and playing "Mary Had a Little Lamb." It was so boring!
But Robert played the shit out of the guitar – he's still one of the most amazing players I've ever met. I'd bring in records and he'd play "Stairway to Heaven" note for note.
It really pissed me off, because I'd sit there with this bullshit Mel Bay. Finally, I quit and spent a lot of time teaching myself. I worked full-time to support my guitar habit and stayed up until god-knows-when practicing and learning.
My main thing was Jeff Beck at that time. I remember learning "'Cause We've Ended As Lovers" note for note, getting every subtlety.
There was Aerosmith, Ted Nugent, Cheap Trick and Zeppelin.
I sold my soul to the guitar. If I quit playing now, I'd have no future.
Browse the Guns N' Roses catalog here.
Get tour info here.
All the latest guitar news, interviews, lessons, reviews, deals and more, direct to your inbox!
Guitar Player is the world's most comprehensive, trusted and insightful guitar publication for passionate guitarists and active musicians of all ages. Guitar Player magazine is published 13 times a year in print and digital formats. The magazine was established in 1967 and is the world's oldest guitar magazine.
When "Guitar Player Staff" is credited as the author, it's usually because more than one author on the team has created the story.