Trash & Treasure: a Guide to the Far-Out Guitars of the 1970s
Shameless 'modernistic' rip-offs, hippie-wood finishes and more brass than a marching band – welcome to our fabulous six-string freakshow!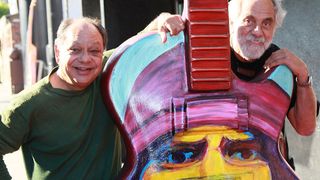 (Image credit: David Livingston/Getty Images)
As the '60s dissipated like an exhaled bong hit, the '70s wafted into history like vapors from an Ohio bowling alley men's room.
Hippie dropouts suddenly faced the dreary prospect of becoming either responsible citizens or musical instrument manufacturers.
Judging by the ads that graced GP's pages in the '70s, most opted for the latter.
How else could you explain the nature-boy aesthetics such as natural-wood finishes, ornamental carved tops and excessively laminated, neck-through-body models that dominated guitar design?
Wasted, mushroom-snortin' scientists concocted active electronic circuits and tried to convince us that we really needed a phase switch.
Anonymous geniuses hypothesized "Mass + Weight = Great Tone & Sustain" and attempted to prove it by offering brass-hardware-endowed guitars that tipped double-digit figures on the scales.
Here are just a handful of the delights that were on offer…
GIBSON MARAUDER
If you had $2,000 in the late '70s, you could have bought either a '59 Les Paul Standard or five Marauders.
Committing Gibson heresy with its bolt-on maple neck (gasp), "super" humbucking and specially designed single-coil pickups (gag), and pan pot for fading between both pickups (splat), the Marauder looked like the freak offspring of a Les Paul Jr. and a Telecaster Deluxe.
Its equally butt-ugly fraternal twin, the S-1, featured three single-coil pickups. Both were heavily advertised, seen in the hands of Mike Bloomfield, Paul Stanley, Ron Wood and Keith Richards along with the usual suspects.
One ad touted, "It'll be loved. It'll be hated."
At least they were telling half the truth.
IBANEZ ELECTRICS
Though Ibanez spent most of the decade imitating Gibson and Fender's '50s classics (their Gibson archtop copies, Rocket Roll Sr. and Destroyer were some of their better-executed rip-offs), they emerged in the latter half of the '70s with several well-made, original electric guitar designs.
Ibanez's '78 catalog featured several models with attractive, unique body shapes, including the Artist, which resembled a double-cutaway Les Paul, and the Musician, which looked like an Alembic/Stratocaster hybrid.
Both guitars featured a brass sustain block embedded in the body below the bridge, but more important, they looked and sounded great.
B.C. RICH
With names like the Seagull, Eagle, Mockingbird and Bich, B.C. Rich guitars were a koa, maple and mahogany menagerie of heavy metal axes that rivaled the Explorer and V for gnarly, angular coolness.
Joe Perry and Rick Derringer slung their 'Birds low, wearing out their fifth- and twelfth-position frets on jammin' tunes like "Train Kept A-Rollin'" and "Rock & Roll Hoochie Koo."
The double-neck Bich featured more knobs than an all-in-one stereo/8-track/turntable hi-fi.
MOONSTONE
The popularity of redwood-burl tables among the mood-ring generation made it inevitable that this material would wind up being used for guitars.
Moonstone took the burl and brass concept to the nth degree with their cosmic neck-through designs. We recall one specimen that had snail-shell knobs.
L.A. session bassist Lee Sklar had a double-neck Moonstone bass with eagle headstocks and LEDs in the eyes.
Far out.
Pass the brown rice, brother.
OVATION DEACON & BREADWINNER
Image 1 of 2
"Don't dilly dally dude, da Deacon's dynamite" read the hokey ad copy for Ovation's executioner's-ax-shaped Deacon.
Along with the less deluxe but identically shaped Breadwinner, these guitars represented the extreme of '70s kitsch.
Though it looked like it belonged in the hands of a lumberjack, the Breadwinner was a good-sounding instrument.
DEAN
Dean guitars were essentially Gibson Flying Vs, Explorers or a mutant combination of both, dolled up like Kiss groupies.
Featuring oversize headstocks that looked like miniature, inverted Flying V bodies, Dean guitars resembled Gene Simmons 69ing with a dwarf.
These axes played well and sounded good, and featured bound curly maple tops, Honduras mahogany bodies, ebony fingerboards with abalone inlays and DiMarzio Super Distortion humbuckers.
HAMER
Hamer hit the scene in the mid-'70s with the Standard, an expensive ($800!) Explorer-shaped ax with a thick, carved-maple top like a Les Paul Standard.
Early models were equipped with rewound Gibson pickups (rumor has it that a few have Gibson PAFs in the bridge position).
In '78 Hamer introduced the Sunburst, a sensibly priced, double-cutaway solidbody with a flat maple top and two boss humbuckers.
Solid, man!
All the latest guitar news, interviews, lessons, reviews, deals and more, direct to your inbox!