"I Love Santana. But I Think That It's Vital for People to Recognize That There Are Many Other Important Players": Beto Martinez Talks Inspiration
From chunk to chicha, Latin rock's leading light reveals his most important influences.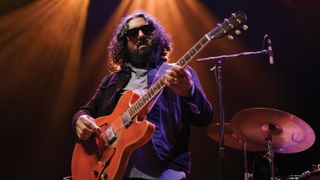 (Image credit: Ismael Quintanilla)
Black Sabbath meets Chicago!" Ozzy Osbourne exclaims, clapping his hands with great enthusiasm after Austin band Brown Sabbath slays the Sabbath chestnut "Fairies Wear Boots" for him in person – complete with conga drums and a wicked Latin brass section – at a small bar in East Austin.
"There are a lot of [Black Sabbath] cover bands," Ozzy notes a minute later, on an episode of A&E's Ozzy & Jack's World Detour, "but this, by far, is such a unique way of doing it. I'm really impressed. Your playing is fuckin' great."
Recalling the moment from his Lechehouse studio on the outskirts of Austin, the band's guitarist Beto Martinez – he's the one ripping the song's massive main riffs and fiery triplet-driven outro solo on a red Gibson ES-333 – displays the same relaxed and humble bearing he brings to all his imaginative projects, and man, there are a lot of them.
Brown Sabbath is itself an outgrowth of Beto's big-band, Brownout, which he helped form with future Black Pumas guitarist Adrian Quesada.
But even Brownout was an outgrowth of Beto's acclaimed nine-piece "Latin funk orchestra," Grupo Fantasma, which took home a Grammy for Best Latin Rock/Alternative album on behalf of their acclaimed album El Existential in 2011, and were a favorite backing band for Prince for several years.
Add to that Martinez's other eclectic bands, including Money Chicha, Los Sundowns, Ocote Soul Sounds (with Quesada), his latest project, Caramelo Haze, and more, along with his production work at Lechehouse – for which he's been recently nominated for an Austin Music Award – and you have the makings of a new kind of Texas guitar legend.
Unlike the vintage blues guitar tradition that Stevie Ray Vaughan and Charlie Sexton drew on so expertly, Martinez's mix springs from a bicultural grounding in classic and contemporary Latin sounds from Peru, Cuba, Colombia and his parents' native Mexico, along with his teenage obsession with red-blooded American metal acts, from Metallica to Pantera.
"When I first got into guitar," the 44-year-old says, "it was all about hard rock and heavy metal. The first album I bought was Quiet Riot's Metal Health, and then I discovered Metallica's ...And Justice for All, followed by Appetite for Destruction by Guns N' Roses."
Martinez's next phase of discovery included a "full force" induction into the music and techniques of Jimi Hendrix and Frank Zappa, the two players from whom he began to model his own expressive work with the Dunlop Cry Baby wah-wah pedal, which you'll find to some degree on nearly all of his recordings.
"It's pretty much an extension of my foot," Martinez says with a laugh. "I suppose the easy reference point with me and the wah-wah, because I'm Latin, would be Carlos Santana, whose music I do love.
"But I more remember Zappa talking about how the wah-wah could be used for a speech-like sound," he continues, "and that's what I've always gone for.
"I very rarely do full sweeps with the wah, or pump it in regular rhythms. It's more about giving my playing that 'talking' quality, keeping it positioned near the middle of the throw, and making more subtle moves on it as I play.
"I admit it's become something of a stylistic signature for me. It's so natural for me, in fact, that I don't even think about using it anymore. I actually have to think about not using it!"
Other key elements of Beto's sound include Fender tube amps, especially his trusty Fender Deluxe Reverb.
His clutch of pedals includes an EarthQuaker Devices Dunes that he describes as his "essential overdrive/boost," and a Behringer UV-300 Ultra Vibrato.
"The Behringer literally costs less than dinner," Martinez jokes, "and yet that's the one I get asked 'What's making that sound?' about the most. It's definitely my secret weapon."
Martinez's not-so-secret weapon? His trusty red 2004 Gibson ES-333, on which he executes savvy double-stop R&B figures, funky slash chords, surf-approved bottom-string riffs, and, of course, those burning Dorian- and pentatonic-based solos.
But if you want to get to the core of what makes his style and sound so distinct, and what makes him an increasingly important player in the legacy of the electric guitar, you have to dig deeper.
In particular, Martinez reflects and refracts the influence of many Latin electric guitar players (and Latin and Afro-Cuban musical genres) that you may have never heard of, and that's a big part of what makes exploring his work such a worthwhile pursuit.
In his combo Money Chicha, for example, you're hearing Martinez and his crack band – including the remarkably gifted drummer John Speice IV, also of Grupo Fantasma and Brownout – casting their singular spell over the chicha style, a Peruvian form derived from Colombian cumbia.
The hynotic but danceable cumbia, evocative of traditional Andean huayno music, surf and psychedelic rock, is typically played with electric guitars and synthesizers, and leans heavily on the pentatonic scale.
Martinez, though, is just as likely to inject harmonic minor or diminished melodies into it, as well.
"The pioneers of chicha guitar in the '60s and '70s were so expressive and so revolutionary with their tone and technique," Martinez says, name-checking bands like Los Destellos, Los Shapis and Los Hijos del Sol, "but their music barely made it out of regional South America until now."
Among those chicha pioneers, he explains, are giants like Peruvian guitarist José Luis Carballo, of the Lima band La Nueva Crema, which translates as "The New Cream;" Enrique Delgado from Los Destellos; and Bernardo Hernández, a.k.a. Manzanita, who fronted the band Manzanita y Su Conjunto with his explosive, wickedly rhythmically melodic guitar figures that almost suggest a Peruvian Dick Dale or Les Paul.
Another player Martinez readily recommends checking out is the late Cuban fusion guitarist Carlos Emilio Morales – he passed away in 2014 at the age of 75 – of the celebrated band Irakere.
"If you listen to Morales' playing and the whole band on the album Irakere Live, it's absolutely insane what they're pulling off live," Martinez raves.
He's quite right; for polyrhythmic jazz fusion at its finest, even Weather Report would have been hard pressed to match the simply outrageous syncopated ensemble playing (and singing!) on display on this masterful set.
"One other player I really want to mention is the great Colombian guitarist Abelardo Carbonó, who sadly passed away very recently," Martinez adds.
"Carbonó was sort of the godfather of Colombian cumbia and psychedelic guitar music, and he developed his own genre, called champeta, which is very West African in nature – almost like soukous – and very melodic.
"Y'know, whenever Latin psychedelic guitar is discussed," Martinez adds, "it seems like Santana is the only person who's mentioned. And I love Santana. But I think that it's vital for people to recognize that there are many other important players and subgenres in the history of Latin rock and psychedelia."
Order El Existential by Grupo Fantasma here.
Discover more from Beto Martinez here.
All the latest guitar news, interviews, lessons, reviews, deals and more, direct to your inbox!