Listen to These 5 Killer Tracks From Beto Martinez - the New King of Latin Rock Guitar
Get on board with the Grammy-winning guitarist and take a spin through this kaleidoscopic collection of musical meanderings.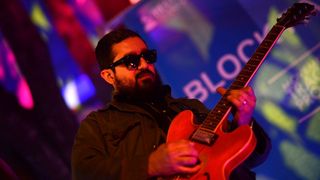 (Image credit: Sasha Haagensen/WireImage)
Beto Martinez is a new kind of Texas guitar legend.
Unlike the vintage blues guitar tradition that Stevie Ray Vaughan and Charlie Sexton drew on so expertly, Martinez's mix springs from a bicultural grounding in classic and contemporary Latin sounds from Peru, Cuba, Colombia and his parents' native Mexico, along with his teenage obsession with red-blooded American metal acts, from Metallica to Pantera.
Here are five pivotal tracks from the guitarist's prolific catalog…
1) "Se Cae El Sol" by The Los Sundowns from The Los Sundowns (2021)
Se cae el sol translates roughly as the sun goes down, so it's clearly a kind of theme song for Beto's cumbia-tinged psych-garage band of the same name.
Blending a funky Latin beat with spaghetti-western-approved bell-like tones, the track is based on a I-IV-V progression in harmonic minor – Bm–Em7–F# dom7 – over which Martinez flows slinky blues-scale and harmonic-minor ideas with a classic spring reverb-soaked tone courtesy of a vintage Fender Super Reverb tube amp.
Even Ozzy was gob-smacked by the originality and sheer badassery of this horn-blasting take on the early Sabbath epic.
Like the original, Martinez tunes his entire electric guitar down a minor third – that's a hellspawn C# on the E string, yo – for the song's sinister main theme, a chromatic-assisted blend of blues, tritones and Locrian mode that's doubled by Brownout's full horn section.
And that blistering fuzz? That's a Plum Crazy Fuzzy Lady pedal, a unique hybrid fuzz that uses both silicon and germanium transistors.
3) "Cumbianchera" by Grupo Fantasma from El Existential (2010)
This infectious chunk of post-modern cumbia helped Martinez and Co. win a Grammy in 2010, and not just because of its chugging saxophones and soaring trumpet blasts – think Bond composer John Barry married to Fela Kuti-inspired rhythm guitars.
Based around a typically Latin Dm-A progression, it's a natural vehicle for Beto's rhythmic upstrokes on the offbeats, and his lovely solo starting at 2:02 mixes natural minor and blues-scale ideas with plenty of psychedelic garage dirt thrown over that vibey Fender clean.
4) "Ando Y Dando" by Brownout from Oozy (2012)
If you dig serious conga grooves, you'll love Brownout's furious jazz-funk on "Ando y Dando," with its cool I-bVI7-V7 progression (Fm-Db7-C7), that tips its hat to similarly smokin' live bands of yesteryear like Irakere and Santana.
Martinez's solo, hitting at 2:20, kicks off with some wickedly fluid wah-wah licks that dance around both the flat-seventh and major-seventh in a pentatonic framework, launching into a flurry of dubby echoes that recall the fiery and fierce classic Carlos Santana of live albums like Moonflower.
5) "Echo En Mexico" by Money Chicha from Echo En Mexico (2016)
A clever twist on the phrase hecho en Mexico, this swinging six-against-four feel features Martinez playing a slinky, lightly chorused pedal-tone hook in C harmonic minor over a Cmin-Fmin-G7 progression.
His solo work here, though, leans more toward the kind of Zimbabwean pentatonic style that players like Jonah Sithole and Leonard Chiyangwa let fly in Thomas Mapfumo's legendary bands.
Throw in some classic garage-psych bends and high, piercing echo blasts (i.e., "echo" en Mexico) and you've got another eclectic and stylistically rich new hybrid from the Lord of Lechehouse.
All the latest guitar news, interviews, lessons, reviews, deals and more, direct to your inbox!