"I Had Been About a Year Sober and I Was on Shaky Ground": John Hiatt Recalls When Lightning Struck Twice for Him With 'Bring the Family' and 'Slow Turning'
The turning point that cemented the maestro's status as one of the premier songwriters of the 20th century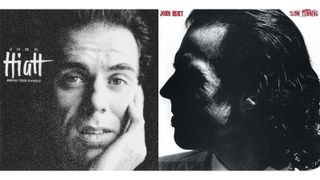 (Image credit: A&M)
***The following interview extract originally appeared in the January 2019 issue of Guitar Player***
Of the many twists and turns in John Hiatt's long saga, none was more significant than his transition from an eclectic singer-songwriter working on retainer for Tree Publishing in Nashville to an artist on par with American greats such as Bob Dylan, Tom Petty, Paul Simon and Bruce Springsteen.
Hiatt enjoyed some success early on when Three Dog Night scored a hit in 1974 with his tune "Sure As I'm Sittin' Here."
As he recounts, "It went to the Top 15 or something, and I waltzed right back into Tree and said, 'You're going to co-sign a car loan for me on the basis of this song.' And they did, so I went out and bought a brand-new Toyota Corolla for $1,762 out the door.
"I thought I was in tall cotton. It wasn't a Cadillac, but it was the first new car I'd ever bought."
It would take 13 more years before Hiatt's star rose as a bona fide solo artist with his 1987 breakthrough album, Bring the Family.
Ironically, it happened when he was at perhaps his lowest point.
The record yielded tunes such as "Memphis in the Meantime" and "Have a Little Faith in Me," both of which have been covered extensively, as well as "Thing Called Love," with which Bonnie Raitt scored a hit off her 1989 album, Nick of Time.
However, it was the 1988 release Slow Turning that cemented Hiatt's status as one of the premier songwriters of the 20th century.
The album featured classics like "Tennessee Plates" and "Angel Eyes," and its title track earned Hiatt his first and only Top-10 single.
"I got lucky, I guess," he says when asked about the circumstances that led to these seminal albums. "It was the right place and right time with Bring the Family. I had just cleaned up my act and gotten sober.
"I had been a mess prior to that record, and though I'd written a batch of pretty good songs of a kind of redemptive nature, I was pretty down, because I'd been though several major labels and had pretty much burned every bridge."
The events that followed, however, gave him the perfect opportunity to present some of his finest work to an audience that was ready for something altogether different from '80s-era pop and rock.
"I had been playing a club in Santa Monica called McCabes, and I'd befriended this fellow named John Chelew [producer of Bring the Family], who was an early champion of mine before I sobered up," Hiatt says.
"We were talking one night and he asked what I was going to do for my next record. Then I got an offer from Andrew Lauder, who managed Elvis Costello. He and Nick Lowe had this little label in the U.K. called Demon Records.
"Andrew said, 'I want you to make a record for U.K. distribution,' and I was befuddled. I said, 'Jeez, Andrew, I don't even know what kind of record to make.' That's what kind of mess I was.
"I had been about a year sober and I was on shaky ground. He said, 'Well, you could sing in the shower and we'll put it out.' And that's exactly what I needed to hear. It was a boost of confidence."
Chelew rounded up slide guitarist Ry Cooder and drummer Jim Keltner, and with Lowe on bass, Hiatt made Bring the Family in record time.
"We cut 10 songs in four days," he remembers. "That's all we could get. I mean, Ry was walking out before I cut the last song, and I said, 'Wait a minute, Ry. One more.' You kind of had to catch him when you could. But he was happy because John had an old brown Gibson amp that he loved the sound of.
"We had a blast making that record, and Andrew Lauder was thrilled and released it in the U.K. on Demon. Then we got permission to shop it for a U.S. deal, and next thing you know I'm on A&M Records."
Why didn't you take that group out on tour for the album?
There was never any intention of touring with Ry, Nick and Jim, and I don't think I ever even asked. I just kind of took it for granted that those guys weren't going to go on the road.
So I came back to Nashville and started looking for a band to go out and tour Bring the Family. I got a call from Ray Benson from Asleep at the Wheel, and he said, "I've got a guy for you. He lives in Louisiana and his name is Sonny Landreth. He's the other slide guitar player" – meaning there's two types of slide guitarists in this country: Ry and Sonny. That's pretty much how he put it. [laughs]
So Ray put us in touch, and Sonny said, "You know, I've got a drummer for you." And that was Kenneth Blevins, who was out with the Mamas & the Papas at the time.
He came to the audition and sat down on drums, and the first tune I called was "Memphis in the Meantime." I said to Kenneth, "Well, you've got the gig." He could play that flippy floppy way, because he's a great drummer.
Sonny didn't play like Ry Cooder, but he was an inimitable virtuoso slide guitar player. It was like having a singing partner. To me that's how it works. It's like he's your duet partner and your other voice. A lot of guitar players don't even get that. But, boy, when they do, it's exciting.
When Sonny plays, it's singing and it's wonderful. So I was in heaven because I had these Louisiana guys who knew how to play another way, and that's what I was looking for.
And that group became the Goners. What was the immediate effect of having them as your touring band?
Well, we hit the road, and all of a sudden an audience started showing up, which was hard to get in America prior to that record.
So here I was out with the Goners and I'd already started writing the songs for Slow Turning. We toured for, like, 11 months solid, and then made a pit stop just to record Slow Turning and have a baby.
My daughter [singer-songwriter] Lilly, was born during the making of Slow Turning.
How did recording Slow Turning with a band that you'd been touring with compare to how you made Bring the Family?
It was different, because everyone was involved with Slow Turning and it was three and half weeks in the making. Back in those days, we still had A&R people, and my A&R guy was a peach. I said to him, "Look, my band is fantastic and I want to make this record with the Goners."
So that was the first step. And then he hooked me up with [engineer/producer] Glyn Johns, and we really hit it off. Glyn came to Nashville and we took the month of May off and it was a hoot. I learned a whole lot from him. But it was still live off the floor with minimal overdubs, because that's how Glyn records.
Starting with Bring the Family, that sort of set the tone for me in terms of live vocal takes, which are always the best. I've never been very good at overdubbing vocals. I kinda want to be there in the track singing live with the drums, bass and guitars.
Order Hiatt's latest album, Leftover Feelings, here.
All the latest guitar news, interviews, lessons, reviews, deals and more, direct to your inbox!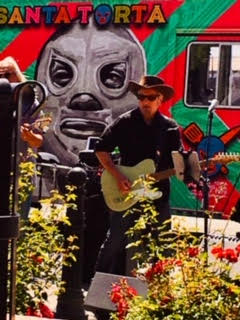 Art Thompson is Senior Editor of Guitar Player magazine. He has authored stories with numerous guitar greats including B.B. King, Prince and Scotty Moore and interviewed gear innovators such as Paul Reed Smith, Randall Smith and Gary Kramer. He also wrote the first book on vintage effects pedals, Stompbox. Art's busy performance schedule with three stylistically diverse groups provides ample opportunity to test-drive new guitars, amps and effects, many of which are featured in the pages of GP.