Lilly Hiatt Talks Rhythm, Rickenbacker and the Limitless Possibilities of Guitar Playing
Lilly Hiatt jumps the line between Gen Y rock and Nashville Americana on her life-affirming new album, 'Walking Proof.'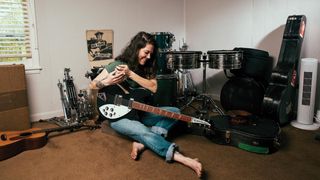 (Image credit: Alysse Gafkjen)
Lilly Hiatt isn't one to take advantage of her musical pedigree, although she certainly could. But while growing up outside of Nashville, she was more interested in the alt-rock of Weezer, Pearl Jam and the Red Hot Chili Peppers than the brand of Americana her father, John Hiatt, helped pioneer.
"What made me want to pick up a guitar was listening to Weezer's [self-titled] Blue album," Hiatt says over coffee on a rainy East Nashville morning. "That did it for me, to where I was like, 'I've got to learn how to play so I can write songs like this.'"
On her new, and fourth, solo album, Walking Proof (New West), Hiatt still sounds more like a child of the '90s than the daughter of a troubadour. Aside from some pedal steel and fiddle scattered across her catalog, the biggest links to the music of her hometown are her honeyed Nashville twang and that famous family name.
Hiatt took guitar lessons for about six months in her teens, but like many players who grew up in the decade of grunge, she leaned away from technique and gravitated to writing songs.
By the time she began playing solo shows around town in her early 20s, she was firmly committed to performing her own compositions.
"That's why I started playing out," Hiatt explains. "I started to learn that I had to be more intricate on the guitar and figure out my way of doing it so it was lively and sounded percussive and full."
Once Hiatt solidified her approach to rhythm guitar, the rest came quickly. Her bright, tremolo-tinged guitar lines, played on a Rickenbacker 360, set Walking Proof's breezy guitar-pop mood. She stomps a fuzz box on "P-Town," for an R.E.M. Monster-era effect, and adds shoegazing, Mazzy Star–style atmospherics on the languid "Drawl."
Collaborations with guitarists Lincoln Parish of Cage the Elephant, who produced the album, and rising Nashville artist Aaron Lee Tasjan help to round out Walking Proof.
Parish's slippery slide licks accent Hiatt's '90s guitar-rock sonics on songs that show off her considerable songwriting strengths. Despite her wide influences - which veer into hip-hop, indie rock and, yes, Americana - the Hiatt songwriting genes were there the whole time.
On this chilly Tennessee morning, Hiatt steps us through the colorful Walking Proof and tells us what it was like growing up around songwriting legends.
In your family, was a lot of importance placed on music due to having a father who was so successful?
Yes, definitely. I was never really pressured to play, but it was a very big part of our household. My mom is a huge music fan, and she lives in that world, too. They were always playing records, and musicians were always around and playing music at her house.
Everybody grows up with music around, one way or another, but I actually heard the musicians playing in my living room. It just seemed like a viable path, but I was also just a musical kid right from the get-go.
Who were some of the people who would come play at your house?
I would hear Guy Clark, Rosanne Cash, John Kay of Steppenwolf - I couldn't believe that he lived right down the road from us. Radney Foster - I remember him coming by. Ashley Cleveland. I just thought they were cool people - my parents' cool friends. It seemed just regular to have that around.
Did you get guitar lessons from your dad?
If I would ask him, he would show me. And the things he showed me stuck more than anything anybody else did. He showed me how to play some chords.
My guitar teacher tried to teach me skills, but I would never learn them. Like the way I curl my hand - I've had people tell me, "You're not supposed to put your thumb there on the neck." And I'm like, "Well, that's what feels right to me."
How did you eventually take to the guitar?
I knew that to be the songwriter I wanted to be, I would need to play guitar. I thought, I want to get good at this so I can feel cool and feel strong playing. I still don't know what the endgame really is with it. The possibilities are so limitless with the guitar.
I'm just as big a fan of music as I am a musician. I've been through the classic-rock phase, the hip-hop phase, the singer-songwriter phase, and I circled back to everything, too.
There's a lot of influence there that has crafted my playing style. Also, I had a natural rhythm that was just mine. It's not so different from my dad's, actually, so maybe it's a family thing, but I had that early on. I was pretty clumsy playing, but I had rhythms that made sense.
When did your interest in it turn serious?
I was probably 22 when I started playing solo. I played coffee shops, dive bars - really anywhere I could. Open mics, Bluebird Café. I begged for a show at the Basement [a well-known Nashville rock club]. I went around with my CD, giving it to everybody and getting a lot of "no"s. Pretty much what everybody who comes to Nashville does.
Since you're more of a rhythm player, how do you use that in songwriting?
I come in with a vision for the song. The chords are there, and I usually know exactly how I want the melody to go. I know the sound I want a lot of the time. I knew that for "P-Town" I wanted shimmery-sounding, big guitars. I feel like I guide the ship in terms of the beginning of the song, then I let it come and get taken away by everyone.
Recommended Listening
Lilly Hiatt – Walking Proof
"Rae," "P-Town," "Drawl," "Candy Lunch," "Some Kind of Drug," "Little Believer"
You have a lot of guest guitarists on Walking Proof.
We put so many effing guitars on this album, it's almost hard to remember who did what. I played all the rhythm parts on everything.
Lincoln Parish, who's an incredible guitar player and very humble about it, did amazing slide stuff, and he did all these little beautiful accents everywhere that reinforced what John [Condit], the main lead guitarist on the album, did. Then Aaron Lee [Tasjan] played on one song, "Little Believer."
I love the picture of you jumping with that Rickenbacker. It fits the record's mood.
It's how I feel when I'm playing. That's what it looks like. When we were making [2017's] Trinity Lane, John brought his Rickenbacker 360 and was like, "Why don't you try this?" I took to it immediately, and then I got one.
It sounds incredible and translates so well for an acoustic player. I can be a little more heavy-handed on it. It definitely has cut to it. It's able to be clear, but pointed in a way.
How do you fill out that sound?
I use D'Addario flatwounds, just on the Rick. I use a [Fender] Princeton Reverb live, and it's great with it. I have a [Fender] Hot Rod Deville that I borrow from my dad. It's cool as hell, too, it's just a lot of amp for me to travel around with.
I use a [Fulltone] PlimSoul to get a really dirty-sounding distortion. I've tried other distortion pedals, but the PlimSoul is heavy duty, and you can crank it. You can get really weird in there. I usually keep it at the same place, which is everything set to 10 o'clock, and for some reason that's just the right amount.
Acoustic guitars are also foundational to your sound. What do you like in acoustics?
I have a Gibson Mini J-200. It's a custom guitar I got when I was 23. It looks like the Emmylou [Harris] model. I'll probably play it till I die. Then I have a Martin - I can't remember if it's a double-aught 18 or 17. It's a 1952 or '53. My dad gave it to me when I was young. I don't ever travel with it, but I used to play it at open mics. Between those two, I'm so happy."
Lilly Hiatt's Walking Proof is out now via New West Records.
All the latest guitar news, interviews, lessons, reviews, deals and more, direct to your inbox!
Jim Beaugez has written about music for Rolling Stone, Smithsonian, Guitar World, Guitar Player and many other publications. He created My Life in Five Riffs, a multimedia documentary series for Guitar Player that traces contemporary artists back to their sources of inspiration, and previously spent a decade in the musical instruments industry.