GP Presents Spirit Hustler on July 29 in San Francisco – Win Tickets
Win tickets to an existential evening of psychedelic rock at the Chapel.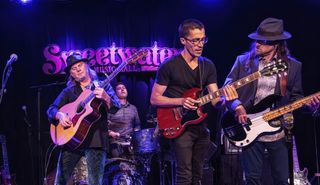 (Image credit: Bob Hakins)
Bay Area rockers Spirit Hustler put a modern spin on classic rock, with a string brigade that blends the broad strokes of open-tuned acoustics played by Frets editor Jimmy Leslie with laser leads courtesy of slide ace Jules Leyhe and mandolin highlights by James Nash (the Waybacks).
Steven La Bella, meanwhile, brings funk-inspired bass to the picture, with dynamic drums from Adam Briere (New School of Jazz) rounding out the group's sound.
Leslie has been revealing insights into the recording of Spirit Hustler's debut LP via his Frets Learn columns on writing and recording acoustic rock in the June, July, and August issues. Each column features a video tutorial, with the latest being focused on "fingerstyle slap" technique.
Spirit Hustler recently played a North Bay album release party at Bob Weir's Sweetwater Music Hall in Mill Valley, California, video from which you can see below.
For the San Francisco album release celebration on July 29, special guests include funk rocker Pamela Parker and keyboardist/guitarist Alex Jordan (Midnight North).
Jordan helped facilitate GP's upcoming story on the Grateful Guitars Foundation and participated in a session at Lucky Recording Company featuring Jerry Garcia's "Alligator" Stratocaster and "Jerry's Herringbone" Martin dreadnought. The story will be accompanied by a fresh take on "Friend of the Devil" that also features Stu Allen (Phil Lesh & Friends), Leslie, and Leyhe.
The Silk Road Truckers – winners of the Haight Street Fair Battle of the Bands in 2017 – will open the show.
Join Spirit Hustler and company at the Chapel for an existential evening in the heart of San Francisco.
Get your tickets here now.
Win Tickets
For a chance to win a pair of tickets to see GP Presents Spirit Hustler, send an email to gp@jimmyleslie.com with "Spirit Hustler" in the subject and simply include a sentence about yourself and why you want to go. Phone contact is greatly appreciated for confirmation.
Winner must provide their own transportation to the Chapel in San Francisco, California on Friday, July 29, and have their own accommodations in the Bay Area.
Here is the venue's COVID info. Best of luck!
Event Details
GP Presents Spirit Hustler plus Silk Road Truckers
Friday, July 29
777 Valencia Street San Francisco, CA
7:30pm doors, 8:30pm show
Free GP magazines, Martin strings
Buy tickets here.
All the latest guitar news, interviews, lessons, reviews, deals and more, direct to your inbox!
Guitar Player is the world's most comprehensive, trusted and insightful guitar publication for passionate guitarists and active musicians of all ages. Guitar Player magazine is published 13 times a year in print and digital formats. The magazine was established in 1967 and is the world's oldest guitar magazine.
When "Guitar Player Staff" is credited as the author, it's usually because more than one author on the team has created the story.