Writing and Recording Acoustic Rock, Part 2
How revelations with tuning, guitars and friends inspired the Spirit Hustler track "Circlin' the Sun."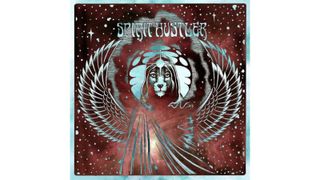 (Image credit: Spirit Hustler)
A new tuning can change the soundtrack of your life. So can a new guitar, and so can your buddies.
Since becoming Frets editor in 2016, I've poured all the glorious gear goodness and artistic wisdom bestowed upon me into an epic recording project documenting my transition from Strat cat to percussive acoustic fingerstylist.
Lucky Recording Company became the treehouse where musical friends could exchange ideas without limitations, and Spirit Hustler was born of an acoustic heart and layered with cosmic electricity.
"Circlin' the Sun," the second single from our self-titled debut album features a skywalking slide solo by Jules Leyhe.
The backstory to the tune is a stellar example of how being amenable to fresh ideas at all times can be transformative in the long run.
Be Open to Tunings
Alternate tunings can be incredibly inspirational, but I wasn't all in until Tronical sent an automatic tuning system that made switching a cinch.
The device eventually broke, but I was hooked on going modal, meaning no 3rd.
To get to E modal from standard, raise the fifth string up a step, to B, and the fourth up a step, to E. Drop the third string down a step and a half to match the E on the fourth string.
E modal is similar to the open E favored by Duane Allman and Jules Leyhe but with the huge difference of no major 3rd on the third string.
The whole tuning is one big power chord! That sets the framework – or as it's known in Indian classical music, the "raga."
You determine if you want a major or minor tonality by what you play over the droning open strings. The wildest thing about having the same note on the middle two strings is that playing them simultaneously chimes like a 12-string.
The intro to "Circlin' the Sun" consists of a descending major scale played in double-stop unisons on the middle strings from the 12th fret down to open strings.
The tricky part is that before each descent there's a quick upward gliss (slide) that adds to the Eastern vibe.
Use the Buddy System
Leyhe plays precisely the same lick in bottleneck style on a Gibson SG with laser-like focus on each tone.
That adds a Derek Trucks or Ali Akbar Khan kind of spice to the mix. In the old days I would have simply grabbed my Strat and used a whammy bar to approximate the feel. Instead, I called Jules, who played the Duane role in our tribute, the Allmond Brothers Band, and he crushed it.
He actually played lead three times on three sessions: once on the live track, again on an overdub session, and then again when I challenged him to take it to another level.
When I asked him to hit the end lick an octave higher, he informed me that would put him past the top fret.
I said, "You're playing slide, so give it a try." He nailed the sky-high coup de grâce and we both fell about laughing.
For the Job
Another buddy system story: I had an acoustic guitar that didn't fit my style, and my friend Paul Hayward was in a similar situation, so we swapped instruments.
Now he gigs with my former guitar, and my "new" guitar (dubbed "Paul") was perfect for "Circlin' the Sun" because it's a Taylor 816ce Grand Symphony, which is a bit bigger and sounds grander than the company's flagship Grand Auditorium.
The booming Grand Symphony shines with chime in the drone tuning, and can be heard clearly right off the bat in the introduction.
FYI, Taylor updated the 816ce in 2020 with a Builder's Edition that earned an Editors' Pick in this review and is pictured here from a "Circlin' the Sun" video shoot.
Order the Spirit Hustler album here.
Jimmy Leslie has been Frets Editor since 2016. See many Guitar Player- and Frets-related videos on his YouTube channel, and learn all about his psychedelic folk rock group at spirithustler.com
All the latest guitar news, interviews, lessons, reviews, deals and more, direct to your inbox!
Jimmy Leslie has been Frets editor since 2016. See many Guitar Player- and Frets-related videos on his YouTube channel, and learn about his acoustic/electric rock group at spirithustler.com.