George Thorogood's Top Five Career-Defining Destroyers Tracks
With more than five decades of road behind him, the Gibson ES-125TDC stalwart picks a handful of tunes that brought smiles to the miles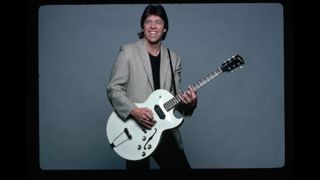 (Image credit: Lynn Goldsmith/Corbis/VCG via Getty Images)
George Thorogood has been playing his unique blend of blues and rock and roll – "American music," as he describes it – for more than 50 years now. He served his time working the coffeehouses and blues and folk clubs around New England, where he rubbed shoulders with many of the legends of acoustic blues. He even spent a short period working as a roadie and driver for Hound Dog Taylor.
During the early years that he was a solo act, Thorogood played acoustic blues from a set predominantly comprised of covers, but he knew early on there was plenty more mileage to be had in performing the more obscure songs. Whatever he played, he injected it with the unique sense of energy and dynamism that has become the hallmark of everything he's done since.
Before long, Thorogood became frustrated by the acoustic blues scene and wanted to form an electric blues combo with the spirit of Hound Dog Taylor. He first hooked up with drummer Jeff Simon back in 1973, and bassist Billy Blough came onboard three years later. Both men still form the core of his band today.
Thorogood has a short answer when asked his secret to keeping a band together for nearly 50 years. "I pay good," he says with a laugh.
In 1977, after securing a record deal with Rounder, Thorogood cut his group's self-titled debut. His raw energy and gritty guitar sounds – courtesy of his rare, late '50s two-pickup Gibson ES-125 – were a revelation, injecting a much-needed dose of adrenalin into a genre which was still bogged down with extended soloing and blues jams.
The album's success earned Thorogood widespread recognition at home and an overseas audience wildly receptive to his unique brand of blues and boogie. He developed a strong following in the U.K., where he appeared on national TV in a 45-minute live showcase in 1978.
Thorogood had mixed feelings about his first forays into the country at the height of the punk era. "A lot of audiences thought we must be a punk band," he explains. "I guess the name Destroyers made them think that. That was when there was that short-lived craze for spitting at bands at punk gigs. Man," he adds with a laugh, "I really did not like that one bit!"
Thorogood's profile continued to rise, boosted by the crossover success of "Bad to the Bone," which celebrated its 40th anniversary in 2022. The song is a global rock radio staple and an essential bar-band favorite.
Thorogood has always had an ear for a great cover tune, and he has a knack for making many of them his own. A particular standout is his blistering take on John Lee Hooker's "One Bourbon, One Scotch, One Beer," from his 1977 debut. In actuality, it's a mix of both that song and Hooker's "House Rent Boogie." Thorogood plays much of the track unaccompanied by drums and bass, picking out endless variations on the song's principal riff for an extended piece of electric blues heaven.
As much as he made that song his own, the same could also be said for his cover of Bo Diddley's "Who Do You Love." Undoubtedly, many fans aren't aware that Thorogood wasn't responsible for penning either one of them.
Thorogood has always been rightfully proud of his own original compositions, and his current release, a compilation titled The Original George Thorogood, features 14 of his most memorable songs.
"I think I got a rep, undeservedly, for being an artist who does a lot of covers," he explains. "Now, anyone who knows my music would know that I write most of the songs on all of my albums. I thought it would be a great way to prove a point by releasing a set of entirely original songs from across my career. I think it shows that there's a lot more diversity in my music than some might think."
Among the set is the previously unreleased song "Back in the U.S.A.," which subtly acknowledges the Chuck Berry tune of the same name, with which it shares thematic similarities. Thorogood wrote the song with an eye to his record-breaking series of shows back in 1981, where he played 50 dates in 50 states in 50 days.
Thorogood's last release, 2017's Party of One, was a complete departure for him, and indeed a return to where he started from, featuring only his voice and solo guitar.
The album was enthusiastically received, earning him some of the best reviews of his career and ranking among his top-selling records. He was understandably pleased with the reception.
"I didn't know how that would go over, being a little different from what my fans have come to expect," he admits. "I guess they've had a taste of that kind of thing though, with 'One Bourbon' all those years ago. I think it was a bold move to do a whole record's worth of solo songs, but it paid off.
"I'm not sure what's coming next for me after I'm done promoting the new compilation album, but I definitely haven't ruled out another solo record. I've got plenty of music in me, that's for sure. As one of my songs on the album says, I'm a rock and roll man."
Here, he talks us through five key tracks from his career with the Destroyers…
1. "Bad to the Bone" from 'Bad to the Bone' (1982)
"This has become my signature song, I guess, the one that people will know even if they don't know the rest of my work. I'd always thought about bands who had great, distinctive riffs – the kind of thing that everybody recognizes and reacts to as soon as they hear it.
"I'm thinking of things like 'Start Me Up' by the Rolling Stones, or any classic rock and roll riff. I'm not reinventing the wheel with this song; it's a traditional Muddy Waters or Bo Diddley kind of thing, and the lyrics are in the vein of all the classic braggadocio blues songs. There's a lot of humor in it. It's obvious I'm not taking myself too seriously.
"I knew it had something special about it when I came up with it. When we're running things down in rehearsal or before we record, we always know if it's got that special magic about it. If it hasn't, then why would we even bother to record it, you know? This is one of the songs that I couldn't ever do a show without playing. I don't mind that at all.
"It's been such a great song for me, both in terms of recognition and financially, of course, so much so that I almost owe the song its due respect. I never get tired of playing it, and the way the audience responds when they hear that opening riff really lifts the excitement level of the show."
2. "I Drink Alone" from 'Maverick' (1985)
"I love a good drinking song. Who doesn't? I've got a few of them in my catalog. This is another song, like 'Bad to the Bone,' that gets a lot of airplay on rock radio. Again, it's not like I'm inventing anything new. I'm just playing honest, good-time rock and roll and blues.
"I like the lyrics on this one, having a bit of fun with the different booze brands. I did wonder if there'd be some pushback from the companies, as so many big brands don't like anyone to use their name, or worry about associations, et cetera. I had my legal people at the record company clear those details before I recorded it, because I didn't want to waste my time putting something out that was going to get slapped with a lawsuit. [laughs]
"Actually, around this time I was digging a lot of country – I mean the real old-style stuff. I remember thinking, I'm gonna write a song for George Jones, and this is what I came up with. [laughs] The guys at the record company said it would be insane to give this song to somebody else, that this was totally a George Thorogood song, and I guess they were right.
"I think my tone on this one is particularly great. As always, it's the 125. I think the heavy strings that I use are a factor in the weight of tone that I get. I play slide in D or G, with a top string at .015 gauge. Even when I play in standard, my E string is a .012, with a wrapped G string at .016."
3. "Gear Jammer" from 'Maverick' (1985)
"I always like to think about who an audience for one of my songs might be, and I also like to find something interesting to hook a song on. I remember I was always seeing these truck stops where they'd have a ton of music cassettes for sale, thinking about the kind of music that really appealed to truckers. That's what sparked the idea for this.
"Gear jammer is a slang term for a trucker, and it had a kind of cool vibe about it. I started putting some words together in my head, and I came up with the riff at the start. I thought the way the notes hung there and started to bleed into feedback really cranked the excitement.
"I know I have a lot of songs that open with a cool riff, but I guess in a way it's almost like one of my signature moves. The two things came together, and the song almost wrote itself. That's when you know you've really nailed something though, when it all comes together real quickly.
"I don't have a set writing process: It can be a riff, a phrase that I hear someone say. There's no pattern, but I guess what they all have in common is some kind of spirit of the energy and joy of rock and roll."
4. "You Talk Too Much" from 'Born to Be Bad' (1988)
"This is one of two songs I'm choosing from Born to Be Bad. That was one of my favorite albums, and one of my best selling. We had a real good time making it. I really love lyrics that tell a story with a sense of humor.
"People who don't know blues often think that it is sad music. While there are certainly plenty of songs like that, there is so much humor in the music that is often overlooked. People like Bo Diddley and Albert Collins, they had a great line in wry, self-deprecating lyrics, yet at the same time had a whole raft of songs about how they're the number one cat.
"It's real easy for me to remember what guitars I used on all of my old songs, because basically it's pretty much always one of my 125s. I've used them so much over the years, though, that they're no longer up to a life on the road.
"I'm using my new, signature Epiphone White Fang 125s live now. I've got two that were made specially for me, but they're pretty much the same as the model you can buy in the stores."
5. "Born to Be Bad" from 'Born to Be Bad' (1988)
"This one has a little bit of a different feel for me. I don't use backing vocals a whole lot on my songs, but they really just seemed to suggest themselves for this, and they give the song a great lift and help to catch the ear.
"Many of the great songs from rock and roll, blues or country could be played in almost any style and still sound valid. 'Born to Be Bad' works in a similar way. You could almost imagine Hank Williams singing this one.
"Again, you'll notice I kick off with a riff. Chuck Berry's trademark was to always open up a song with a great piece of flash rock and roll guitar playing, and I guess that influence just rubbed off on me.
"I'm using one of my old Gibson 125s on here, of course – they have such a great sound. I think my sound is pretty distinctive, and while a large part of anybody's sound comes from their own hands, the gear that you use plays a significant role.
"There's not a whole lot of people that ever really used the 125, and with the sound that I get, where I don't use a ton of distortion, it really lets the voice of the guitar sing out."
Browse the George Thorogood & the Destroyers catalog here.
All the latest guitar news, interviews, lessons, reviews, deals and more, direct to your inbox!
Mark is a freelance writer with particular expertise in the fields of '70s glam, punk, rockabilly and classic '50s rock and roll. He sings and plays guitar in his own musical project, Star Studded Sham, which has been described as sounding like the hits of T. Rex and Slade as played by Johnny Thunders. He had several indie hits with his band, Private Sector and has worked with a host of UK punk luminaries. Mark also presents themed radio shows for Generating Steam Heat. He has just completed his first novel, The Bulletproof Truth, and is currently working on the sequel.