Five Reasons Duane Eddy is a Guitar Legend
The Titan of Twang is an original guitar hero of the highest order.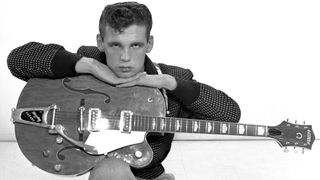 (Image credit: PoPsie Randolph/Michael Ochs Archives/Getty Images)
Duane Eddy single-handedly invented the ringing, low-pitched, highly reverberant electric guitar style that influenced everything from British Invasion rock and roll to London punk and the Italian spaghetti-western soundtracks of Ennio Morricone.
Here are five reasons he is a guitar legend…
1. Signature Sound
Born on April 26, 1938, in Corning, New York, Eddy began playing guitar at age five and adopted a Gretsch Chet Atkins 6120 model as his own at 16, when he formed a duo with his friend Jimmy Delbridge in Coolidge, Arizona.
A meeting with local DJ and future hitmaker Lee Hazlewood led them to perform on recordings he produced, including Sanford Clark's 1956 hit, "The Fool." By then Eddy had developed his signature technique of playing rubbery lead lines on his guitar's low strings, amplified through a reverb unit for a thunderous sound.
His debut single, the instrumental "Movin' n' Groovin'," reached the Billboard Top 100, but it was his follow-up, 1958's "Rebel-'Rouser," that broke through, reaching number six and selling more than one million copies.
2. Hit Records
As the raw sounds of early rock and roll gave way to polished teen-idol pop in the late 1950s, Eddy kept the spirit of the earlier era alive with a string of raunchy, rumbling instrumental-guitar hit singles, including "Peter Gunn," "Ramrod" and "Forty Miles of Bad Road."
His 1959 debut album, Have 'Twangy' Guitar Will Travel, reached number five and stayed on the charts for 82 weeks, but it was his theme for the 1960 movie Because They're Young that brought him his second million-seller and greater fame.
3. Signature Artist
In 1961, Eddy became the first rock and roll guitarist to receive a signature guitar model, when Guild introduced the Duane Eddy DE-400 and Deluxe DE-500 models. Gretsch has also released several Eddy signature models, which continue to hold a place in the company's lineup.
4. Collaboration
By the early '60s, Eddy's fame transcended music and he began to appear in films. A cameo in Because They're Young led to roles in 1961's A Thunder of Drums and 1962's The Wild Westerners. But by 1964, the British Invasion was on, and Eddy and his music had become passé.
The 1970s saw him producing records for Phil Everly and Waylon Jennings while releasing the occasional single of his own, including 1975's U.K. hit "Play Me Like You Play Your Guitar." He made the upper reaches of the U.S. and U.K. charts again in 1986 with a remake of "Peter Gunn" featuring the British synth-pop group Art of Noise.
5. Mass Influence
Eddy's numerous awards include induction into the Rock and Roll Hall of Fame in 1994 and Guitar Player's Legend Award in 2004. Now in his 80s, he continues to perform at home and abroad. His influence has been cited by George Harrison, Hank Marvin, Adrian Belew, Mark Knopfler, Brian Setzer and Steve Earle, among many others.
Click here to check out the fabulous Gretsch G6120DE Duane Eddy signature model.
All the latest guitar news, interviews, lessons, reviews, deals and more, direct to your inbox!
Guitar Player is the world's most comprehensive, trusted and insightful guitar publication for passionate guitarists and active musicians of all ages. Guitar Player magazine is published 13 times a year in print and digital formats. The magazine was established in 1967 and is the world's oldest guitar magazine.
When "Guitar Player Staff" is credited as the author, it's usually because more than one author on the team has created the story.