Dave Keuning's Top Five Career-Defining Tracks
The Killers' axeman discusses five memorable hits and deep cuts from his extensive rap sheet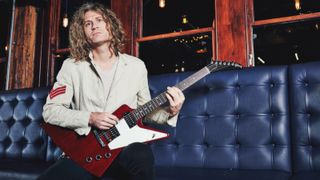 (Image credit: Future/Olly Curtis)
There are "hit" songs and there are "big" songs. Hit songs are popular for a while and resonate most with the young-adult music listeners of the era. Big songs – like "Shout," "Sweet Caroline" and "Don't Stop Believin'," to name a few – stick around for generations, transcend music trends, become part of our pop culture lexicon, and are must-plays at parties, clubs and public celebrations.
Big songs light up a room and get everyone from your nephew to your great-grandma singing along. The Killers' "Mr. Brightside" is a big song. Written by guitarist Dave Keuning with Brandon Flowers, the group's lead vocalist/keyboardist, the 2003 modern-rock track has sold several million copies, been streamed hundreds of millions of times, topped numerous readers' polls, appeared in multiple films and been adopted by several sports franchises as an unofficial anthem to play during games.
But even though "Mr. Brightside" may be a phenomenon, it was hardly a fluke. Over the past two decades, Keuning and fellow bandmates Flowers, drummer Ronnie Vannucci Jr. and bassist Mark Stoermer have produced multiple hit singles and chart-topping Platinum albums, earned myriad industry awards and Grammy nominations and toured the world playing for millions of fans.
Image 1 of 2
And much like a modern-day Andy Summers or Lindsey Buckingham, Keuning has earned props for his crafty, new wave-inspired guitar parts and melodic song-serving sensibilities, helping the Las Vegas-based quartet become one of the most successful and globally recognized bands of the modern rock era.
While on a brief hiatus from the band, Keuning also tracked two critically acclaimed solo albums, 2019's Prismism and 2021's A Mild Case of Everything. When we spoke with Keuning, he and the Killers were busy preparing for a fall tour while simultaneously recording a new studio album slated for release in 2023.
Before hitting the road, the guitarist was more than happy to catalog a quintet of career highlights with us…
1. "Mr. Brightside" from the Killers' 'Hot Fuss' (2004)
"The popularity of this song has definitely grown over the years and I still get a thrill when I hear it played at a sports stadium. It's the oldest song in the Killers' repertoire.
"I had the riff that became the verse and pre-chorus demoed on a four-track before I even joined the band. I remember giving that tape to Brandon, and the next day he came back with the lyrics and vocal melody. When we played it with the chorus for the first time, I knew we really had something.
"After the song came out in 2004, I saw the opening riff transcribed somewhere on the top four strings, but I'm actually playing a Dadd9 voicing with the root on the 17th fret of the A string and the high-E string ringing open.
"The open E is the key to the whole thing. That song, just like about 90 percent of our debut album, Hot Fuss, was my Ibanez Destroyer into a Fender Hot Rod DeVille."
2. "When You Were Young" from the Killers' 'Sam's Town' (2006)
"This is another track that came about during our soundcheck, from a riff our bassist, Mark, had. This song has a lot of sentimental value to us, because it was one that we all really liked and contributed equally to. I'm also not really sure where our career would be without it.
"It was the first single from our second album, and there was a ton of pressure to build on the success from our debut. Actually, the record company wasn't sure it should've even been the first single, but thankfully it did really well.
"To record the track, I plugged a Fender Starcaster into a Hiwatt head, a Laney head and a Fender Hot Rod DeVille, which were each isolated, miked and tracked separately. [Co-producer] Alan Moulder has a really good ear for guitar tones, and this gave him different options to choose which guitar track or tracks he thought worked best for which part in the song.
"Recording is funny, because you can go out and buy a great amp you'll think will sound amazing, and when you get in the studio some cheap amp you've had for 10 years beats it out! It all depends on how it's miked and how it sits in the mix, and it's hard to guess in advance what amp will be right for what part of what song.
"I had originally recorded the song on a Stratocaster, and everyone was pretty happy with it, but I decided to redo it. I'm glad I did, because the Starcaster just sounded fuller, and it's one of the songs I'm most proud of.
"For the chordal sections of the song, I'm sliding a shape up the neck that keeps the open G-string drone going. For the solo, I'm just kind of wailing on the two notes that felt right, and keeping it minimal I think made it more powerful.
"'When You Were Young' was actually the subject of an episode of the Song Exploder series on Netflix."
3. "All the Pretty Faces" from the Killers' 'Sawdust' (2007)
"This was a song that we wrote during our first major tour for the Hot Fuss album. As the album got more and more successful, we added it to our setlist because we started playing bigger and longer shows as a headliner.
"We recorded it for our second album, Sam's Town, but it was already a year old by then and didn't really fit the vibe of the rest of the album's material, so it wound up on a B-side and later on the compilation album, Sawdust. It's definitely one of our heaviest songs, and that's probably one of the reasons I like it a lot.
"It just kind of built from that six-note G sharp–minor opening riff I came up with while noodling around during soundcheck. Live, I played it with a Fender Stratocaster, but in the studio I used my Ibanez Destroyer for the crunch chords and a Fender Telecaster for the higher parts.
"I actually use that Tele a lot for the high chimey things, and it's the best-sounding guitar I have for that type of stuff. But it's not a guitar I want to take out on the road."
4. "Human" from the Killers' 'Day and Age' (2008)
"This is one of the first things we had written for our third album, Day and Age. The basic tracks were recorded in a few hours one night in London during an impromptu session at producer Stuart Price's house, and thankfully the magic just happened.
"We had practiced it a few times in soundcheck but with a different arrangement and a very different guitar part. After we laid down the basic chords and beat, though, I decided to try something a little unusual and came up with that syncopated single-note line that runs through the whole song. It's repetitive and slightly off from the downbeat, but it just felt right.
"A lot of people thought it was a loop that Stuart created but I'm actually playing it all the way through. I remember I just grabbed one of Stuart's hollowbody guitars to track the part. I believe I played it through a Fender Twin Reverb, then double-tracked it straight into the computer.
"'Human' was definitely poppier and a bit more dance-oriented than the singles we'd previously released. When it first came out, an interviewer in Germany asked us, 'How do you feel about selling out?' I was really surprised, because, to me, selling out is playing music you don't believe in, in an attempt to gain popularity.
"I loved that song and that style, and it was just one of the styles we'd explored on the album. We're influenced by everyone from the Pet Shop Boys to Springsteen to Underworld, and any one of those influences can pop out at any given moment."
5. "The Queen's Finest" from Keuning's 'Prismism' (2018)
"This has become my most streamed solo song so far. I had that opening arpeggio guitar lick for a while, and when I was recording my first solo album I decided to take it and develop it more.
"When I wrote it, it was kind of intuitive and I wasn't thinking about the underlying chords so much, but it's a fifth-position D5 to a G5/D, to an unusual voicing of a B minor triad on the 6th, 4th and 3rd strings, then back to the G5/D. I mapped the progression out, then put keyboards behind it, and the song kind of grew from there.
"This was a good example of just putting an idea down and seeing where it goes. The title doesn't necessarily relate to the lyrics; it's just something I called the original demo and decided to keep. The song also works with a solo acoustic arrangement, although it's challenging to sing and play at the same time.
"For the album recording, I used a hollow-body guitar called a Volaré, which is made by a company out of Iowa called BilT. I'm tuned down a half step, which is something I do a lot both with the Killers and on my solo stuff."
All the latest guitar news, interviews, lessons, reviews, deals and more, direct to your inbox!