Captain Beefheart Guitarist Jeff Cotton Shares 5 Insightful Tips for Guitar Players
The artist FKA Antennae Jimmy Semens offers some sage advice.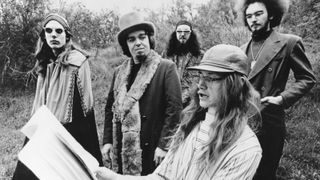 (Image credit: Michael Ochs Archives/Getty Images)
Twinned with Alex St. Clair, followed by Bill Harkleroad – aka Zoot Horn Rollo – on electric guitar, Jeff Cotton was vital to the sound of Captain Beefheart & His Magic Band during their groundbreaking era of the late '60s.
Following 1967's infamous Mirror Man sessions (Cotton says he was spiked with a strong dose of LSD before entering the studio) that were eventually released in 1971, the group went on to record their second LP, Strictly Personal, in 1968.
Captain Beefheart's 1967 debut – Safe as Milk – sounded… well, safe as milk in comparison to their overtly psychedelic sophomore album.
But that too appeared relatively tame when the Beefheart masterpiece, Trout Mask Replica, arrived in 1969.
Rumors abound as to what went on during those long months the Magic Band lived together in the same house, writing and rehearsing ahead of the album's recording.
Cotton maintains they were held hostage by Don Van Vliet ("an expert in mind control") until finally being released for a day's recording session with Frank Zappa.
Having lived and breathed the music for months on end, the Magic Band were able to track their parts for the entire Trout Mask Replica double LP within the space of hours – an incredible feat considering the mind-boggling complexity of the album's music.
Sadly, having been badly beaten up by a stand-in drummer, Cotton left the Magic Band in 1970 to go and live in the desert where he continued to play guitar (and, he says, occasionally spot UFOs.)
Fast forward half a century and the artist FKA Antennae Jimmy Semens is back, this time with his own solo record.
Slated for release on August 12 via Madfish, The Fantasy of Reality is a Beefheartian extravaganza of 22 tracks that cut across genres, yet never stray too far from Cotton's signature sound.
Guitar Player caught up with the guitarist who generously shared some of his hard-earned wisdom…
1) Get Out of Your Comfort Zone
As musicians we can kind of get dry. Like there's no inspiration there. If that happens, my advice is to pick up another instrument, or try another guitar tuning.
All of a sudden, it's alive again. You've got to do something different, maybe with another instrument that you don't have any history with. Because that can really limit you.
I mean, take Don Van Vliet [aka Captain Beefheart] for instance. Don couldn't play an instrument. He had no background at all. But he could take a guitar and sit down and make these funny sounds. And then he'd say, "Oh! Get that, man! Can you play that, man?"
So we would incorporate that in the songs, but he couldn't play more than two or three notes.
Early on, there was a time when Drumbo [aka John French] was kicked out of the band and I had to take over his position as the music director.
We had some other musicians come in who were really accomplished; one really good jazz guitar player, and a good bass player. But when people are schooled in a certain way, that's often where they stay.
One of the big positive points of being in the Magic Band is we cut through all the crap. I have great respect for jazz, blues guitar, all these genres. But we had a way of clearing all that stuff out and starting at ground zero.
And I think that's valuable for anybody in any walk of life – to be able to find a way of beginning again. Being in the Magic Band did that for me.
2) Reserve Judgement
I always want to be at the point where ego is no issue – where it doesn't even exist in the moment.
When a melody comes down to you on the guitar, the one thing you don't want to do while that's happening is judge it.
When I'm writing, I don't force it; it just happens.
Don't judge it because then you're bringing your lower mind in – your reasoning, which has nothing to do with creation.
The reasoning mind is what concretizes or crystallizes the inspiration or that breath and brings form to it.
So don't judge before it's done. Put it all out there then come back later and judge. Because you're in no position to judge when you don't see the big picture.
If you judge you stop the creative flow.
3) Be In the Moment
I'm so grateful that I've had so many years of playing for hours and hours on end where you get to the point where you are no longer needing to be objective.
Except for when you start the song. You know what I'm saying? Everybody's got to be together then.
You get to the point where you're outside of your body, so to speak. I've been that way many times where I'm looking down on the band, but not having to be conscious of what I'm playing.
That's when the subconscious takes over – when you're in the moment to the point that you don't need any memory of the song or of technique.
It's like riding a bike. Once you learn to ride a bike, you don't really think about it anymore. So I try to be there as much as possible when it comes to playing guitar.
When you're playing with others you need to know what they're doing. And they need to know what you're doing. But once a band comes together playing something that's coherent, then you can go to the next level.
You know: 'I don't care what you're playing. I don't care when I'm playing.' Because I'm just in the feel of the moment. And that's the place to be.
4) Age is No Barrier
We're here to encourage and uplift one another.
Some older musicians it seems aren't creative anymore. I can understand and fully honor and respect if they choose to live another life. But I've seen many who appear to wane creatively as they get older.
I don't understand that. For me, it goes the other way. That's why they call it a second childhood. The older you get, you begin to get those childlike perceptions again – gifts that allow you to able to see things differently.
It took me until my late 60s to realize this but playing is only an expression in the moment of a giant life that you have lived as a musician.
It's a way to express and bring down into objectivity something that's so big that we don't even comprehend it fully.
I recognize there's something a lot bigger than what I'm doing right there playing guitar. Call it God, or the theory, or the source, whatever.
When I sit down to play, I sometimes command my body to relax fully. And I take a deep breath. It's a meditation. And it's a science.
5) Connect
I don't like the word jam. Sit down and play. And by pure communication with those other musicians, or a feeling, you can keep going on your own trip. But your trip will come together with their trip because you have enough skill.
To me, it's almost looks like a cat of some kind – a beautiful black panther. The invisible body – all these beautiful contours and shapes working together. That's the way music should be.
To me, we are all one. Humanity is one. We have one heart. We are all in this crazy world together. But we have forgotten we are one because we've been suppressed and repressed.
When I first picked up my guitar, I couldn't play the first two notes of "Walk Don't Run" [by The Ventures]. I had to practice them and gain some experience.
Connecting with other musicians is the same thing. It's about time, energy, focus and care – cause and reality instead of fantasy.
I mean, if we put 10 per cent of the time into connecting with another person that we just put into playing the instrument then we'd realize we are already connected.
We have to remember that and experience that. We are one!
If you really are confident about what you do on your instrument, and so is the other person, it will fit together like a glove.
Pre-order The Fantasy of Reality by Jeff Cotton here.
All the latest guitar news, interviews, lessons, reviews, deals and more, direct to your inbox!
Rod Brakes is a music journalist with an expertise in guitars. Having spent many years at the coalface as a guitar dealer and tech, Rod's more recent work as a writer covering artists, industry pros and gear includes contributions for leading publications and websites such as Guitarist, Total Guitar, Guitar World, Guitar Player and MusicRadar in addition to specialist music books, blogs and social media. He is also a lifelong musician.