"I've Dedicated My Life to the Blues, and a Lot of Other People Have, Too. What Did We Do to Be Treated Like That?": Buddy Guy Has, Most Definitely, Still Got the Blues
"I've kept doing it so people don't forget Muddy and Wolf, B.B. – all the rest of 'em," says the Strat-toting blues guru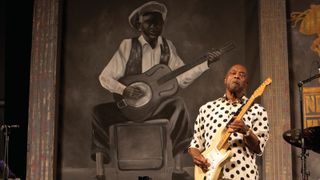 (Image credit: SKIP BOLEN/WIREIMAGE/GETTY IMAGES)
"Blues is like a stepchild now," Buddy Guy says. "You don't hear it on the radio, except maybe on satellite. I'm not asking anybody to play the blues like you do hip-hop or something. You don't have to play Muddy Waters every day, even, but play him once a week or something. That'd make me feel better.
"It's like they say about cooking," he continues. "You don't know how good the gumbo is in Louisiana until you go down there and taste it. Whether you like it or not is up to you, but at least you tasted it. And the blues is being treated like that. I don't care how good a blues record you make – if nobody hears it, it's just there. It bothers me, because I've dedicated my life to the blues, and a lot of other people have, too. What did we do to be treated like that? I don't know, man, but I'd like to see it get straightened out.
"That's what's kept me out there, man. I've kept doing it so people don't forget Muddy and Wolf, B.B. – all the rest of 'em. If I'm not playing it, and not many other people are, we'll lose it. That'd be just terrible."
A lifelong blues devotee, Guy has made his way into the history books at Fender as a signature artist. His go-to guitar for decades has been a Fender Stratocaster, and the most famous one of those is black with white polka dots. (He also has black-on-white models.)
"When I was leaving Louisiana to go to Chicago [in 1957], my mother'd had a stroke," Guy remembers. "She was crazy about her children, and I knew she was gonna worry about me leaving. I had to figure out something that would make her smile, so I said, 'I'm gonna go to Chicago, and I found out I'm gonna make a little more money than I've been making. I'm gonna send you some money, and I'm gonna drive back down here in a polka-dot Cadillac.'
"She did smile, but I knew I was lying to her, 'cause I didn't want a polka-dot Cadillac. And I didn't get a chance to explain that to her before she passed away. So that polka-dot guitar came from me lying to my mom."
Isabell Guy passed away in 1968, well before Guy made it big on his own. In tribute to his mother, he began talking to Fender about making a polka-dot Strat.
"At first they said, 'That's impossible,'" Guy recalls. "Finally, a guy there said, 'I can make it.' I think they thought it was a joke.
"And then, at the first NAMM show where they showed them, they called my agent up and said, 'Tell Buddy those polka-dots are going off the rack faster than anything!'"
Currently priced $1,149.99, Fender's Buddy Guy Standard Stratocaster appears in the iconic white polka-dot on black finish that is "as flamboyant as Guy himself."
Featuring an alder body and soft V-profile one-piece maple neck with a 9.5-inch-radius fingerboard and 21 medium jumbo frets, this outstanding axe is loaded with a trio of standard single-coil pickups for that classic electric blues tone.
All the latest guitar news, interviews, lessons, reviews, deals and more, direct to your inbox!