"We Copied Them Exactly": Marshall's Steve Smith Introduces the New Guv'nor, Bluesbreaker, Drivemaster and Shredmaster Reissues
Handmade in the U.K., Marshall's new gain pedals are authentic replicas of the original 'black box' units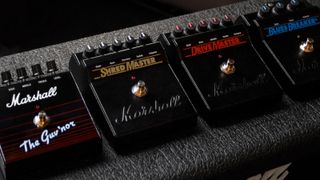 (Image credit: Marshall)
Great news for pedal lovers: After much excitement and anticipation, Marshall (opens in new tab) has finally reissued their classic 'black box' units: the Guv'nor, Bluesbreaker, Drivemaster and Shredmaster.
While the circuits are said to be "exact" recreations of the originals, the firm has needed to update the pedals with new pots and jack sockets (though the specs remain the same.)
Marshall's stompbox history goes back to the '60s, beginning with the Sola Sound Tone Bender (opens in new tab)-style Supa Fuzz. And although effects pedals are not Marshall's most obvious contribution to the rock world, their 'black box' stompboxes introduced in the late '80s and early '90s have since become desirable pieces of vintage gear with original units commanding several hundred dollars on the used market.
Over time, these Steve Grindrod-designed products have inspired many other pedals, some of which are considered modern classics in their own right.
Guitar Player spoke to Steve Smith at Marshall to find out more.
"People were paying crazy money for the original Marshall pedals on eBay and Reverb," he tells us, "so we got the original schematics from our archive and made some prototypes. We also used some original pedals from the late '80s and early '90s from the museum and R&D storeroom to AB the sounds.
"We plugged them in and they still sounded amazing. I was particularly surprised about the noise floor – it was really low, even with loads of gain. In terms of quality, these old designs easily stand up against today's pedals."
Interestingly, the team discovered that all of their original Guv'nor units sounded slightly different to one another. "When it comes to pedals that are decades old, the [component] tolerances change," explains Smith. "We had a few original Guv'nors from 1988 and they all sounded just a little bit different. But we found it was possible to get them all sounding identical by adjusting the knobs ever so slightly."
Given the benefit of hindsight, we asked if Marshall was at any point tempted to change the circuit designs. "We copied them exactly," underscores Smith. "We did toy with the idea of doing some modifications. The Bluesbreaker and Guv'nor are two of the most copied pedals ever, but they have their little quirks. For example, if you put the Bluesbreaker on minimal gain, you actually get less volume than with the pedal bypassed.
"We thought, Shall we tweak it? Shall we change it? But we concluded: No. Leave them exactly as they are. We thought people will be disappointed if we started messing with the original circuit.
"All the through-hole components are the same and we're making these pedals in the U.K. The only difference is the jack sockets and pots; the original manufacturer no longer exists, but they're the same specs."
The Guv'nor
Image 1 of 3
When Marshall released the Guv'nor in the late '80s, it set benchmarks for all amp-in-a-box pedals that followed.
"The Guv'nor came out first in '88," says Smith. "Back then, amp-in-a-box pedals weren't really a thing. You had [ProCo] Rats, the [Boss SD-1] SD-1 Super Over Drive and [Ibanez] Tube Screamers, but a distortion pedal with a full EQ to recreate the sound of a Marshall stack was a game changer.
"There were so many players that used the Marshall Guv'nor, and Gary Moore is one of the most notable. He was actually pictured with the Guv'nor on the artwork for [1990's] Still Got the Blues (opens in new tab)."
Bluesbreaker
Image 1 of 2
The Marshall Bluesbreaker pedal was inspired by the groundbreaking sounds of Eric Clapton when he plugged a Les Paul Standard into a Marshall model 1962 combo in 1966 to record John Mayall's Blues Breakers With Eric Clapton, a.k.a. the Beano album.
And while the Guv'nor has inspired countless other stompbox builders (the JHS Angry Charlie variants and Danelectro Daddy-O, for example), the Bluesbreaker served as the basis for one of the most revered gain pedals in the business: the Analog Man King of Tone (opens in new tab).
"The Guv'nor was discontinued in 1991," continues Smith, "to make way for the other three which we've also reissued: the Bluesbreaker, Drivemaster and Shredmaster. Apparently, the official release date was in '92, but they were already on the market in '91."
Drivemaster
Image 1 of 2
"The Drivemaster is actually a Guv'nor circuit," reveals Smith. "Marshall rehoused it and brought it a little more up-to-date."
Appearing sans effects loop jack, the Drivemaster sports amp-like Bass, Middle and Treble controls, as per the Guv'nor, enabling a broad range of tones to be dialed in.
A favorite of Jeff Buckley and Dan Hawkins of U.K. rockers the Darkness, the Drivemaster's hard-clipping diode distortion emulates the classic British sound that has made Marshall tube amps such a hit throughout the decades.
Shredmaster
Image 1 of 2
The Shredmaster is famous for its ability to produce high gain distortion sounds. Its EQ comprises Bass, Treble and Contour knobs (Contour changes the character of the midrange while enhancing low and high frequencies.)
"This is the pedal famously used by [Radiohead guitarist] Jonny Greenwood," Smith reminds us. "It doesn't just do the shred thing; it's a really meaty overdrive."
The long-discontinued 'black box' Guv'nor, Bluesbreaker, Drivemaster and Shredmaster were superseded in the late '90s by Marshall's Mark II pedal line that included the Guv'nor II and Bluesbreaker II.
However, many guitar players still yearned for the original stompboxes and were willing to part with relatively large sums in order to acquire one.
Fortunately, paying vintage prices is no longer necessary with the new Marshall 'black box' reissues.
All the latest guitar news, interviews, lessons, reviews, deals and more, direct to your inbox!
Rod Brakes is a music journalist with an expertise in guitars. Having spent many years at the coalface as a guitar dealer and tech, Rod's more recent work as a writer covering artists, industry pros and gear includes contributions for leading publications and websites such as Guitarist, Total Guitar, Guitar World (opens in new tab), Guitar Player (opens in new tab) and MusicRadar (opens in new tab) in addition to specialist music books, blogs and social media. He is also a lifelong musician.