"If You Try to Make Things Too Perfect, You'll Start Killing the Feel": Vinnie Moore Talks Recording Guitars and His Genre-Spanning New Solo Album, 'Double Exposure'
"The more time you spend on something, the more you get drawn into that vortex of overanalyzing," says the UFO axeman and solo artist, "and then you'll fix something that doesn't need to be fixed."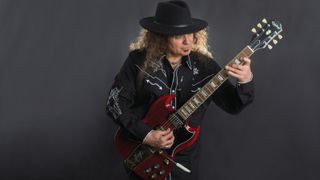 (Image credit: GRETCHEN JOHNSON)
It's only natural that Vinnie Moore has been making instrumental albums ever since Mike Varney featured him in GP's "Spotlight" column back in the mid '80s and immediately signed him to Shrapnel Records. After all, the first melody Moore remembers figuring out on his own as a budding teen guitarist was Jeff Beck's "Blue Wind." "At that point I couldn't even bend notes," Moore recalls. "I didn't know what a bend was. I played everything straight."
But like any rock guitar virtuoso who started playing in the mid to late '70s, Moore was also profoundly affected by guitar acts with vocals – everyone from the Beatles, Led Zeppelin and Robin Trower to Bad Company, Mountain and Michael Schenker-era UFO, the iconic German heavy rock band Moore has played lead guitar for since 2003.
And now, with the release of Double Exposure (Minds Eye Music), Moore has, for the first time, allowed both hemispheres of his musical influences to seep into a solo album. As you'd expect from a Vinnie Moore release, every song on the new record boils over with tasty guitar riffs, fills and solos that span every genre, from rock and metal to funk and Americana.
Noteworthy, though, is that half of the songs on Double Exposure also – for the first time in Moore's solo career – feature singers, including such vocal powerhouses as Keith Slack, Ed Terry, Mike DiMeo and Brian Stephenson.
And yes, Moore sings on it too – sort of. Perhaps as a testament to how much he values groove in every song he tracks, Moore, at the end of "In Too Deep," can be faintly heard singing a classic phrase through his guitar pickups: "It don't mean a thing if it ain't got that swing."
After nine instrumental records, what inspired you to put vocals on your 10th?
I began this album during lockdown. I figured a quick and painless way to get six songs out would be to record an instrumental EP. But when I was listening back to one of the demo songs, I started hearing vocals in my head. I began singing along with it and went, Hey, this could be a good vocal song. Maybe I could have somebody sing on it.
I kept that in mind, and as I listened to the other songs, I had this lightbulb moment and thought, What if I did the six instrumentals, but then also recorded another version of each with a vocalist? Soon, my short little project grew into a more massive undertaking than originally anticipated, but I'm glad I did something different. Of course, I have done vocal stuff with UFO, but this is something I've always wanted to do with a solo record.
From clean to dirty, there is a wide range of juicy guitar sounds on the album.
A lot of parts were done through my old Marshall JMP head, which has a great crunch sound. For extra gain, I kick on my [Analog Man] King of Tone overdrive. That amp sings with a pedal in front of it. I also used a 1965 Fender Super Reverb in places, too.
Another way I get different sounds is by switching between pickups. When I play live, I'm constantly switching pickup combinations – bridge, neck or both – and riding the guitar's volume control, all of which can create a lot of different tones. I don't always play on 10; I also like to crank it down to, like, four or so, to get more of a half-overdriven sound, which works great with chords.
You're known to play Kramer guitars, but you're holding an Epiphone SG on the album cover. Frank Marino fan?
I love Frank Marino. It's funny – when I first showed people the album cover, a lot of them wondered if it sounded like Marino. And I'm like, "Sorry to let you down, but not really." If I could just pick up a guitar and sound like the guy who played it, well, I might go buy one of Eddie's Frankenstein guitars.
I bought a "Red Knob" Fender Twin once because Robben Ford used them as backline amps. But when I got it, I didn't instantly sound like Robben Ford.
Funny how that doesn't happen. But stuff like that can still lead you in a good direction and get you part of the way there. From that point, you need to get it going with your hands, your mind and the way you set the controls.
Tell us about your Kramer.
My main guitar is the Kramer Pacer I played on the last UFO tour, as well as on my solo tour of Europe. Kramer did some mods to it for me, including custom pickups and fat frets. The main mod, though, is how they carved out some wood and recessed the Floyd Rose bridge so it's low on the body. This meant the neck had to come down closer to the body, too.
I like the bridge to be as low as possible because it just feels more comfortable for my picking hand. If the strings are high off the body, like on a Les Paul, when I go to play the low strings, my hand kind of falls off. Back in the early days of my playing that didn't happen. I have no answer to why it happens now.
Speaking of the early days, there's a blazing shred cadenza you did with Vicious Rumors in the mid '80s called "Invader." How did that come together?
That was done back in the time when it was popular to put a guitar solo on a record because Eddie had done "Eruption." My memory of that record is going in one night and recording all the solos in, like, four hours, and being kind of frustrated that I didn't play "Invader" as good as I had on the demo.
I was kind of disappointed by that because some of the picking stuff wasn't up to my ability. It was that thing where on a certain day you go in to record, but something's not working a hundred percent.
I remember Eddie Van Halen, in interviews, saying something similar about "Eruption" – that there was a mistake in there that always bugged him. In a video of him in Jason Becker's living room, he explains that it's during the tapping section at the end that the pattern gets slightly off for a second. I know the part he was talking about, but I have always liked that moment. It's like a race car almost going over the cliff but righting itself – it adds to the excitement.
That's the curse of being an artist. When you're laying stuff down, you're too hypersensitive and too aware of things, and they can bug you if you let them. But often when there are things that have bugged me, I come back even just a day later and it doesn't bug me at all.
Listeners don't analyze music under a microscope, which is the vibe you can get into when you're recording – and that's a dangerous place to be, because if you try to make things too perfect, you'll start killing the feel of what you've played.
The more time you spend on something, the more you get drawn into that vortex of overanalyzing and looking too closely, and then you'll fix something that doesn't need to be fixed. You can get crazy with it! So when I'm recording, my main thing is to get in and get out quickly.
Have you gotten to know Michael Schenker much over the years?
I first met him around 1991, when Mike Varney introduced me. That was a real quick meeting, but in '99 we toured together and did 32 shows in America, sharing the same band each night. We all traveled on a tour bus, except Michael, who drove alone with his wife, so I didn't see him much on the whole tour, but he was always friendly. And I heard him play every night, which was awesome.
One time I ran into Michael at a hotel in Hanover, Germany, which is kind of where UFO is based. I had flown overnight, and we were about start a tour or a new record or something. I walk into the lobby, start checking in, and there's Michael, who was living in Hanover at the time. And for a second I thought, Man, if these guys made me fly all the way here to tell me Michael's back in the band and I'm gone, I'm gonna be pissed that they just didn't tell me over the phone.
Turns out there was a heatwave in Germany and Michael was just staying at this same Marriott by chance. [laughs]
Click here to visit the official Vinnie Moore website.
Order Vinnie Moore's Double Exposure here.
All the latest guitar news, interviews, lessons, reviews, deals and more, direct to your inbox!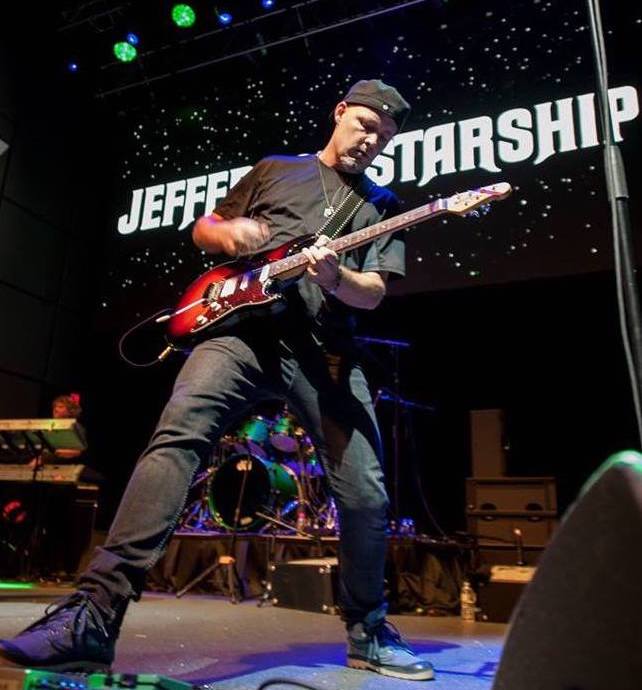 Los Angeles Editor, Guitar Player
Whether he's interviewing great guitarists for Guitar Player magazine or on his respected podcast, No Guitar Is Safe – "The guitar show where guitar heroes plug in" – Jude Gold has been a passionate guitar journalist since 2001, when he became a full-time Guitar Player staff editor. In 2012, Jude became lead guitarist for iconic rock band Jefferson Starship, yet still has, in his role as Los Angeles Editor, continued to contribute regularly to all things Guitar Player.
Watch Jude play guitar here.