Vinnie Moore: My Career in Five Songs
UFO's shredder-in-chief talks us through the tracks that define his discography and capture a super-gifted player at his best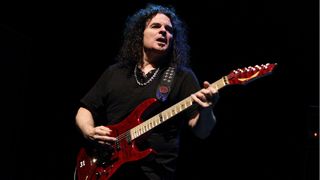 (Image credit: Burak Cingi/Redferns via Getty Images)
Despite his reputation as one of the heaviest and most ferocious guitar shredders of the past several decades, Vinnie Moore is remarkably mellow, chill and engaging when GP meets him backstage at New York City's historic St. George Theatre in December 2019.
Moore's band, the pioneering heavy metal outfit UFO, with whom he joined forces in 2003, is winding down its farewell tour. "I would love for this to continue as long as it can, because it's so much fun to do," he explains. "But [UFO lead singer and co-founder] Phil Mogg has been at this since the late '60s, and I can certainly understand why he wants to retire.
"What's remarkable to me though is that, while a lot of singers lose their voice as they age, Phil's has gotten thicker and more bluesy. I actually think he sounds better than ever now."
The band's retirement, while bittersweet, may offer Moore the opportunity to shift his focus back to his solo career, which has run concurrent with his tenure in UFO and began in the very pages of this magazine when Moore was first profiled in Mike Varney's Spotlight column back in 1985.
Recognizing Moore's extraordinary musical gifts, Varney signed the young Delaware native to his Shrapnel recording label and tracked his 1986 solo debut, Mind's Eye, which became a huge success and established Moore as one of the premier guitarists of the late '80s neoclassical instrumental shred scene.
Far from a mere speed demon, Moore became known for the melodic lyricism of his lead lines, the structural cohesion and accessibility of his compositions, and the general diversity of his style. Before joining forces with UFO, he was drafted to be in Alice Cooper's band and appeared on his 1991 release, Hey Stoopid.
He's also logged time with Vicious Rumors and appeared on recordings by Destruction, Jordan Rudess, Glen Drover and Michael Angelo Batio.
Moore's ninth and latest solo album, Soul Shifter (Mind's Eye Music), is a cornucopia of thrilling, yet tasteful guitar virtuosity that pushes the boundaries of instrumental guitar music beyond the narrow confines of neoclassical shred. When asked to cite his quintet of career-defining tracks, Moore is earnestly humble.
"If you wanted me to name the songs that inspired me as I player, I could immediately reel off several," he explains. "The open-string pull-offs on Van Halen's 'I'm the One,' the harmonies on the solo to Deep Purple's 'Highway Star' and the phrasing and lyricism of Santana's 'Samba Pa' Ti' were all things that found their way into my style, for example.
"But it's harder for me to talk about my own stuff. I tend to play and write more by intuition and am not always conscious of where my inspiration comes from. But I'll do my best to explain it anyway."
"Daydream" – Mind's Eye (1986)
"This was an important track from my debut album that I still play live to this very day because it always gets a great audience response. I stole the name from a Robin Trower song, although my composition is completely different than his, style-wise.
"I was experimenting with a lot of key changes when I wrote it, and the song goes from G Aeolian to F Mixolydian to A altered dominant to F# Aeolian within the first 45 seconds or so. During the solo, it switches to B Aeolian and E Aeolian sections as well.
"It was definitely a learning experience to play melodically over the constantly changing harmonic landscape. I've never been into just jamming and calling it a song, and I feel that even though 'Daydream' is an instrumental, it's got a catchy melodic hook for the chorus that you can sing along with. It's really important to me to compose with a coherent structure and have melodic hooks that stick in people's minds."
"As Time Slips By" – Time Odyssey (1988)
"Over the years, I've written far more ballads than I've been able to put on my records, and this track from my second album is one of my personal favorites. It's very melodic and was definitely influenced by the phrasing of Carlos Santana. It's mostly in the key of E major, and I'm using a lot of jazzy chord voicings with added major 6ths, 7ths and 9ths in the clean arpeggiated rhythm track."
"Meltdown" – Meltdown (1991)
"I totally changed directions on the title track of my third album, Meltdown. It's much more blues based, and there's added emphasis on riffs and rhythm playing. To me, it kind of sounds like a rock band, but without a singer. This song became something of a catalyst for me as well, as it opened the door that took my playing in other directions.
"At the time I remember being aware that I was changing things up and wondering how people might perceive it, but I really didn't let that influence me. When I write, I just write. I'll imagine how people may react, but I'm not governed by what I think their reaction is going to be.
"I don't put limitations on myself, nor do I set out to write something in a specific style just for the sake of doing it. I find that I'm not very good at that anyway, because I'm not inspired. I get much better results if I let things happen organically.
"My writing process is essentially me picking up the guitar and playing until I hit on a riff that inspires me. When that happens, usually the floodgates open and I'll get a bunch of related ideas. It's kind of a feast-or-famine thing though. I'll either have nothing or too many ideas to fit in one song, and I'll have to go into editor mode.
"One thing that's evolved in my writing process over the years is that I tend to make decisions much more quickly than I used to. There was I time when I would experiment with all different possible modulations and permutations if I needed to find a chorus to fit a verse, for example. Now I trust my instinctual first response a bit more. I can be obsessive about things, and if I get sucked into that vortex it can take way too long to get anything done."
"Fly" – To the Core (2009)
"Around the time I wrote this, I was influenced by some techno music, and you can definitely hear it on that whole album. I'm always trying to look for new and interesting things, musically, and they'll usually find their way into my writing.
"This song is based off a funky groove, with a pedaling octave lick on a tremolo-picked low Eb string. Against that, I'm playing some triads on the middle three strings, then adding these uniquely voiced major 7 chords where I'm fretting the root on the sixth string with my first finger; the fifth and octave two frets higher on the next two strings with my second finger; and an octave of the fifth, the major seventh and the third by barring my pinkie across the top three strings an additional two frets higher."
"Brother Carlos" – Soul Shifter (2019)
"This is one of my favorite tracks from my new record. When I was younger, I would sometimes write by laying down simple chord progressions on my cassette recorder and just improvise over them. I'd often use major and minor 7th chords, which are the kinds of things you don't hear in heavy rock contexts too often.
"Carlos Santana is a master at this kind of improvisation, and this song was obviously inspired by him. Its harmonic structure is based largely on the diatonic 7th chords in D major. It's just simple chord vamps, and it was a lot of fun to record and just play emotively over. It's something I haven't really done for a whole song before.
"Growing up, I was also very inspired by Larry Carlton's playing, particularly the Larry Carlton album and the song 'Room 335.' I think you can hear some of his influence on this track as well.
"I've never met Carlos personally, but he once paid me a huge compliment. I had recorded 'Se a Cabo' for a Shrapnel Records compilation entitled Viva Carlos! A Supernatural Marathon Celebration, and one day shortly after its release, I came home to find a bouquet of white flowers and a note that read, 'Thank you for sharing your heart's music by participating in the Viva Carlos! compilation. Please know that I am a big fan and admirer and will always treasure your presence. Love, Respect and Admiration — Carlos Santana.' Receiving that was pretty special to me."
Axe-ology
The five guitars behind Moore's success.
"In high school I had both a 1965 Gibson ES-335 and a Fender Stratocaster. Then, in 1982, I bought a Kramer Pacer and played that almost exclusively for the next three or four years or so. That was the first guitar I ever owned with a Floyd Rose locking tremolo, and I did a lot of shedding and recording with it early on.
"I don't own the Strat or the 335 anymore, but I still have the Kramer's body, and I've been looking for the right replacement neck for it for the past few years so I can restore it. The 335 I sold for $550 and used the money to buy my first four-track, which was integral in launching my career, so I'm not too regretful, but I sure wouldn't mind having it back.
"One of my favorite acoustic guitars is a Washburn Stephens Extended Cutaway model, where the heel of the neck is substantially reduced, allowing me access all the way up to the 24th fret. You can hear it a lot on 1999's The Maze album and 2001's Defying Gravity release.
"My main guitars these days are still my signature model Vinman 2000s, which are made by Dean. I've always been a Strat-body guy, and these fall into the superstrat category. Some of the features that make them unique are my specially designed Shreadhead pickups, the Floyd Rose locking tremolo and the 12-inch fingerboard radius. I don't have huge hands and I like a smaller, more streamlined feel to the neck, so the 12-inch radius is the happy place for me.
"I also have a custom model Vinman with a fixed Wilkinson bridge that's not available commercially as of now. I originally used it for recording rhythm tracks on albums because the fixed bridge keeps things in tune just a bit better than the floating bridge, but I liked it so much I tracked several solos on Soul Shifter with it as well."
Vinnie Moore's Soul Shifter is out now on CD Baby
All the latest guitar news, interviews, lessons, reviews, deals and more, direct to your inbox!