Robin Trower: My Career in Five Songs
From his Jimi Hendrix tribute to his latest blues track, here are the cuts that make Robin Trower proud.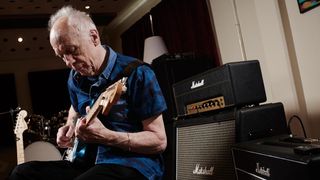 (Image credit: Future / Joby Sessions)
Throughout his remarkably sturdy 50-plus-year career, Robin Trower has often been pegged as a "psychedelic blues guitarist."
As it turns out, the man himself takes issue with that description. "The psychedelic thing is a flavor I've used from time to time," he admits. "But I really consider myself a rock and roll player who's heavily influenced by the blues."
He thinks for a moment, then elaborates further. "Of course, I would say that the blues is really the alphabet for the language of rock and roll, but I can't call myself a blues player. A guitarist like B.B. King is the blues. Obviously, I'm not B.B. King, so I can't lay claim to being a true blues player." He laughs. "But I do my best with what I've got."
Tracing his development as a guitar player, Trower draws a distinct line between his early days in the British art-rock band Procol Harum and the period in which he set the world on fire with solo releases like 1974's Bridge of Sighs and 1977's In City Dreams.
"When I was in Procol, I didn't realize that I needed to practice the guitar," he says. "Everything I did with that band just came naturally. But when I started doing my own thing, I discovered the beauty of really sitting down and concentrating on my playing. I was writing on my own, and that kind of forced me to concentrate on music in ways I never did before."
Which isn't to suggest Trower pores over books of scales. Most of the time, he can be found, Strat in hand, playing for fun and letting his mind run free.
"I call it 'practicing,' but in point of fact it's just me messing about," he explains. "Still, I think it's important, because I'm absorbing bits of information. I'm trying out new twists and turns, different ways of phrasing and discovering new sounds. I'm an experimenter. I test out new ways of using my amps to see what can come out of them."
He pauses, then adds with a chuckle, "Every once in a while, I'm pretty satisfied." Guitar Player sat down with Trower to look back on five tracks that left him feeling more than a little pleased.
"Song for a Dreamer" – Procol Harum's 'Broken Barricades' (1971)
"After Jimi Hendrix died, [Procol Harum lyricist] Keith Reid came up with the idea to do a tribute to him. He wrote some lyrics, presented them to me and said, 'Can you come up with something Hendrix-y so that we can pull off the tribute?'
"It's funny that I'm compared to Hendrix, which is a compliment, but the fact is that I wasn't really familiar with his work at the time. I had to get a few of his albums and listen to them to pick up the vibe.
"The combination of Keith's words and the records I was listening to opened up some ideas for me, and the whole thing came together pretty naturally. I felt like it should be kind of dreamy and otherworldly, because that's what a lot of Jimi's stuff was like.
"We rehearsed the song in the studio and recorded it fairly quickly. I think the whole thing took a day. I used two guitars on the track - a Strat for the solos and a Les Paul for the backing. The same amp for both - a Marshall 100-watt with a 4x12.
"The song turned out to be pretty important for me. As I was writing it, I thought, This is great; I'm really enjoying writing something so guitar based, because Procol was basically a keyboard band.
"My guitar playing was featured, but I always had to work what I was doing around heavy keyboards and orchestrations. So the song opened me up to the idea to go off and do my own thing with a three-piece band that would allow me to invent more with the guitar."
"Bridge of Sighs" – 'Bridge of Sighs' (1974)
"I was messing around with the guitar part for a while. I had the verse for about six months before I came up with what I would call the turnaround phrase. It took me a long time to work that out.
"Actually, we started playing it live before the whole thing was written. We played it onstage and it felt really good. It seemed to cast a spell over the audience. Gradually, it took shape.
"It's basically two verses with two turnarounds, and then it goes into the instrumental section. So once I had the music down, I started writing lyrics. To keep that same transportive quality, we set up in the studio the same way we would live. The room was very big and it gave us a good sound."
"I cranked my amp, but I also used an overdrive and a Uni-Vibe. I got a lot of power from that, and our engineer, Geoff Emerick, came up with a rather novel way of tracking my guitar.
"He had three mics staggered down the room from my amp to pick up the ambience at each point. It's been done quite a bit since then, but I think he was the first guy to try that on a recording.
"When we were finished, we thought we had something pretty special, but we had no idea how well it would be received. A lot of people consider this my signature track, and I'm totally fine with that. It's one of the best things I've ever done, and I'm quite happy with it. It's got a lot of power and emotion, and it's been very important for my career."
"Somebody Calling" – 'In City Dreams' (1977)
"This was a bit of a change in direction for me. For this song and the album In City Dreams, I was letting my rhythm-and-blues roots and inspirations breathe a little more. The whole process was exciting. It opened me up artistically in a way that allowed me to explore this side of my writing and playing, on and off, ever since.
"The song started out from the guitar riff and a minor-13 chord I was messing around with. The chord was peculiar, and it intrigued me. Just the sound of it created this atmosphere that I liked, so I made it part of the song.
"All of the other elements of the song came together pretty easily from there. My singer, Jimmy Dewar, wrote some great lyrics for it. I had a terrific rhythm section - Rustee Allen on bass and Bill Lordan on drums - and I asked Don Davis to produce us.
"The demo I had made was pretty good, but Don got a meatier sound in the studio. I wanted to explore a lot of sound textures, and I was using a board with various effects pedals - a Uni-Vibe, some distortions, an Electric Mistress.
"At one point, I played this chord and just let it hang on, and the distortion carried it a long way. It's a great track. Everything about it is just perfect."
"20th Century Blues" – '20th Century Blues' (1994)
"This album was so important for me. I set up my own label, and from that point on I had the freedom to do whatever I wanted. I had a great time recording it, and I really like the title track. It has such wildness and power.
"I can't say it's a reinvention of the blues form. It's a riff that comes from 12-bar blues. I just like the spirit of how it sounds. I wrote it very quickly. I didn't record a demo, but we played it live a lot. My band was doing a big U.S. tour, so we played a lot of songs that would go on this album live. That was my demoing, really.
"After we were done, we went to Palm Springs and recorded the album. Because we had road-tested the material, we didn't need to change much in the studio. I had a pretty gung-ho attitude and just went for it. I put my Strat through two JCM800 heads that went into 4x12 cabinets.
"Everything was very loud. We were playing like we would onstage. There was lot of bleed into the drum mics, but that was okay. It made the sound that much bigger."
"Birdsong" – 'No More Worlds to Conquer' (2020)
"This is from an album I have coming soon. I like a lot of tracks on it, but 'Birdsong' is my favorite. In fact, I think it could be the best thing I've ever done. In my eyes, I just can't find fault with it.
"I had this particular piece of music for a while. The guitar parts and a melody for the vocals were there, but the song didn't really come together 'till I saw a documentary about the First World War. It really struck me and got in my head. After I watched it, I started to write lyrics, and that's what tied everything together.
"I don't really do big demos anymore; I just play and sing into a little recorder. So with that, we went into the studio, and my engineer, Sam, put down a drum rhythm, and I laid down the guitar. We kind of make the demo as we record the song. Then we lay down all the guitar parts and the bass, and Richard Watts comes in to do the vocals. He did a great job on this track.
"I used a new version of the JCM800 and two open-back cabinets. I had a lot of amp power, but I tried to play as tenderly as I could. You can really hear me working my picking hand. I don't attack the strings; I was kind of stroking them as gently as possible. I think that's why I like the track so much."
All the latest guitar news, interviews, lessons, reviews, deals and more, direct to your inbox!
Joe is a freelance journalist who has, over the past few decades, interviewed hundreds of guitarists for Guitar World, Guitar Player, MusicRadar and Classic Rock. He is also a former editor of Guitar World, contributing writer for Guitar Aficionado and VP of A&R for Island Records. He's an enthusiastic guitarist, but he's nowhere near the likes of the people he interviews. Surprisingly, his skills are more suited to the drums. If you need a drummer for your Beatles tribute band, look him up.