The Bad News: It's Totally Unplayable. The Good News: It's Worth a Fortune
Headed for refurbishment after decades in the closet this rare Gibson Les Paul Standard dubbed "Dirty 'Burst" was a shock for all.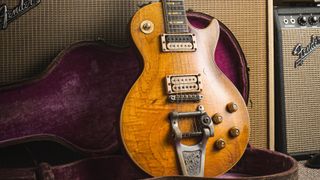 (Image credit: David Libson-Hochenberg/ATB Guitars)
It's a story we hear less and less these days: a dusty, old guitar gets pulled out of the closet where it's been sitting untouched for decades, only for the owner to discover it's worth a fortune.
But that's exactly what happened when U.K. vintage guitar dealer Mike Long of ATB Guitars received a call from the daughter of an elderly gentleman regarding his long-discarded 21st birthday present – a 1960 Gibson Les Paul Standard.
Prized by guitar heroes since the '60s and with only around 1,500 having been made between 1958 and 1960, these instruments are among the most valuable of their type. Referred to as 'Bursts on account of their sunburst finishes, Gibson Les Paul Standards are notoriously scarce.
As the old joke goes: Gibson made around 1,500 'Bursts but only 2,000 have been accounted for. And with new and old replicas aplenty, professionally authenticating a guitar can make all the difference. Indeed, a newly discovered 'Burst is big news among collectors.
Guitar Player spoke to Long last night while he was en route to Joe Bonamassa's Royal Albert Hall concert in London, 'Burst in hand. Bonamassa, a prominent electric guitar collector, was apparently keen to inspect the recently unearthed find.
"It's not every day a 'Burst walks through the door with someone who has no idea what it is or how much it's worth," Long told us. "I'm amazed this still happens. They had no idea what they had at all."
Stumbling across ATB Guitars during a search for nearby guitar stores, the owner's daughter – a local teacher – initially contacted the vintage specialists to grab a simple quotation for insurance purposes.
"She said her dad was moving house and that she'd been entrusted with his guitar," recalls Long. "She wanted us to do a basic evaluation so she could adjust her insurance if need be.
"She'd searched online for 'Gibson Les Paul' and had come up with values of around five thousand pounds and was expecting to adjust her household premium accordingly."
Having viewed some quick snaps, Long's initial thought was that the guitar may indeed be a replica. But that idea soon changed when it was brought in for inspection.
Almost immediately they knew they were looking at something truly special.
"A couple of weeks later, she popped into the shop with a five-latch 'Cali girl' case," continues Long. "I thought, 'This looks interesting!' When I opened the case, it was the filthiest guitar I'd ever seen. It had been stored in a closet, unplayed, since the '70s!"
After examining the guitar inside and out from top to bottom the ATB team were able to confirm its originality.
"The finish is all original, and there are no major breaks or repairs," notes Long, "but it's had a Bigsby added, the PAF humbuckers have been in and out, and the original pickguard has had a switch added."
Originality and condition are of prime importance to vintage guitar collectors and such modifications tend to impact the value of instruments. However, when it comes to 'Bursts, they don't need to be in mint condition in order to command six figure sums.
"I've got some good news and I've got some bad news," Long informed the owner. "The bad news is it's totally unplayable and is in terrible condition. The good news is that once it's been refurbished it'll be worth about £175,000."
The room went silent.
"You could hear a pin drop," remembers Long. "She couldn't quite believe it. Her dad couldn't quite believe it either. They literally had no idea what they had!"
Visit ATB Guitars for more information.
All the latest guitar news, interviews, lessons, reviews, deals and more, direct to your inbox!
Rod Brakes is a music journalist with an expertise in guitars. Having spent many years at the coalface as a guitar dealer and tech, Rod's more recent work as a writer covering artists, industry pros and gear includes contributions for leading publications and websites such as Guitarist, Total Guitar, Guitar World, Guitar Player and MusicRadar in addition to specialist music books, blogs and social media. He is also a lifelong musician.