Joe Bonamassa: My Career in Five Songs
The blues superstar reveals his "survival rig" as he tells the tales behind a handful of favorites from his catalog.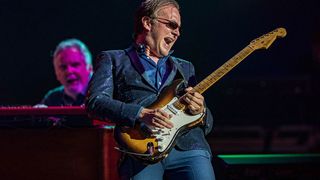 (Image credit: Daniel Knighton/Getty Images)
To call Joe Bonamassa prolific would be an understatement. In an age where artists can go for years between releases, Bonamassa regularly turns out a couple of albums per annum.
Whether they are solo releases, one-off projects, team-ups with esteemed collaborators such as Beth Hart or supergroup outings like Black Country Communion, the constants are Bonamassa's absolute commitment to excellence and his relentless work ethic.
According to Bonamassa, the reason for his prodigious output is simple. "If you've got something to say, then say it!" he exclaims. "The cycle of music is much faster now. You can put a record out in May, and in September guys are asking, 'Have you got anything new?'
"We're releasing preview tracks weeks before the album, which is not the way it used to be. Having said that, I'm not releasing records just to keep my profile raised.
"I've got all this music that I want to record and release; I love making records. If I was on a major label, they'd never agree to releasing albums at the rate that I do it, but my career has never been based on the normal way of doing things."
Bonamassa is a shrewd operator, always looking to maximize potential in a music business that is a shadow of its former self thanks to streaming services that have decimated artists' incomes and the global shutdown.
"I have friends in heritage rock acts who haven't really done anything for a year," he says. "I wonder how easy it will be to get back in gear again. I want us to stay sharp. We're going to do five shows to truncated audiences, working with whatever rules are in place at the venues.
One of the shows, in Austin, Texas, will be livestreamed on pay-per-view. Bonamassa, as ever the consummate professional, underscores the reason why he is trying to keep live events going for his own band.
"I don't want us to get too rusty," he explains. "If we come back in the fall or next spring and we haven't played for two years, it's gonna take some time to knock that rust off. Of course, fans will want to see us live, and we really want that interaction.
"We did a live pay-per-view show at the [Nashville] Ryman [Auditorium] last fall. It was one of the greatest shows we've ever done, but with no audience there it was like a soundcheck. Our strategy now is to keep doing a handful of live shows every quarter as a minimum."
Bonamassa's guitar and amp collection is legendary, arguably one of the greatest in the world. For someone who has virtually every fantasy item of gear ever made, what would his survival rig be in the unlikely event that he could only have one guitar and amplifier?
"Well, with apologies to Gibson on this one, it would be my '51 Nocaster with the humbucker in the front and a '63 brown 2x10 Super," he says.
"You could do anything with that rig. The early Telecasters with the flat pole pieces – the early spec pickups – they were fantastically versatile guitars. They were high output. You could roll a little bit of tone off.
"They're bright, but they can get chewy. I think the old truth is that whatever gear someone uses – even if they're using another guitarist's signature rig – if they have something distinctive in their playing, it will always sound like them."
With so many songs to choose from Bonamassa's back catalog, it was hard for him to nail down five key songs. He changed his mind after suggesting an initial five and came up with this revised list.
"Actually, as we've been speaking, I realized that all of these songs are quite long and a little slower," he says. "I do have a lot of shorter up-tempo songs, but I guess my lane is the mid-tempo, sludgy blues-rock style," he says, laughing.
With a number of projects in mind, and as he prepares to go out on the road with his new trio format, was Bonamassa still planning to make good on that statement he made a few years ago, when he said with absolute certainty that he planned to retire when he was 62?
"Well, if this pandemic carries on, I could be retired effective immediately. I'm just focusing on getting through this thing and getting back to a full live circuit again."
"Sloe Gin" – Joe Bonamassa (Sloe Gin, 2007)
"I like this because it is such an odd choice of song. Kevin [Shirley, producer] called me in 2007 and said he'd got the perfect song for me, a real desperate kind of blues song that he'd remembered from when he'd been in South Africa. It was actually a Tim Curry song that was written by Bob Ezrin and Michael Kamen, and was on Tim's album Fearless, in '79.
"A lot of people will know Tim Curry from The Rocky Horror Picture Show, and I never thought I'd associate the words 'desperate blues' with Tim Curry. [laughs] I loved it when I heard it, but it has an odd chorus which was, 'I'm so fucking lonely.' We run a family show here and I didn't think I could really use those words, so we had a think and played around with it and changed it to 'so damned lonely.'
"At one time you could try out songs live before you recorded them to get the feel, before the days when everything you played live was already uploaded to YouTube before you got on the bus. [laughs] Now you don't really want to play a whole lot of new songs before they're recorded. It takes the air out of the record if everyone knows half the songs."
"Mountain Time" – Joe Bonamassa (Live from the Royal Albert Hall, 2009)
"I'd already recorded an earlier version of this at a much quicker pace and with a very different feel in 2002. The version I've picked is from the Live From the Royal Albert Hall album in 2009. It seems to be a fan favorite, and the song has been the encore for the last two tours. I wrote it with Will Jennings many years ago. He's best known for his work with James Horner.
"I was on tour in 2002 with Gregg Allman and he was doing a very slow version of 'Midnight Rider.' It was really cool, and it got me to thinking about giving 'Mountain Time' that treatment.
"It hadn't ever really been anything special when we'd played it live before at the faster pace, but it really took off at the super-slow speed. There is a handful of songs that, if I don't play them, the fans will be disappointed. This is certainly one of them.
"The reason I've been doing it as the encore is that it is a tough song to beat. I like songs that come out of nowhere and then build and build. 'Freebird' is a great example of that. We've been doing it for far longer this way than we ever did it in the faster format.
"We just did a fan poll for songs that they'd like to see us do in the power-trio format that I'm about to tour with, and now we've got to figure out how to make it work. On the last tours we had the whole band out there with the brass and everything."
"The Ballad of John Henry" – Joe Bonamassa (The Ballad of John Henry, 2009)
"I was in Des Moines, I think it was 2009. I'd had some wine and I was just kind of hanging, you know? I just had some bits and pieces of an idea – and this is why you should always press 'record' [laughs] – when the song came to me and I sang the whole damned thing, including the bridge, into my iPhone. I played it back, and I realized it was the whole song, finished.
"When I sent that crappy demo to Kevin, he said he loved it, and the song was complete as it was. I wrote it on a baritone guitar, but now I play it in E, partly because I'm a better singer now and I can sing it higher, and also because I got tired of carrying a baritone guitar around for just that one song. No one has ever complained about me changing the key. I guess maybe they haven't even noticed.
"The great songs often do come really quickly though, often in a moment. Sometimes a different guitar or something might be the trigger. I rarely write on a Les Paul. I often write on an acoustic, or even a bass sometimes. You don't know where they come from. You've just got to be ready to receive the song, I guess."
"Song of Yesterday" – Black Country Communion (Black Country Communion, 2010)
"When we put that band together in 2009, it was really meant to be a vehicle for Glenn [Hughes] more than anything, with a cast of stellar bit players, particularly Derek Sherinian and Jason Bonham. Glenn was very vocal about me singing in the band and I was thinking, This is why you're here – so I don't need to sing for two hours. [laughs]
"He was always very encouraging about me singing more, so when I presented this song, he suggested that I should take the vocal on it. I feel like it is one of my proudest moments, because I was wondering if it was going to stand up to the big leagues, y'know? With the kinds of things that Glenn has done over the years, I didn't want to exacerbate my inexperience in this genre. [laughs]
"To my surprise, I think it became one of the stand-out tracks on the album. Fear is a great motivator – in this case, fear of getting your ass kicked. I think this was a '59 reissue Les Paul that I turned the magnet around on the front pickup to get that slightly out-of-phase Peter Green sound.
"I think I used some Marshalls, probably a Super Bass and a Jubilee, that I'd taken out of storage and some studio cabinets. All the solos in Black Country were just off the cuff. We tended to go with Jason's feel and record live, so we blew through until it reached a natural resolution."
"Self-Inflicted Wounds" – Joe Bonamassa (Redemption, 2018)
"When you're laser-focused on your career, your personal life can start to implode around you, and you don't even see what's coming. That was the place that I was in around the time I wrote this song in 2018.
"I think it is one of the best songs that I've ever written. I'm really proud of it. We do it every night, and it really kills. It's one of those songs where there is a strong sentiment, and that gets shared with the audience. You know you're tapping into something.
"Every once in a while I find myself feeling like I'm in the place where I was when I wrote it, but when you're onstage it is hard to be too self-absorbed. I think I was playing into a Twin with a Les Paul.
"When we record I usually put a scratch vocal down with the band, then I'll use that to guide how I'm going to put fills in around the vocals. I think when you sing and play, one informs the other. Phrasing becomes more natural, with spaces for 'breath' in the playing as well."
All the latest guitar news, interviews, lessons, reviews, deals and more, direct to your inbox!
Mark is a freelance writer with particular expertise in the fields of '70s glam, punk, rockabilly and classic '50s rock and roll. He sings and plays guitar in his own musical project, Star Studded Sham, which has been described as sounding like the hits of T. Rex and Slade as played by Johnny Thunders. He had several indie hits with his band, Private Sector and has worked with a host of UK punk luminaries. Mark also presents themed radio shows for Generating Steam Heat. He has just completed his first novel, The Bulletproof Truth, and is currently working on the sequel.