Joe Bonamassa's Long-Awaited Signature Fender '51 Nocaster, The Bludgeon, Has Arrived
By Jackson Maxwell published
Each example of the ultra-limited edition model will be handmade in Fender's Custom Shop by luthier Greg Fessler.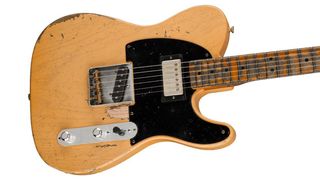 (Image credit: Fender)
Joe Bonamassa's love of post-Broadcaster, pre-Telecaster Fender Nocasters is rather well-documented, and now the blues guitar great is finally – after years of teases – getting his own signature Nocaster.
Named The Bludgeon, the ultra-limited-edition guitar – which will be limited to 100 total examples – will be hand-built by Fender Master Builder Greg Fessler. According to Bonamassa's website, the entire production run will take around three years to complete.
Based on his own, beloved '51 Nocaster, The Bludgeon features a one-piece ash body and a maple neck boasting a maple fretboard with 21 frets composed of vintage upgrade 45085 wire, a 7.25" radius, and period-correct Micarta black dot inlays. It has a natural flash coat lacquer finish with heavy relic'ing.
Other appointments on the guitar include a Tele 51-54 WO PU bridge, chrome and nickel hardware (also relic'd,) and a vintage Telecaster control layout.
A couple of question marks remain over the guitar, however. For one, Bonamassa's website simply says that The Bludgeon features a "custom neck," which would possibly indicate something other than the U-shape sported by the original Nocasters.
Another unknown is the pickup set. However, Bonamassa has said in the past that Seymour Duncan will provide his signature Nocaster with its sonic attack, and given that his own original Nocaster is fitted with a humbucker from a '61 Gibson SG Custom, one can probably take a good guess as to what approximate form the set will take.
Fender's Joe Bonamassa signature The Bludgeon '51 Nocaster is available now exclusively through Bonamassa's online store. Any interested buyers can reserve a model with a non-refundable $500 deposit, though the guitar's final price is $8,500.
For more info on the guitar, stop on by jbonamassa.com.
Get the latest news, reviews and product advice straight to your inbox.
Thank you for signing up to The Pick. You will receive a verification email shortly.
There was a problem. Please refresh the page and try again.