Listen to Blues Guitar Virtuoso Albert Cummings' Hard-Rocking Single "Need Somebody" from His Forthcoming 'Ten' Album
Read our exclusive interview and get a sneak preview of the opening track.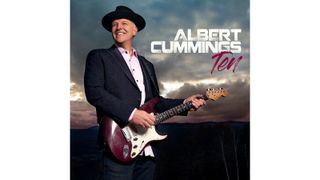 (Image credit: Nick Spanos)
Albert Cummings is an anomaly. A late bloomer by anybody's standards he started playing guitar at 27. Indeed, at an age when some of the world's greatest musicians checked out, Cummings was just checking in.
Once his superlative musical talent was eventually tapped into there was no going back and his unique brand of pyrotechnic electric blues rapidly became an unstoppable force.
Before long, he was sharing stages with the likes of B.B. King, Johnny Winter and Buddy Guy. In fact, Cummings is regarded as one of the greatest blues guitar players on the circuit today. Renowned for his raw, off-the-cuff stage performances, what you see really is what you get with this maestro.
With over two decades' worth of solo releases under his belt, his recorded body of work catalogs a guitarist that has gone from strength to strength.
And the best, he promises, is yet to come.
His tenth solo album – aptly titled Ten – is due for release this year on April 8 via Ivy Music. Recorded in Peter Frampton's Phenix Studios in Nashville with legendary engineer/producer Chuck Ainlay (Dire Straits & Mark Knopfler, Taylor Swift, Dolly Parton) Ten also features a guest performance by Vince Gill.
We caught up with Cummings ahead of the album's release to talk guitars, Nashville and the blues.
You're currently endorsed by Fender. What is it you like about Fender guitars?
I'm almost exclusively Fender. That's pretty much all I've ever played. Gibson have sent me stuff before. And PRS sent me three or four guitars once, but I could never find the tone I liked. They were beautiful pieces of work – all this quilted maple and stuff – but, boy, I just wish they sounded as good as they looked! I like the simplicity of Fenders. They're pretty rugged too.
What's your go-to guitar right now?
I call it CC. It's a Strat from around '92/'93. It's on its second neck. Fender put a new neck on it for me because I wore out the truss rod on the last one. I just wore it out again. I tend to beat on my guitar a little bit.
I've put at least five different pickup configurations in it. I ended up with one of the most unique configurations I've ever seen on a Stratocaster. I have a Tele pickup in the neck, a Texas Special in the middle, and I have a '59 humbucker in the [bridge]. That guitar with the five positions: you can get any sound you want.
Also, I play heavy Dunlop strings – a 12 down to a 58. And with those gauge strings I can get a beautiful clean sound. With that pickup configuration there's not a sound I can't get.
What amps did you use to record Ten?
I'm a [Fender] Vibro-King junky. On this album, I used a Vibro-King along with a [Fender] Vibroverb – the original brownface Vibroverb model with two ten-inch speakers. I think it was Peter Frampton's.
I love a Vibro-King because it's got the punch, but it sometimes misses that little bit of sweetness. So, live, I usually play a [Fender] Deluxe with it at the same time.
For those who haven't seen you perform, how would you describe your live shows?
When I start a show, I don't usually stop until I'm finished. I don't talk much; I just go from one song to the next. I believe if you're thinking, you're stinking. And I rarely use a set list. I just let the music take me where it's going to go.
My style of music is completely off the cuff. People ask me, 'what was that third song?' or whatever and I'll have literally no idea. I'll jump off songs into others. If I feel like playing something, I'll give it a shot.
What did you learn from gigging with B.B. King?
B.B. King taught me that I'm there as an entertainer. If the audience wants to hear something, I'm happy to oblige. I go onstage and I become a member of the audience. There's no negativity on my stage. I want people to come to my shows and feel good when they're there, and when they're going home. I'm just an entertainer. That's my goal.
How did you meet B.B. King?
I was able to meet B.B. King's assistant manager and she came to see me play when I did the first show with Double Trouble. The next thing I knew I was on stage with B.B. I did several tours with him and ended up being really good friends with the man. It was just such an education for me to sit and watch B.B. King every night.
That man has been the biggest inspiration in my life. And not only with guitar. Anybody that picks up a guitar will be influenced by B.B. King. They might not realize it, as they might have copped something from somebody else who was directly influenced by B.B. King.
B.B. told me one night: "We don't steal licks – we borrow them." And that's so true. It's like vocabulary – the more words you know, the smarter you are. The guitar communicates, no matter what language you speak.
What's the best way to advance as a guitarist?
I think the best way to advance on your own instrument is to get lost. Because once you get lost, you learn a new trail to get out. If you're following the same path, you're not lost. So, my advice is just run off into the woods and don't think about the path. If you make a mistake, just do it again and it'll sound intentional. [laughs]
Tell us about how your career took off.
The first time I ever played with a band I was 27 years old (I just turned 54), and it was a couple of years after that when Double Trouble had me come down to Austin. Then I met B.B. King and Buddy Guy and Johnny Winter. It happened quickly. I was doing all that and still building houses.
And to this day, you're still working in construction…
There's a song on the new album, Ten, called "Two Hands." It's one of my favorites and it tells the tale of a working man. I think a lot of people are going to relate to that song.
What was your experience of recording the new album, Ten?
I've never been so excited about a record before. I'm still on the honeymoon. Every day I think about it. This one is completely different. I've been growing as an artist over the years, but everything came together at the right time on this one.
Chuck Ainlay is like the Stevie Ray Vaughan of producers. He is so gifted. He's incredible. The first thing he said to the band was, "Our main goal here is to give Albert something he's never had before." And they certainly did. They just killed it. Vince Gill told me, "You've got the best players in Nashville, Albert."
What's your philosophy to making music?
My philosophy in life is that building something – be it a house or a record – takes a team. And if I can assemble the right team, everything's better. They were just pushing me and making me feel as comfortable as possible. They were just warm-hearted, beautiful people and they have my ultimate respect.
I really wanted them to bring their personalities and their feelings. I mean, I was in Nashville. Every city has a different sound, and I believe if I cut that record in L.A., London, or Austin it would have sounded different.
I want every record I do to be my best one. Like every house I build, I want it to be better than the last.
Pre-order Ten by Albert Cummings from February 18, 2022, here.
All the latest guitar news, interviews, lessons, reviews, deals and more, direct to your inbox!
Rod Brakes is a music journalist with an expertise in guitars. Having spent many years at the coalface as a guitar dealer and tech, Rod's more recent work as a writer covering artists, industry pros and gear includes contributions for leading publications and websites such as Guitarist, Total Guitar, Guitar World, Guitar Player and MusicRadar in addition to specialist music books, blogs and social media. He is also a lifelong musician.