Hughes & Kettner Debuts New Spirit Nano Amp Heads
These ultra-lightweight, 50W heads come in Rock, Metal and Vintage variations.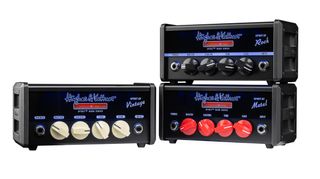 (Image credit: Hughes & Kettner)
Hughes & Kettner has unveiled its new Spirit Nano series of practice amp heads.
Loaded with the company's Spirit Tone Generator technology, the Spirit Nano heads feature 50W of power and a built-in Red Box cab sim - outputted via a 1/4" line-out and phones jacks. The series features Vintage, Metal and Rock variants.
The Vintage head focuses on shimmering cleans and attitude-filled crunch tones from the '50s and '60s, the Rock head aims for "brown sound," while the Metal head aims to run the tonal gamut from "beefy '80s metal sounds to the bombast of modern metal tones."
Image 1 of 3
The amp heads are outfitted with Gain, Tone and Master controls, plus a Sagging control, which looks to nail those sweet spots of power amp saturation, independent of the volume control.
Hughes & Kettner's Spirit Nano amp heads will be available later this month for $239 each.
For more info on the amp heads, stop by hughes-and-kettner.com (opens in new tab).