Take a Deep Dive Into David Gilmour's 'The Dark Side of the Moon' Gear, Tone and Technique With the July 2023 Issue of 'Guitar Player'
Don't miss our latest issue – out now!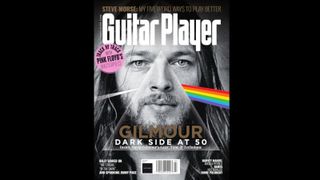 (Image credit: Future)
On the 50th anniversary of Pink Floyd's breakthrough magnum opus, The Dark Side of the Moon, we go behind the music with Gilmour, Roger Waters and engineer Alan Parsons, all of whom deliver insights into the album's history, from its inception as a stage presentation to its creation in the studio. We dig deep into Gilmour's rig to reveal all the gear he used on the album, as well as tell the story behind every song.
Plus, Guitar Player gets up close with Gilmour's iconic Black Strat as we detail every modification he's known to have made to the guitar featured on albums like The Dark Side of the Moon and The Wall.
And we take a deep exploration into the guitarist's Dark Side-era tone and technique by exploring passages from key songs, complete with examples featuring transcripts and audio.
This issue also includes a brand-new career retrospective interview with Harvey Mandel. The Sustain King discusses everything from his first solo album, Cristo Redentor, to his latest, Who's Calling.
Then, we catch up Neil Giraldo, who talks about his career – from Derringer to Pat Benatar and beyond – and his recent Rock Hall induction.
We also have an in-depth conversation with Jonny Polonsky, who tells how a few homemade cassettes – and a penchant for chasing his dream – led him to record on albums by Johnny Cash, Neil Diamond and Donovan. Polonsky is back in action with his latest solo effort, Rise of the Rebel Angels.
You'll also find Steve Morse sharing his five weirdest guitar tips in our monthly Tip Sheet, plus interviews with Angela Petrilli and Dawes guitarist Taylor Goldsmith.
And in our ever-popular How I Wrote feature, we tell the story behind the 1970s MOR pop tune that was an unlikely favorite of former Beatle John Lennon as Little River Band guitarist Graeham Goble talks about the group's hit "Reminiscing."
All this, plus reviews of the Reverend Pete Anderson Eastsider Custom and Rick Vito Soul Agent, Erica Synths Zen Delay Virtual, the Boss Katana-50 MkII EX, Vertex Effects Boost MK II + Volume/Expression pedal, and Kiss My Strings JAM Offset and Telecaster Bridges.
Click here to order.
All the latest guitar news, interviews, lessons, reviews, deals and more, direct to your inbox!
Guitar Player is the world's most comprehensive, trusted and insightful guitar publication for passionate guitarists and active musicians of all ages. Guitar Player magazine is published 13 times a year in print and digital formats. The magazine was established in 1967 and is the world's oldest guitar magazine.
When "Guitar Player Staff" is credited as the author, it's usually because more than one author on the team has created the story.