Discover How Periphery Guitarist Misha Mansoor Has Reinvented the Stratocaster
Modern high-performance with vintage appeal from Jackson's made-in-Japan MJ Series.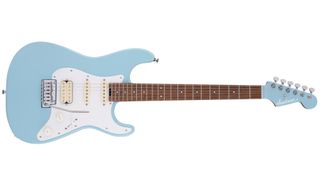 (Image credit: Jackson)
What do Buddy Holly and Misha Mansoor have in common? You guessed it: the Stratocaster. With its unbeatable playing ergonomics, matchless versatility, and curvaceous aesthetics the Strat is still proving itself as relevant today as it was when it was first released back in 1954. This timeless design just won't stop winning guitar players over decades down the line. And as each generation reinvents rock 'n' roll, the Strat continues to evolve while somehow never straying too far from its essential formula.
With its Daphne Blue finish this progressive take on the Fullerton-born classic harks back to the golden era of original 60s Fender/DuPont custom color finishes. The Jackson MJ Series Signature Misha Mansoor So-Cal 2PT (to give the guitar its full name) may be a bit of a mouthful, "but we know it's a Strat," says Mansoor.
Indeed, with that iconic contoured body and Stauffer/Bigsby-derived headstock, how could we mistake it for anything else? Mansoor's new Jackson So-Cal is positively bursting with vintage vibe, yet a peak under the hood reveals its high-performance specs are perhaps closer to his more progressive Jackson Pro Series and USA Signature Juggernaut guitars.
Constructed of light basswood the guitar's body is coupled with a traditional bolt-on maple neck, albeit caramelized maple reinforced with graphite for strength and rigidity. For extra speed and agility, the neck has a smooth oil finish while the caramelized flame maple fingerboard features rolled edges for that super-comfortable feel. Sporting a 20-inch radius and 22 jumbo stainless steel frets you're unlikely to find bends choking out on this 'board, and with Glow-in-the-dark Luminlay side dots you probably won't get lost in the dark either.
So, with its iconic looks and ultra slick feel how does it sound? In true Strat style, this guitar delivers a huge array of tones. Thanks to its Bare Knuckle Ragnarok humbucking bridge and Bare Knuckle Trilogy single-coil middle and neck pickups it covers the whole nine yards from vintage twang to Djent-tastic chunk. Courtesy of a five-way pickup selector and single volume and tone knobs a whole palette of tone is there to be explored at your fingertips.
Boasting a Gotoh Custom 510 tremolo, Gotoh die-cast locking tuners, and Graph Tech TUSQ XL nut, tuning instability is unlikely to pose a problem. Complete with this top-notch hardware, the Jackson MJ Series Signature Misha Mansoor So-Cal 2PT is truly a high-performance axe for the modern player. Particularly one with a penchant for the timeless appeal of vintage Stratocasters.
Go to Jackson's website for more details on the MJ Series Signature Misha Mansoor So-Cal 2PT.
All the latest guitar news, interviews, lessons, reviews, deals and more, direct to your inbox!
Guitar Player is the world's most comprehensive, trusted and insightful guitar publication for passionate guitarists and active musicians of all ages. Guitar Player magazine is published 13 times a year in print and digital formats. The magazine was established in 1967 and is the world's oldest guitar magazine.
When "Guitar Player Staff" is credited as the author, it's usually because more than one author on the team has created the story.