Child Prodigy Taj Farrant's Top Ten Tips for Guitarists
The six-string wunderkind offers these solid-gold pointers for fellow guitar players of any age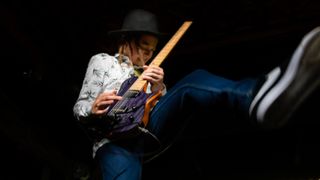 (Image credit: Melanie MacLeod)
Australian child prodigy Taj Farrant was known the world over as a fiercely talented guitarist before his tenth birthday.
At age nine, he appeared on The Ellen DeGeneres Show where he blew the host's mind with a jaw-dropping recital of "Sweet Child O' Mine." At the time, he'd only been playing guitar for two-and-a-half years!
Drawing praise and recognition from across the globe, his YouTube videos have attracted millions of views. Check out this clip of him playing the "Comfortably Numb" solo (blindfolded, of course!)
But he's far from a stay-at-home musician. Travelling far and wide, Farrant's performances have seen him trade solos live onstage with the likes of Carlos Santana and Orianthi.
Now endorsed by Kiesel, Elixir, Pig Hog, Celestion, Friedman and Taylor, he is currently gearing up for a U.S. tour.
Before he headed out on the road again, Guitar Player managed to catch up with the young teen and grab some of his top tips for fellow guitarists…
1. It's All About the Love
You have to love playing guitar if you're doing it all the time. It's all about doing something you love and enjoying it.
For me, playing guitar is like being in a different world. It's more to do with feeling, rather than thinking. It's like there's nothing that can possibly bother me while I'm playing (unless my sister comes in my room!)
2. Close Your Eyes
You don't want to be robotic or animatronic when you play. You want to be able to flow with the music, and I find shutting my eyes helps with that.
When I first started playing guitar I'd look down the whole time, and Dad said, "Just try closing your eyes and see what happens." When I close my eyes, I don't see anything, but I feel like I see stuff.
3. Don't Forget Your Pinky
Some people use just one or two fingers for vibrato. I tend to use my ring finger along with the middle and index finger. I find that easier.
Some people use their pinky as well. A lot of famous players like Gary Moore and Slash didn't use their pinky, but I think it can give you some dexterity if you build up the strength.
4. Use Backing Tracks
I practice with backing tracks for a few hours a day, rather than using a metronome. I'll choose a random track in any key and then I kind of do scales over it. When you're in time, you can put your own groove into it.
Backing tracks help with free soloing, whereas practicing with a metronome is kind of boring. I recommend having a look on YouTube for tracks.
5. Explore the Neck
You don't want to be just going up and down scales in one position. It's much better to explore the neck by putting them together. People often learn just the first position of a scale, but there are several.
Learning all the positions helps with free soloing. Now, I don't really think about what I'm playing – it's more about feeling what I'm playing.
6. Discover Different Genres
One thing that really helped me was playing along to random music on the TV. Whether it's rock or R&B or Latin or whatever, I think it helps you become a more diverse guitarist. I'll figure out the scale and just play along.
I'll play scales when I'm watching TV anyway – it's good for muscle memory.
7. Find Your Tone
I used to use a lot of distortion and have everything full bore. But when I got handed a Strat, I realized there's a lot more to it than humbuckers and drive pedals.
That's when I started to get interested in blues – players like Jimi Hendrix, Gary Moore and Stevie Ray Vaughan. But I really want to be known for my own sound.
8. Experiment with Controls
Remember there's often more than just one pickup on your electric guitar. Try flicking through different positions throughout the song.
Volume control helps a lot too. A lot of people only have it up full and then rely on pedals for different tones, but you can get a lot of different sounds just with the volume knob.
9. Relax
It's not good to be tensed up if you're trying to play music. I tend to close my eyes for most of the gig, apart from when I'm singing. Then I normally look at the end of mic, so I can't really see anyone.
I used to get pre-show nerves early on, but I quickly realized it's a lot of fun playing in front of people. It's more of an adrenalin rush than nervousness.
10. Push Yourself
Even if you don't feel like practicing, you've got to at least do something. I think it's good to push yourself if you're not practicing enough, but it's also really important to push yourself in the right way when you are practicing.
Sometimes I'll have a break if I get stuck on something, but I'll come back stronger later.
Visit the Taj Farrant website for up-to-date tour info and more.
All the latest guitar news, interviews, lessons, reviews, deals and more, direct to your inbox!
Rod Brakes is a music journalist with an expertise in guitars. Having spent many years at the coalface as a guitar dealer and tech, Rod's more recent work as a writer covering artists, industry pros and gear includes contributions for leading publications and websites such as Guitarist, Total Guitar, Guitar World, Guitar Player and MusicRadar in addition to specialist music books, blogs and social media. He is also a lifelong musician.